Mercedes-Benz has released the first official images of the new A-Class. They showcase the interior of the firm's compact car, which has been completely overhauled to give it a more premium feel.
The current Mercedes-Benz A-Class is the firm's best-selling UK model, accounting for around 40,000 of the 168,000 cars Mercedes sold here last year. The new, fourth-generation model is due to be launched at the Geneva motor show next March, spearheading an expanded, eight-model compact car line-up.
2018 Mercedes-Benz A-Class revealed with all-new infotainment tech
The new A-Class features a completely redesigned interior, which draws on design and technology featured in larger models such as the new Mercedes-Benz E-Class and S-Class. Mercedes believes the growing trend towards downsized cars and urban living means that there is increasing scope to add luxury features and design usually only featured in larger models.
Christoph Eberlein, Mercedes' compact cars product manager, told Autocar: "Some people want a small car because they live in a city or need to save space, but they still want to have all the luxury features and options. This is a luxury design for compact cars. Small doesn't have to be non-premium."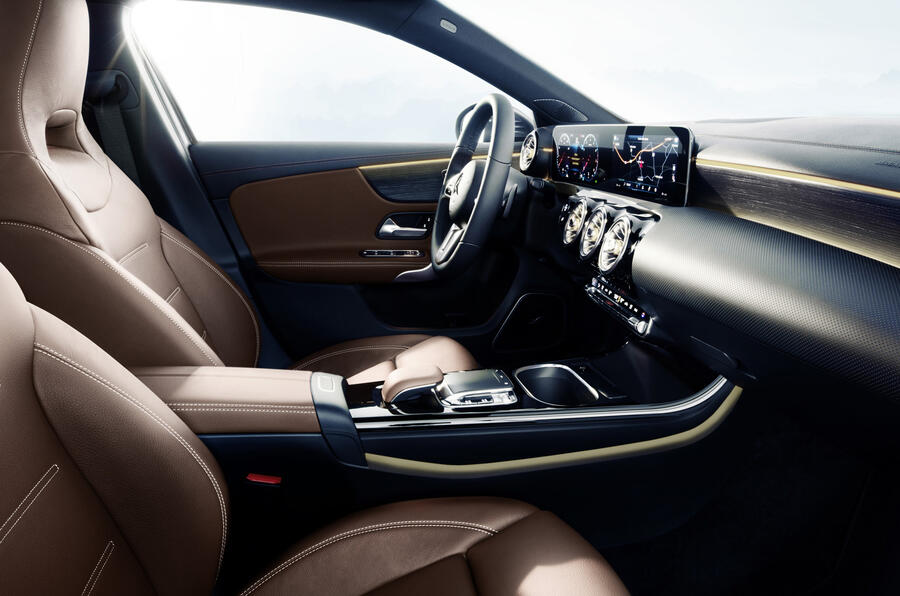 The new A-Class will also feature a far greater level of in-car technology and options. Hartmut Sinkwitz, the brand's director of interior design, says this was driven by average A-Class buyers being younger than those of other Mercedes models.
"There is a general trend for people to spend more on interior options rather than, for example, spending money on a better engine. People spend more time in their cars and want comfort, so their willingness to pay for interior options is growing."
The revamped dashboard design features two horizontal sections, split by a 'trench' that features ambient lighting to create a greater sense of space. The upper section features Mercedes' distinctive twin-screen widescreen cockpit. The entry-level trim will feature two 7.0in screens, but the car will also be available with 7.0in and 10.25in screens, or twin 10.25in screens.