Mazda says it will never build a 'big-battery' electric car, because it believes such vehicles are less environmentally friendly than even conventional diesel-powered models, judged over a whole energy life cycle.
Speaking in Portugal at a prototype test drive of the upcoming MX-30 electric car, Joachim Kunz, head of product development and engineering at Mazda Europe, said the firm has studied the CO2 emissions of building a vehicle "from extraction to disposal".
Citing a study by a Japanese university using the average CO2 output of the European grid, Kunz said an EV with a 95kWh battery has such a disadvantage of embedded CO2 at the point of sale that a new Mazda Skyactiv diesel car will probably be more CO2 efficient across its lifetime, even if the EV's battery pack is not replaced at 100,000 miles.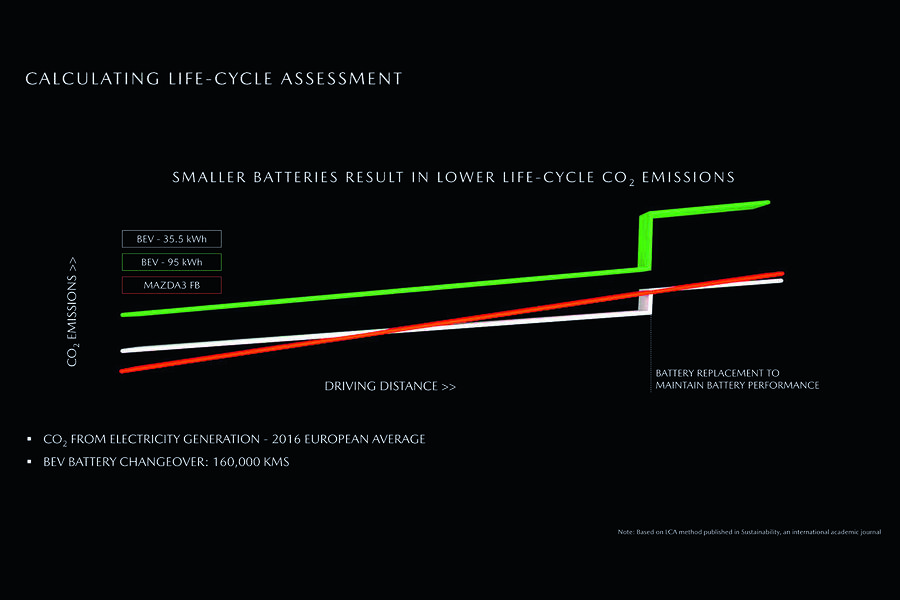 Kunz said Mazda has calculated that an EV with a 35kWh battery makes more sense environmentally because, by around 50,000 miles, such an EV starts to show lifetime CO2 savings over a diesel Mazda.
Another claimed advantage of the MX-30 concept is that it has more range per kWh of battery than many rivals, thought to be because the smaller battery weighs much less than a larger unit, reducing the amount of energy needed to move the vehicle.
The production version of the MX-30, due in mainland Europe later this year and the UK in early 2021 priced at €34,000 (£30,000), will have a 35kWh battery. That will drive an electric motor with 141bhp and 195lb ft of torque and give a range of around 130 miles. The lithium ion battery pack is made in Japan by Panasonic.
Most car makers agree that the average European driver covers around 35 miles per day so Mazda argues that the MX-30 will have enough range for the majority of owners as well as being a genuinely "low-CO2" vehicle across its lifetime.
Kunz told Autocar that for longer-distance drivers who want a low-CO2 vehicle, Mazda is currently developing a new range-extender system that uses a compact rotary engine. An early static prototype of such a system was on display at the MX-30 driving event in Portugal.