A chassis design patent filed last week by Mazda suggests the company is developing a successor to the rotary engine-powered RX-8 sports car.
As reported by Japan's Motor Magazine, the 'Vehicle Shock Absorption Structure' appears to show a spaceframe-style structure unlike that currently featured on Mazda's range of hatchbacks, saloons and SUVs.
The report also highlights the presence of a double-wishbone front suspension setup, used primarily by sports cars, with a prominent crossmember suggesting a front-mid engine layout.
The resulting engine bay is relatively small, leading the report to suggest Mazda could be developing a compact new rotary motor, in keeping with the tradition started by the company's iconic RX-7 and carried into its RX-8 successor.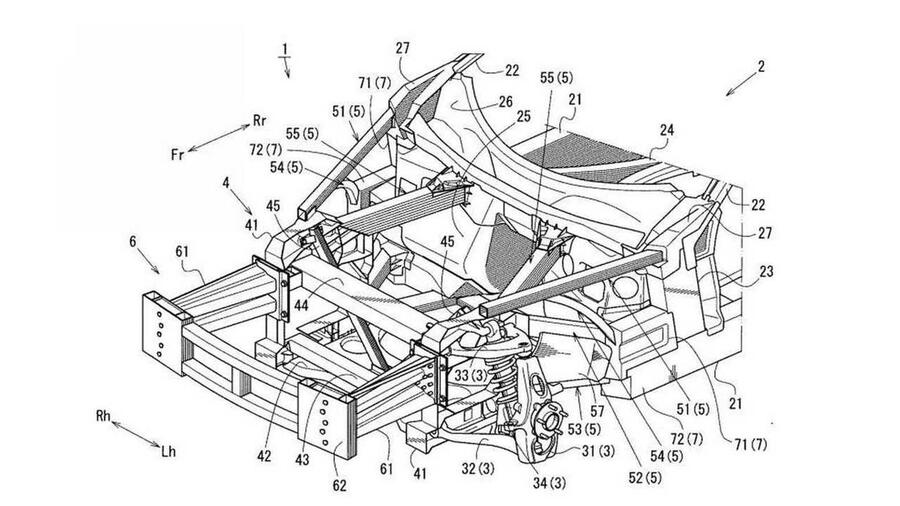 Lightness appears to be a priority as well, with carbonfibre-reinforced plastic and aluminium featuring prominently throughout.
A source at Mazda told Motor Magazine that the RX-9 will sit atop a newly developed bespoke platform, not intended for use elsewhere in the company's line-up.
Earlier this year, Mazda acquired a patent for a new type of turbocharger designed with rotary power in mind, enhancing intake efficiency, improving performance and keeping soot and water out of the combustion chamber.
Mazda design boss Ikuo Maeda has previously confirmed to Autocar that a production version of the 2015 RX-Vision concept was still on the table.
"When it is decided as a brand that we need a sports car, that's when we will produce the car," he said. "As you know, we already have the MX-5. If we need a more premium sports car, then we need to have a serious think about it."