The successor to the Lamborghini Huracán has been spotted on public roads for the first time, sporting a completely overhauled design as it tests its bespoke hybrid powertrain ahead of a 2024 launch.
Seen in heavy camouflage on roads around Germany, the new junior sibling to the Revuelto looks to have taken some of its design cues from its larger, V12-engined stablemate, with slimmer headlights, hexagonal LED daytime-running lights, a new side air intake next to the doors, a reworked rear bumper that exposes the lower portion of the rear tyres, and a single, large, central exhaust mounted between the brake lights.
However, its silhouette is familiar from the car it replaces, with a near-identical belt line and window line, steeply raked bonnet and large, uninterrupted front air intake.
It is expected to be underpinned by the same fundamental chassis as its more powerful sibling, featuring a 'monofuselage' - a monocoque that in the Revuelto keeps weight down and boosts rigidity by being made entirely out of carbonfibre.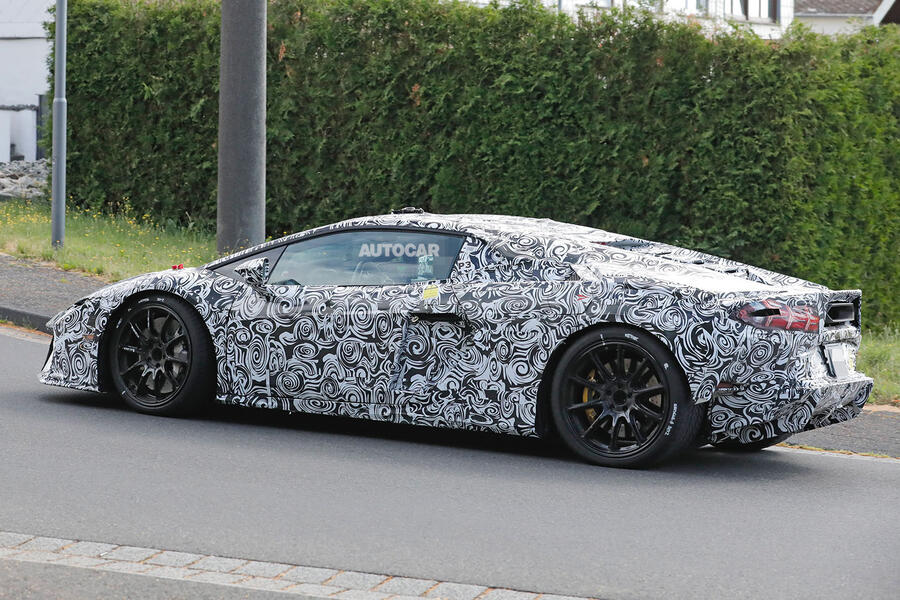 It is expected to pack a plug-in hybrid V8 powertrain, reportedly twin turbocharged and developed in-house - not borrowing from elsewhere in the Volkswagen Group, or, more specifically, the recently retired Audi R8.
The bespoke powertrain is expected to share technical principles with the 813bhp, V12-based system used in the Revuelto, meaning it could have two or three electric motors supplementing the combustion engine and will have the ability to run on electric power only.
The powertrain is expected to build on that of the 630bhp Huracán Performante with an engine that allegedly spins to 10,000rpm.