The Lamborghini Aventador SV has been cranked up to produce 775bhp by German supercar tuning company Novitec, which makes it 35bhp more powerful than standard.
Torque has also been increased from 509 to 544lb ft.
Novitec has not confirmed performance figures for its Torado SV but the extra power from the 6.5-litre V12 engine is expected to push the top speed beyond 220mph and improve the already rapid 2.8sec 0-62mph time.
Additions to the SV include a new exhaust system available in stainless steel or F1-inspired Inconel, the latter saving 21kg over the standard model's system. The Torado SV also features a new carbonfibre aerodynamics package, including side panels, boot lid, roof air scoop, side air intakes and rear wing.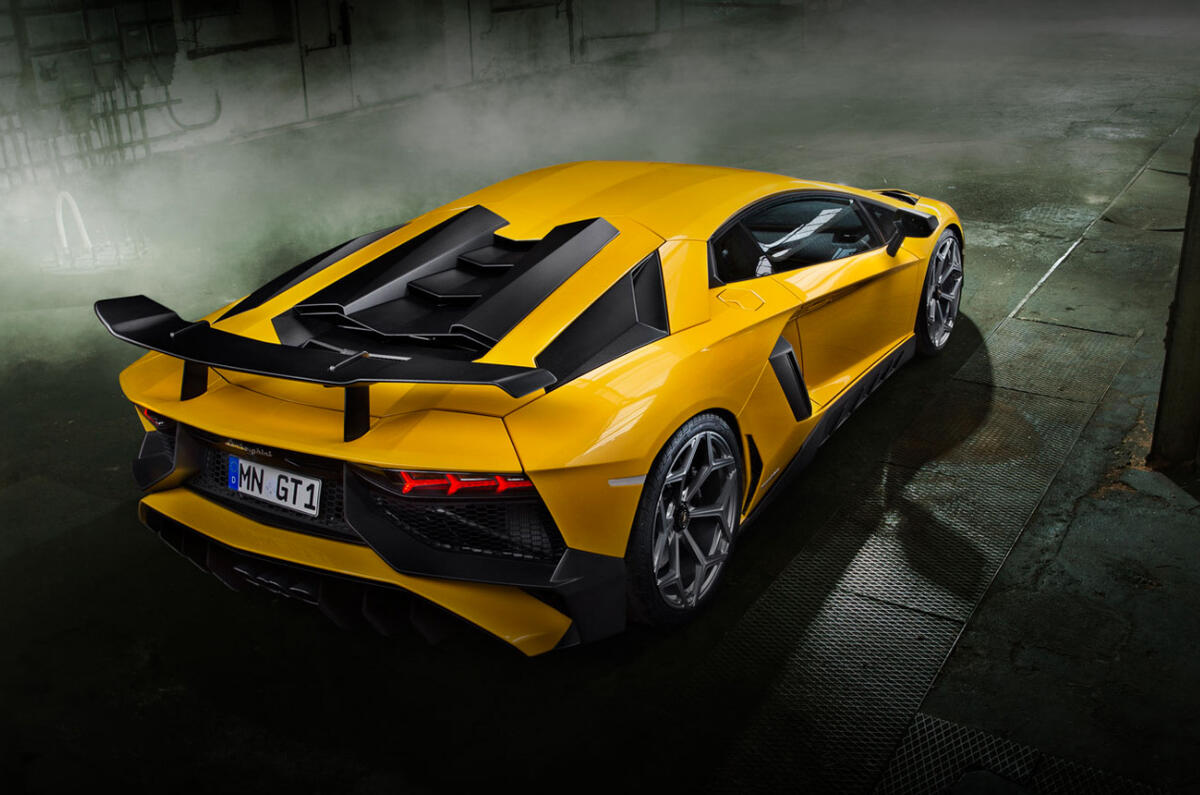 Novitec's version of the Superveloce sits on 20in NV1 Vossen alloys at the front and 21in alloys at the rear, offered in 48 different colours. The suspension system drops the SV a further 35mm.
Prices for the Novitec Torado SV have not been confirmed but the standard model from Lamborghini is priced from £321,743.
The tuning company modifies Lamborghinis as part of its Torado line. The company also works with Ferraris through its Rosso line, Maseratis through Trident and Rolls-Royce models through Spofec.
Novitec Torado's next project will be to tune a Huracan LP 580-2.
Tom Seymour
used Lamborghini cars for sale
Suzuki SX4 S-Cross 1.4 Boosterjet MHEV SZ5 Euro 6 (s/s) 5dr
Volkswagen TOUAREG 3.0 TDI V6 BlueMotion Tech R-Line Tiptronic 4WD Euro 6 (s/s) 5dr
Seat Ateca 1.5 TSI EVO SE Technology Euro 6 (s/s) 5dr
BMW 3 Series 2.0 318d Modern Touring Euro 5 (s/s) 5dr
BMW 1 Series 1.5 118i Sport Euro 6 (s/s) 5dr
Jeep Renegade 2.0 MultiJetII Limited 4WD Euro 6 (s/s) 5dr
Skoda YETI 2.0 TDI Black Edition 4WD Euro 5 5dr
Volkswagen POLO 1.4 TDI BlueMotion Tech SEL Euro 6 (s/s) 5dr
Audi S5 3.0 TFSI V6 Sportback Tiptronic Quattro Euro 6 (s/s) 5dr
Powered By