The Ford Ranger PHEV has been revealed as the UK's first plug-in hybrid pick-up, targeting small- and medium-sized business owners with wide-reaching chassis and technology upgrades, a competitive EV-only range figure and a hefty performance boost.
Production of the first electrified Ranger will begin in 2024, with European deliveries scheduled for the start of 2025. It is only the second zero-emission-capable pick-up so far confirmed for the UK, joining the all-electric Maxus T90EV.
Ford has worked to match the characteristics of the current Ranger, giving it the same one-tonne payload, 3.5-tonne towing capacity and the highest torque figure of any model in the Ranger's eight-strong line-up – although Ford has not given precise figures.
Power comes from Ford's 2.3-litre Ecoboost four-cylinder petrol engine, boosted by a "relatively large" electric motor for a total output likely to eclipse that of any pure-combustion Ranger, including the 288bhp V6-engined Ford Ranger Raptor.
Ford would not disclose the exact size of the electric motor's battery, but said it will offer "more than" 27 miles of electric-only range. The Ford Kuga PHEV, which has a comparable electric-only range, uses a 14.4kWh battery. The Ranger's battery will support AC charging only.
A PHEV powertrain was chosen over a pure-EV option, such as that of the US-market Ford F-150 Lightning, because – according to Matt Reilly, global chief strategist for the Ranger platform – it will "promote off-road use without the dependance on charging infrastructure, and future-proof the Ranger around the globe to meet tightening emissions regulations and EU green zone compliance."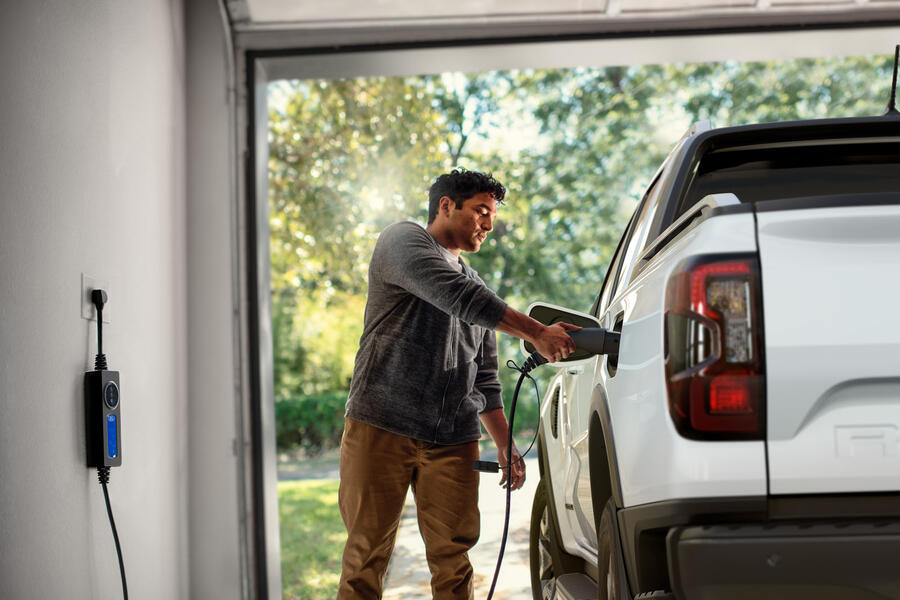 He added that it was "the only technology" available right now that meets the requirements of Ranger customers.
Drivers can choose between one of four driving modes: EV Auto, where the engine cuts in when needed; EV Now, solely using electric power; EV Later, which uses the engine only, so that the electric charge is saved; and EV Charge, which uses part of the engine as a generator to charge the battery on the move.