The new Ford Mustang GTD is a carbonfibre-bodied, aerodynamically optimised, track-ready "technological tour de force" that takes the crown as the firm's most powerful road car yet.
On show at the Los Angeles motor show ahead of production beginning in the coming months, it will be built in limited numbers from late next year and priced from around $300,000 (£234,000) in the US.
Autocar understands the UK will receive an allocation, but numbers and pricing remain to be confirmed at this stage.
The GTD is said to have been conceived "after hours" by "a handful" of engineers in an anonymous storage garage at Ford's Michigan headquarters, with the aim of creating "a Mustang to take on the best of European sports cars".
Ford is targeting a sub-seven-minute lap time at the Nürburgring, a feat that would put the GTD on a par with European supercars including the Porsche 911 GT2 RS, Lamborghini Aventador SVJ and Mercedes-AMG GT Black Series.
Ford CEO Jim Farley said: "[The] Mustang GTD shatters every preconceived notion of a supercar. This is a new approach for us. We didn't engineer a road car for the track, we created a race car for the road.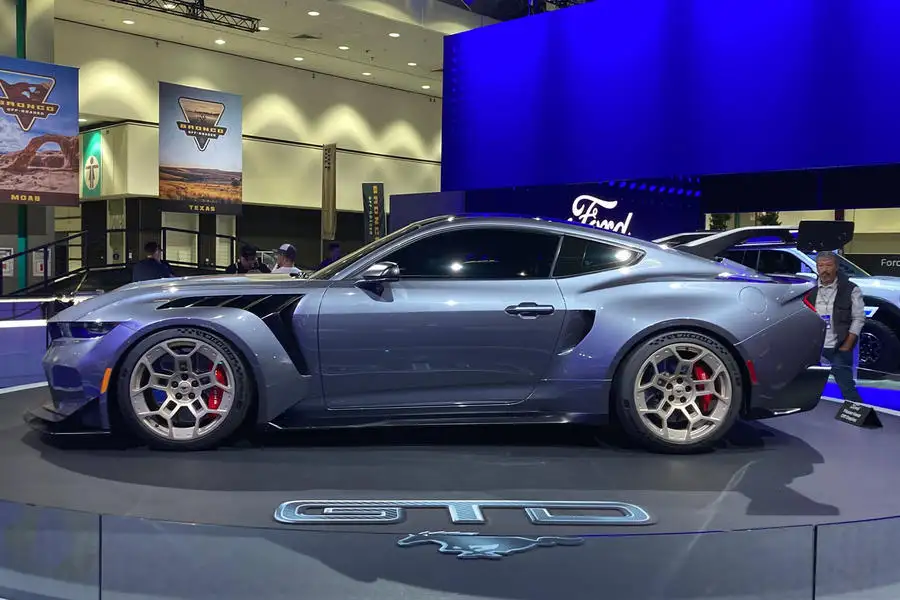 "This is our company. We're throwing down the gauntlet and saying 'come and get it'. We're comfortable putting everybody else on notice. I'll take track time in a Mustang GTD against any other auto boss in their best road car."
Designed and engineered in partnership with motorsport outfit Multimatic, which built the Ford GT supercar, the new arrival is effectively a road-legal reworking of the Mustang GT3 that will race at Le Mans next year.
It has been named for the IMSA Sportscar Championship's GTD classification, for cars built to the FIA's GT3 specifications.
Ford Mustang GTD receives power uplift to more than 800bhp