In a car market that almost always makes it harder for a successful brand to stay on top than to get there in the first place, the BMW 3 Series is beginning to look like a car of gradually waning fortunes. Will the good times ever roll for it quite like they did in its late 90s and noughties pomp?
For all sorts of reasons — not least because it's hard to think of another car in recent times that has achieved such critical acclaim and sales popularity in equally phenomenal measures — we might wonder.
The new 3 Series has been unveiled - get your first look here
For the next-generation 3 Series, due to be unveiled at this autumn's Paris motor show and appear on UK roads in early 2019, reasserting the compact executive saloon segment dominance that its predecessors have enjoyed looks a particularly tall order. It faces a Mercedes-Benz C-Class tha's good enough in its latest iteration to comprehensively outsell the outgoing F30 3 Series. The Alfa Romeo Giulia and Jaguar XE, neither of which existed at the launch of the sixth-generation 3 Series seven years ago, are both plainly out to purloin BMW's mantle as the maker of the best-handling compact saloon. Up until now, you might say that mantle has been 'on loan'; first at Gaydon, then more recently in Turin. But soon it'll be the time for Munich to either reclaim it or give it up more permanently.
Unlike us, of course, BMW's own executives, designers and engineers have not been wondering, or indeed worrying, about what the future holds; confident in the strength and equity built into the 3 Series brand over more than four decades, they've clearly been getting on with the job of bringing the world the seventh-gen version of a car whose name has become shorthand for its segment.
And they're almost finished. With only the finer points of software calibration and tuning still to do, BMW recently made the new 3 Series available to us in prototype form for a short test drive around German's Eifel mountains and a not-so-short couple of laps of the Nürburging Nordschleife.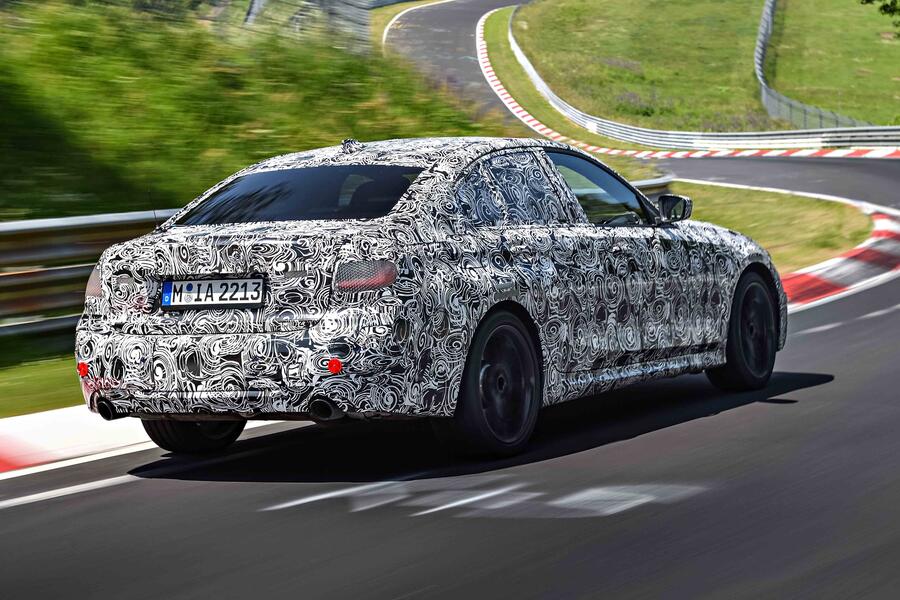 The G20 3 Series: world leader in waiting?
It'll be another few weeks until BMW is ready to reveal how the exact technical details of the new 3 Series, codenamed 'G20', will depart from its forebear. As background for this taster, however, we were told that it's a slightly longer and wider car, with a longer wheelbase; and that, having been built on BMW's Cluster Architecture, it's made of a higher proportion of aluminium, magnesium and high-strength steel than its predecessor, and is a slightly lighter (up to 55kg) and torsionally stiffer (by 15-20%) car to boot.
The 3 Series' axle tracks have both grown, with MacPherson strut suspension used up front and a multi-link arrangement at the rear. A wide-ranging overhaul of the suspension and steering hardware has left little untouched. There's a new 'variable sport' steering box (although it isn't speed-sensitive 'active steering', which hasn't featured on a 3 Series since the E90 generation); there are new optional adaptive dampers from Tenneco if you want them; and there's firmer springing and bushing for cars with M Sport suspension than of like-for-like current-gen cars. But there are no air springs (at least not for the saloon) and no four-wheel steering. Contrary to what you might have read elsewhere, Munich is clearly content to leave features like those at the more expensive end of the executive saloon spectrum.