Welcome to the next step in Porsche's plan for an all-electric future: the second-generation Porsche Macan.
Developed in tandem with the recently previewed Audi Q6 E-tron on the Volkswagen Group's new 800V Premium Platform Electric, this SUV will be the second fully electric Porsche model after the Porsche Taycan saloon/estate – and before production begins in Leipzig at the end of the year, we were invited to try it in prototype guise in the US.
This comes after a delay to the new BMW iX3 and Mercedes-Benz EQE SUV rival, as extra time was needed to develop the power electronics – the network of systems that controls its new drivetrain and various ancillaries, plus the new E3 software platform used for the infotainment, driver assistance and other functions.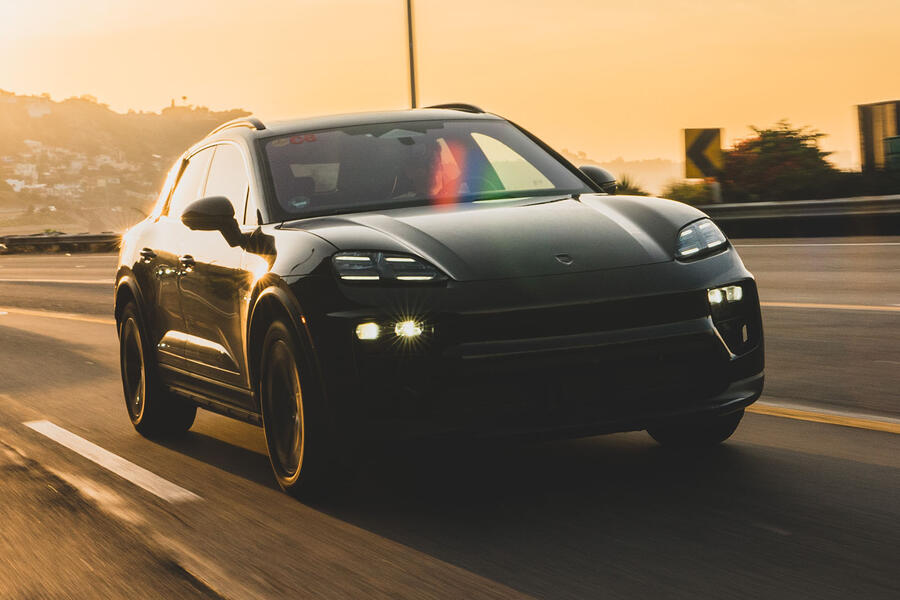 "The complexity and networking of the software is a key issue in every electric vehicle. We wanted to ensure that everything was to the latest development standard before placing cars in the hands of customers," explains Macan development chief Robert Meier.
The old petrol-engined and new electric Macans are planned to be sold alongside each other in all of Porsche's existing markets. Yet despite sharing a model name, each features its own design.
As evident beneath the disguise worn by the prototypes we drove, the EV has a distinct front end with split headlights and styling similar to that seen on the Taycan, larger wheelhouses and new frameless doors. The rear adopts a more liftback-style tailgate for a sleeker silhouette than the petrol Macan, as well as a sizeable spoiler that deploys in four stages. And there are new wheel designs, ranging from a standard 19in up to 22in.
We can't tell you much about the interior just yet, but it too differs from that of the existing Macan. The dashboard design isn't far removed from that recently brought to the facelifted Cayenne, with separate digital instrument and infotainment displays and a dashboard-mounted gear selector.
You sit lower than in the petrol Macan in the front. That more heavily curved roof also means there's slightly less rear head room and boot space as well.