BMW has revealed new M Performance versions of its latest X5 and X7 SUVs ahead of their planned UK introduction during the final quarter of 2019.
The two M50i-based SUVs both feature an updated version of BMW's twin-turbo 4.4-litre V8 petrol engine, which produces 523bhp and 553lb ft, an increase of 67bhp and 74lb ft over the existing xDrive50i versions of both models.
The updated engine features a revised aluminium block that offers increased stiffness. To boost refinement, it also features pistons coated in graphite-impregnated resin and a damper incorporated in the crankshaft. The power is driven through an eight-speed torque converter-equipped eight-speed gearbox, which features bespoke electronic mapping including a launch control function.
The latest entrants in the growing premium sports SUV class also feature a rear-biased xDrive all-wheel drive system with an electronic M Sport differential managed via the Dynamic Stability Control system. It is claimed to be able to transfer up to 100 per cent of drive to the rear wheels in certain driving conditions.
No official weight figure has yet been revealed for the new range-topping X5 and X7 models, though BMW claims respective 0-62mph time of 4.1secs and 4.5secs respectively, as well as a limited top speed for both models of 155mph. That compares to 4.7secd and 5.4secs for the X5 xDrive50i and X7 xDrive50i.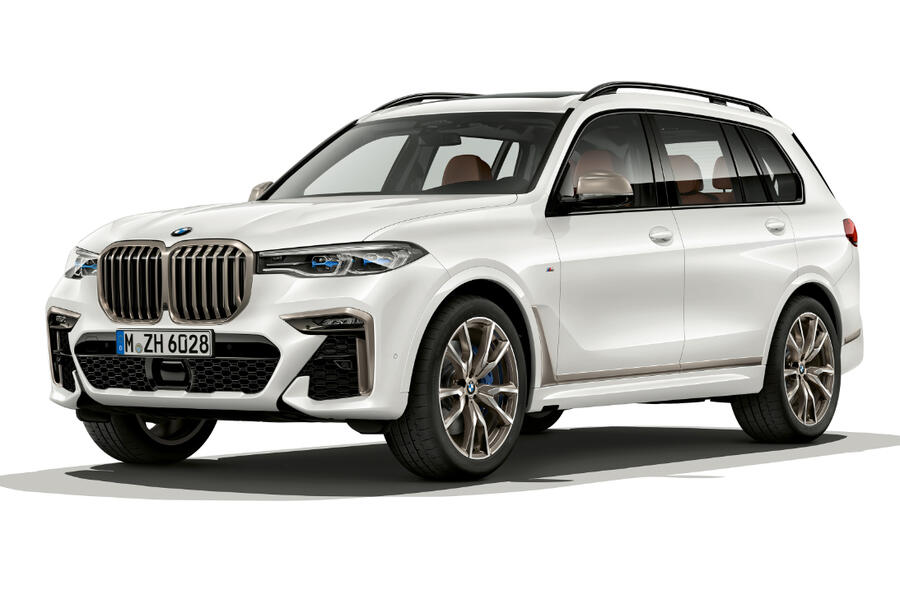 The machines also feature newly tuned suspension, with a double wishbone at the front and multi-link rear. It uses unique bushing, firmer springs and dampers, and rides on 20inch wheels as standard (21in and 22in wheels are available as options).
The X5 M50i features an Adaptive M suspension featuring adaptive damping, while the X7 M50i rides on air suspension with variable ride height control. That suspension is an option on the X5.
The brakes feature new two-piece compound steels discs disks with revised M division callipers.