This was never supposed to get political, but it appears David Cameron has other ideas.
On the day that we gather together the six hatchbacks that represent what's left of the British volume car industry in 2016, the British prime minister comes on the radio to announce the particulars of the bones thrown to British voters in order to keep the UK inside the EU. They don't sound like particularly juicy bones. That funny whistling noise must be the sound of Nigel Farage rubbing his hands together.
The cars I'm looking at, collected in a gravel car park in rural Surrey, seem to me more like reasons to vote 'in' than 'out'. Nissan Qashqai, Honda Civic, Mini Clubman, Vauxhall Astra, Toyota Auris and new Infiniti Q30: it's easy to forget that we still make so many big-hitters. It's harder to forget, though, that every one of them has germinated and flourished with Britain well and truly in the 'in' camp, entirely open to the grand European project. With various car industry bosses already threatening to 'reconsider' their UK manufacturing operations in the event of a 'Brexit', changing the status quo would seem to put the existence of most of these cars at risk, or at least risk forcing their factories overseas.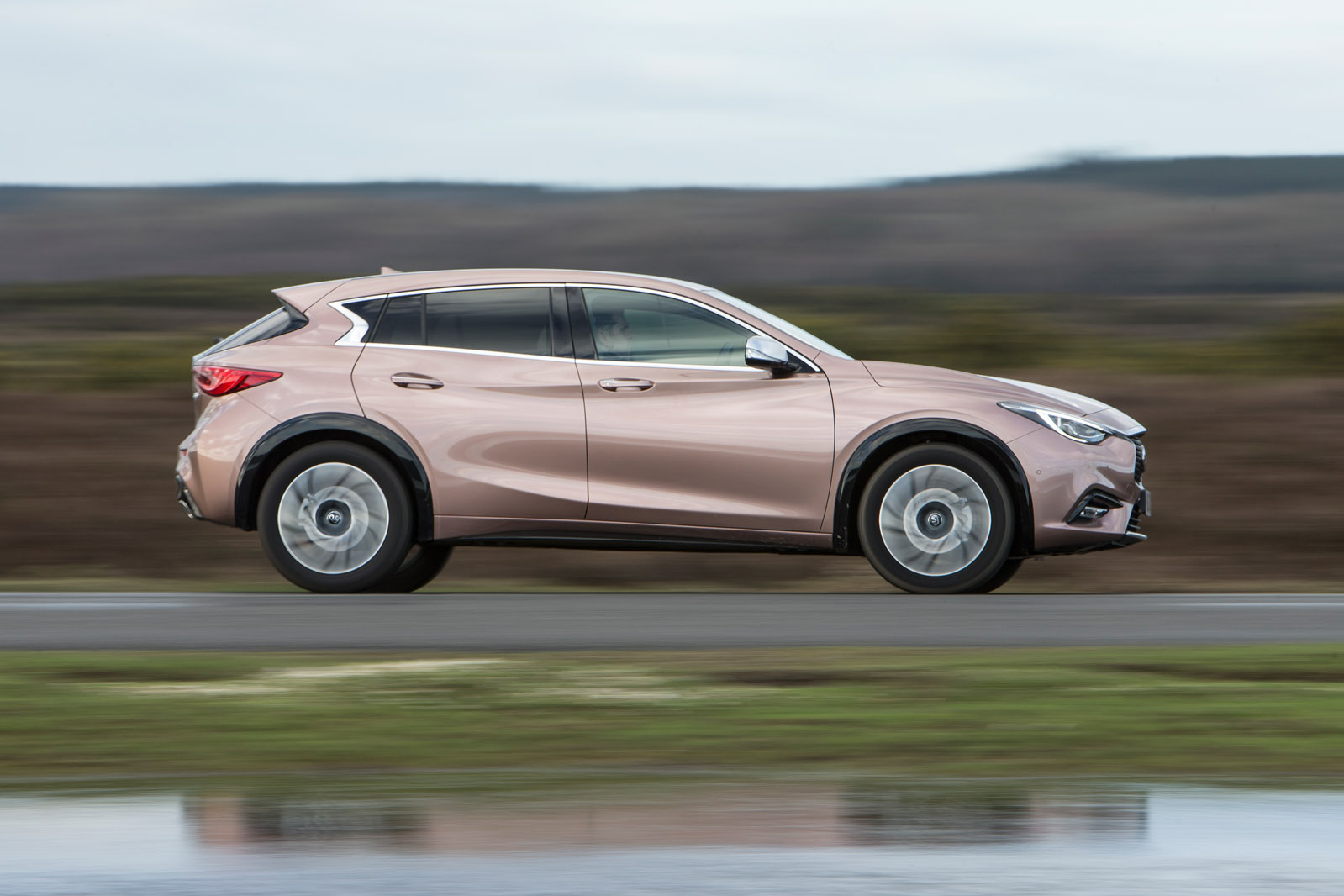 Still, no more politics today – just cars. If things go badly, 2016 could be the last year in which the UK still makes a sufficient number of £20,000 five-door family hatchbacks to fill eight pages in this magazine. Given that we've just had another one join the ranks, what better excuse to decide which is best? It has not been possible to buy a family car built in Britain by a wholly British-owned company for more than a decade, but you can still put your money to work for the protection of UK jobs, the UK supply chain and the general health of the UK economy. So – assuming you want to, even if only for argument's sake (calm your politico letterwriting fingers, dear reader) – what's the best car with which to do it?
Our plan is to start this test with some driving and photos here at our 'home' test track, before driving all six cars about 70 miles south-west to the winding roads of the New Forest. Tomorrow, we'll wind up at Southampton Docks for a final rendezvous at the place where British-built cars leave our shores for export markets in their hundreds of thousands every year. By then, after much back-to-back comparison and the usual razor-sharp live road test analysis, I'm hoping the Jersey cream will have risen to the top of this mixed-up group.
And how mixed up it is. We're dealing with cars from several niches of the market here, designed to appeal to quite different customers and address quite different missions and tastes. The Civic, Astra and Auris sit comfortably enough as fairly traditional volume-brand family five-doors, but the Qashqai, Q30 and Clubman all depart in less traditional directions in the pursuit of premiumbrand allure or crossover-styled trendiness or added-value practicality – or all three. We may need more than one winner. Or maybe we won't.
INFINITI Q30 VS NISSAN QASHQAI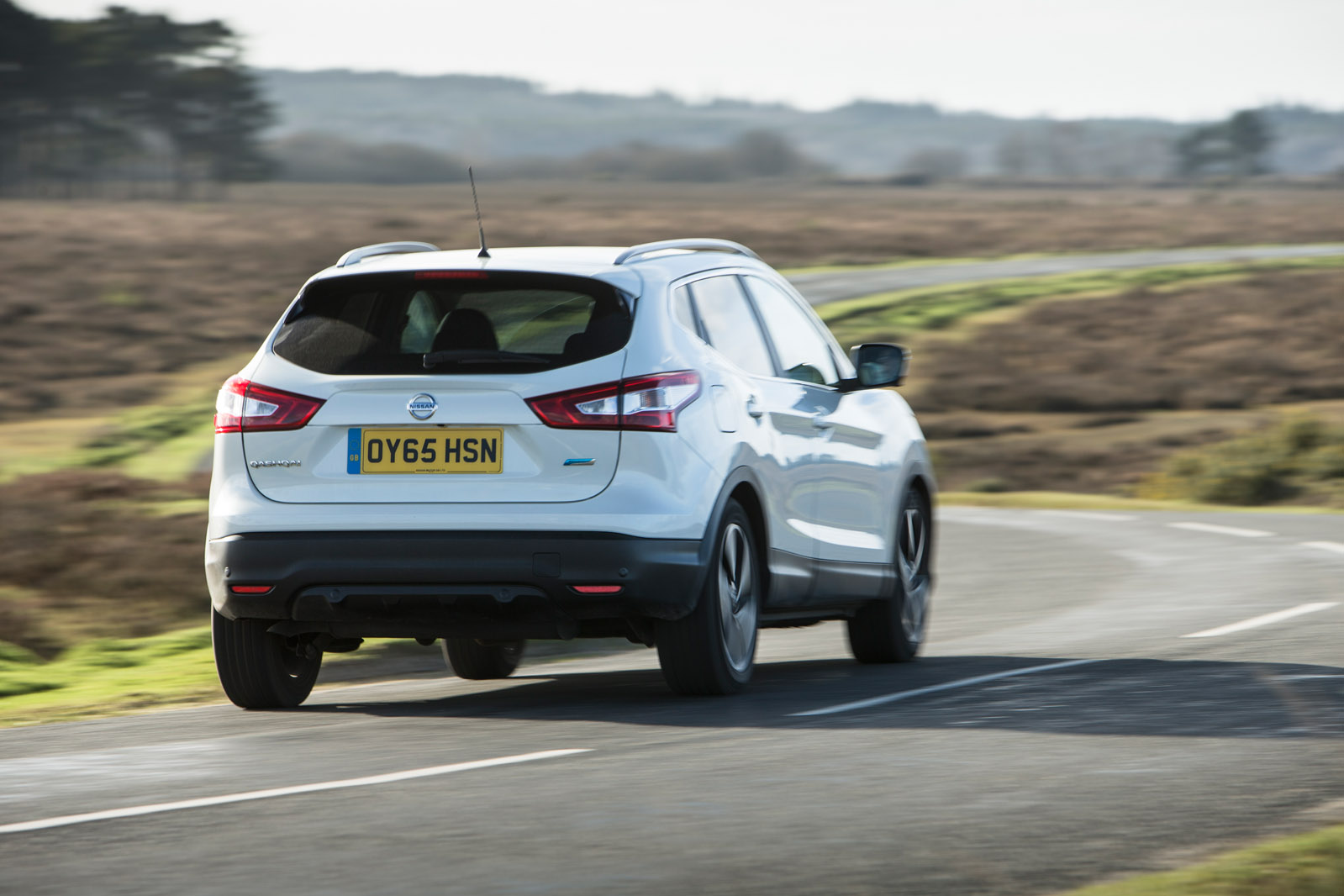 First up, we'll explore a curiosity I've been harbouring since doing our full road test on the newest car here: the Infiniti. If Nissan's top brass wanted to create an upmarket hatchback for its emergent premium brand – particularly one with a raised pseudo-crossover ride height and hip point, both of which the Q30 has – why wouldn't it start with the very highly developed platform of the class-leading compact crossover that it already has, instead of licensing one from Daimler that, frankly, doesn't seem as good?
Questions like this are commonly kicked about at Autocar HQ and aren't often answered. We're supposed to accept 'just because' as a reason, like some petulant six-yearold being scalded by his nan. I dare say the Mercedes-Benz MFA platform is lighter and stiffer than the RenaultNissan Alliance platform in question and compatible with many more of the latest active safety technologies that marketing people consider key for a premium product. But right now, those advantages don't seem to amount to much.
Infiniti has created a car here that has exactly the same big-volume diesel engine as the Qashqai but doesn't ride, handle or steer as well as the Nissan and isn't as comfortable or as spacious. It's as plain as can be. The Q30 is a pleasingly soft-riding thing on its standard suspension settings, but it isn't nearly as supple or skilfully damped as the Qashqai. It rolls harder than the Nissan and doesn't steer with anything like the same consistency of weight or pace.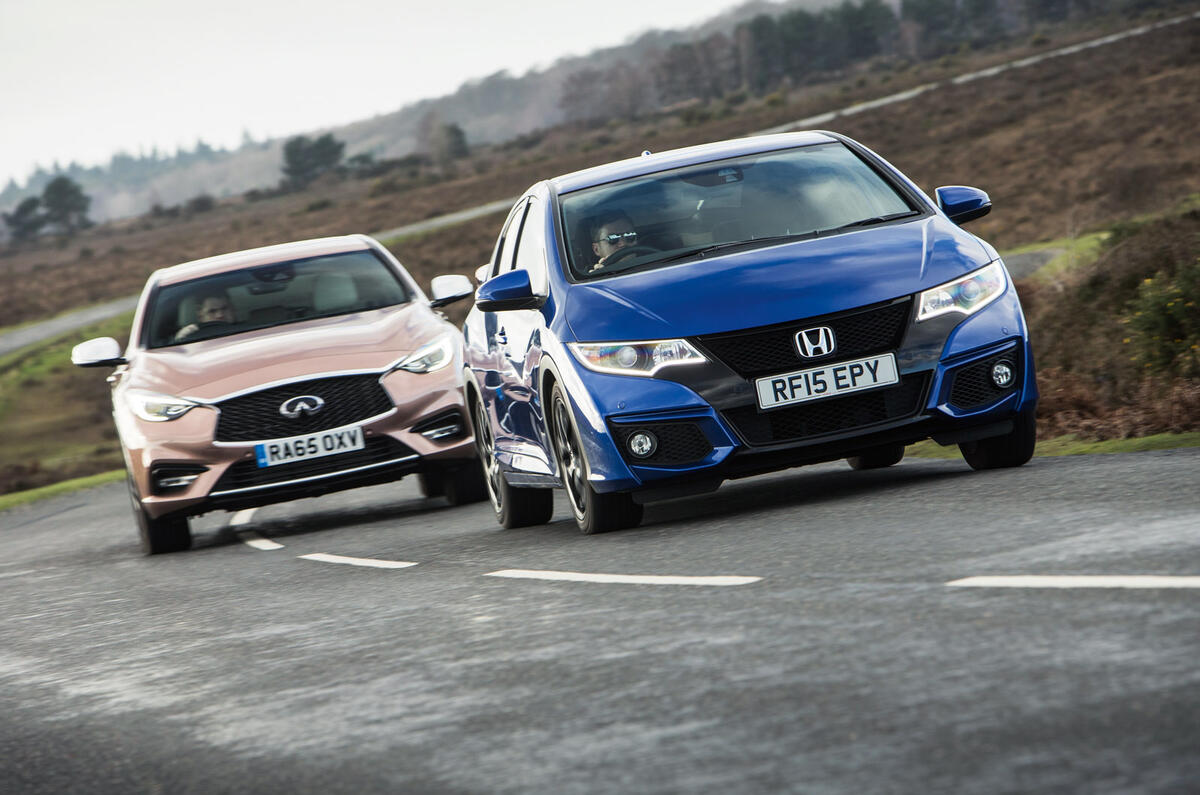 The Qashqai's major controls all feel more carefully honed and are easier to use than the Q30's, in fact, and the Nissan's cabin is considerably roomier up front and in the back. The Q30's cabin is presented in much less plain and ordinary fashion, and on some of the other points we must accept that we're not quite comparing apples with apples. There's a QX30 in the pipeline that'll allow us to do that more properly later. But the QX30 will need to be more than just bigger inside to correct all of that.
We're on the road now, headed towards the M3 for the beginning of our trip south-west. One thing you can praise the Q30 for is refinement. The 1.5-litre diesel common to both the Q30 and the Qashqai seems just a smidgen quieter and better isolated in the Infiniti. The engine is a bit laggy down low and feels slightly weak when revved beyond 3500rpm, but it redeems itself with a useful slug of torque between 2000rpm and 3000rpm, which is enough to propel either car along with decent conviction. By a whisker, it's more pleasant to interact with in the Qashqai, due to the Nissan's superior gearshift quality. But it's not really an outstanding selling point in either car, there being more frugal, more tractable and more powerful motors elsewhere in our group.
And, to revisit the mysterious platform strategy one last time, the Q30 also manages to be less economical and less CO2-efficient than the Qashqai, as well as heavier and slower – all according to manufacturer claims. Go figure. Needless to say, the Nissan wins our contest of sibling rivals hands down.
VAUXHALL ASTRA VS TOYOTA AURIS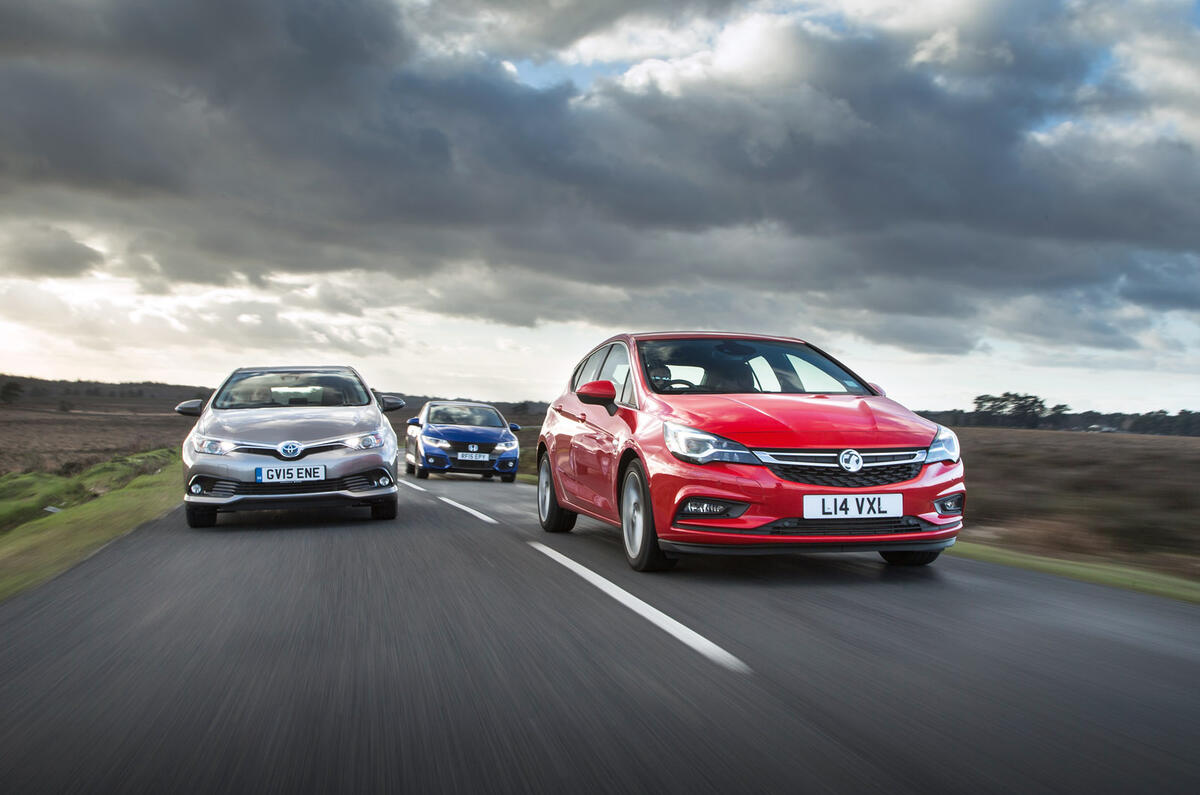 Fleet services is currently earning itself a special place in the affections of the road testers on our trip because it has a drive-thru coffee shop. You can therefore take on many hundreds more calories than any hot drink ought to contain without needing to leave the comfort and warmth of your brand-new borrowed test car. Most agreeable. After that, being expected to get out and pump your own fuel seems a bit of a liberty, but it's one we endure, before shuffling between cars and pressing on towards the south coast.
Now to turn to the closest thing to direct rivals within this group: last year's all-new Astra and the Auris. They're not a perfect match, the Vauxhall being powered by a 1.6-litre diesel engine that can safely be considered the outstanding powertrain in its range, and the Toyota a 1.8-litre petrol-electric hybrid. And yet the cars have identical peak power outputs, they're within £500 of each other on list price and both promise to top 70mpg. Although they're both doing everything they can to convince us otherwise, these are meat-andpotatoes cars. The Auris's styling may be exaggerated and unusual, but underneath it's as ordinary as hatchbacks get – in spite of the hybrid powertrain. The Astra, by contrast, has many of the ritzier trims and touches of a premium product. It looks nice enough. And yet it ends up conjuring up about as much desirability as a pair of Marks & Spencer long johns.
A nice pair, mind you. I'll admit to having higher expectations of the Astra than the Auris. My only exposure to the Vauxhall until now was with a 1.4-litre turbo petrol model. With the more fleet-friendly 1.6 CDTI, the car places itself inside the top three here for outright power, 0-62mph performance and claimed fuel economy. It ought to be a contender, then.
And in some ways it is. Its cabin rivals the Qashqai's on passenger space thanks to some very clever packaging. It's great value, too. It feels very modern and generously equipped inside, getting an impressive 8.0in infotainment and navigation system as standard, as well as an in-car 4G wireless hotspot, and yet it still pitches in as the cheapest car on test.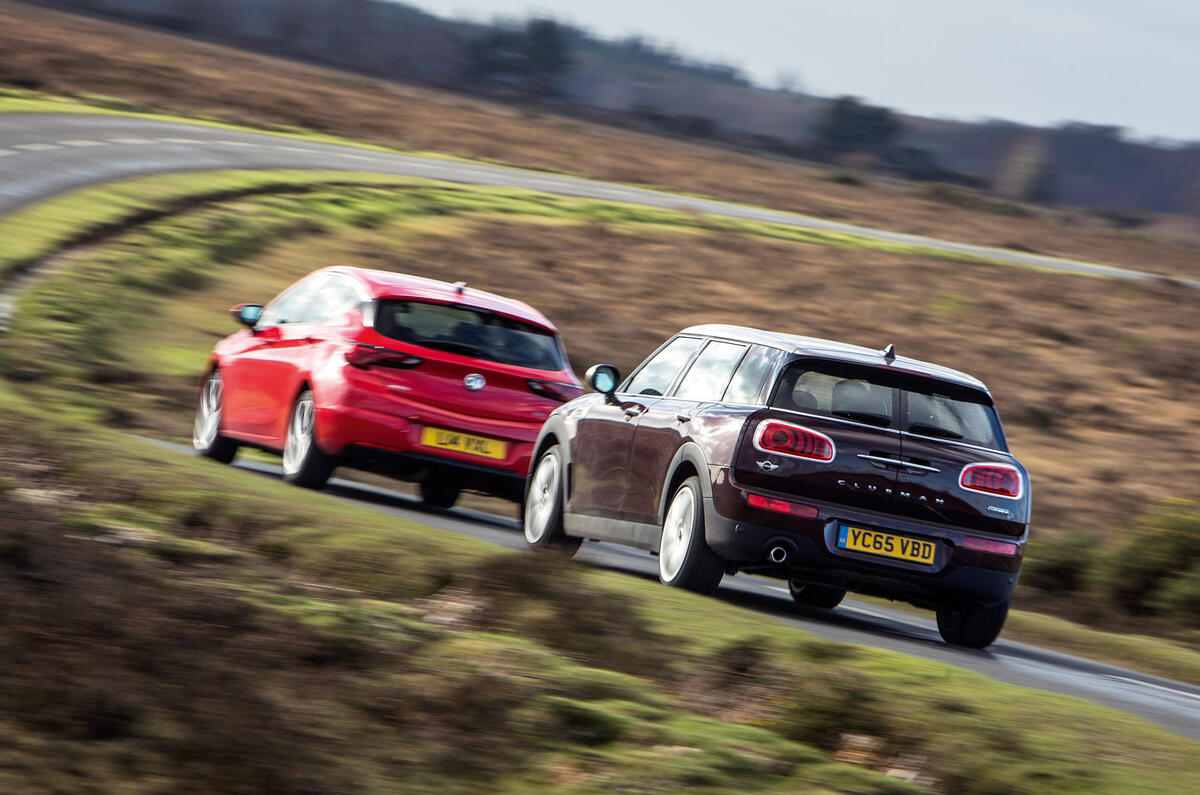 The Astra's engine feels strong and flexible, and the more you ask of the suspension, the more creditable the handling seems. The car grips hard, pivots keenly underneath you and always keeps firm control of its body over bumps and through corners. All in all, it feels like nine-tenths of a very good car – but ultimately an unfinished one.
For all of its strengths, the Astra's lack of refinements consistently reminds you that it's a relatively downmarket product next to most of the cars with which we're comparing it. The car's ride is noisy, fidgety and just a little bit wooden. Its controls feel springy, sticky and grabby where others feel more polished and smooth. Its driveline is a touch coarse, with clunkiness and shunt in evidence at low speeds, and some of the interior plastics look cheap, and others will bend and creak when you touch them, with moulding flash lines in evidence here and there, too.
That the Auris feels more solid, more robust and better finished inside wins it a certain number of points, but that lead is surrendered and then some as a result of the car's relative shortage of interior space and general ergonomic malaise. I can't remember the last time I drove a full-sized hatchback that didn't have any reach adjustment on the steering. The Auris's column adjusts for rake angle, but just as they might have done in a 1990s Corolla, taller drivers are made to choose between sitting too close to the pedals or too far from the wheel. Endearing, it ain't. Even if you do opt for being too near the pedals, the space left for back-seat passengers is disappointing, and the boot is even-stevens with the Mini's as the smallest here.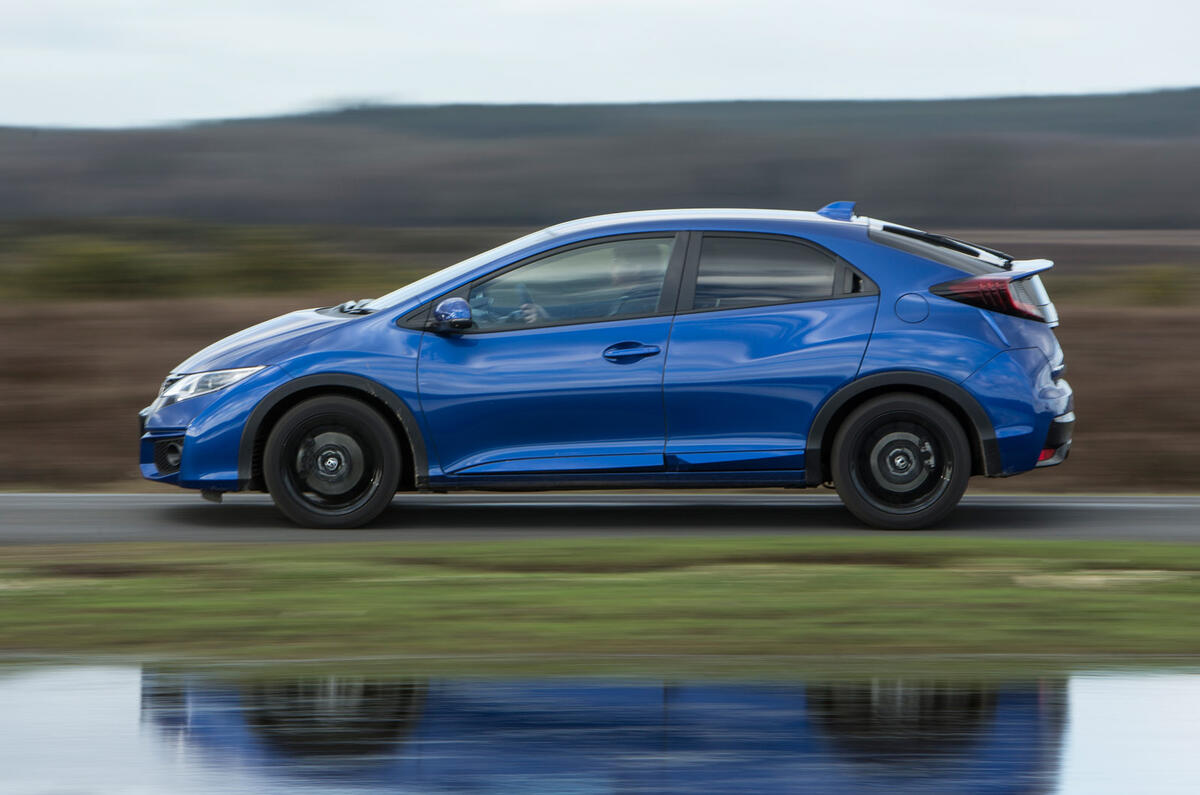 On the road, the Toyota does many things reasonably well, but the effect of that hybrid powertrain is to completely polarise the driving experience: you're either tickling the car along as slowly, serenely and economically as possible, or you're torturing it right up to what feels like the limit of mechanical endurance in an attempt to make remotely brisk progress. The Auris Hybrid has no middle setting.
Risk a moderate throttle position on anything approaching an incline and it'll leach speed and momentum like a 50cc moped. Fail to drive it as if Miss Daisy were on board and you can forget about classleading economy, or anything close to it. Almost two decades on from the launch of the original Prius, this is still the reality of the Toyota hybrid driving experience. And although the early signs may be encouraging, it remains to be seen if the new Prius can meaningfully change it.
HONDA CIVIC VS MINI CLUBMAN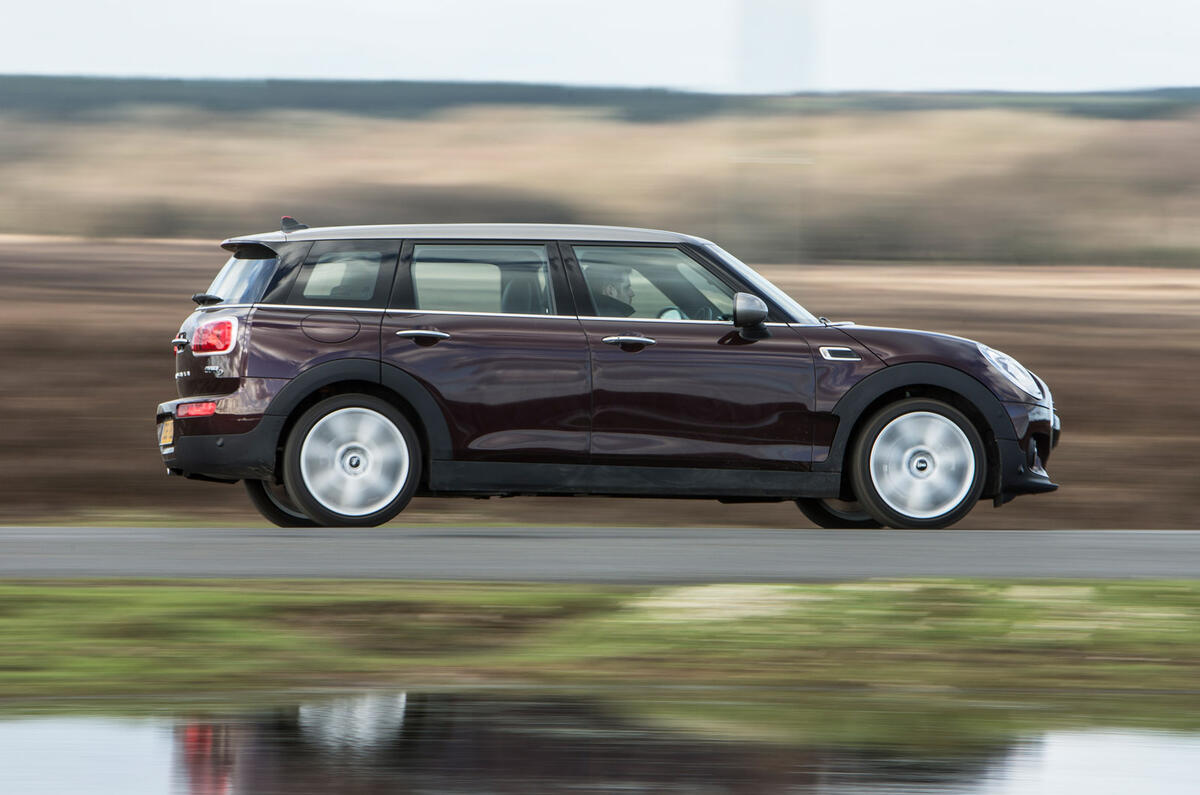 Having found comfortable beds and a fulsome breakfast nearby, we're out on the lanes of the New Forest early on day two of our test. The corners are narrow and often bumpy and the speed limits decidedly unpredictable, while the locals tend to have hooves and aren't so well versed in the Green Cross Code. Here, where the one car I expected to excel on more testing roads is showing its limitations, another one I've barely regarded at all since including it in our line-up is reminding me of its class. The Clubman appears to offer the best of both worlds to keen drivers with typical lives to lead: lively, engaging performance and handling with enough space and convenience for the kids and the travelling clutter. A nice idea. But driving one soon makes you realise that, however you might regret it, you don't want your everyday car to ride and handle quite like a Mini. Well, I certainly don't.
The weighty, staccato gearshift, extra-direct steering, fast handling responses and high grip levels combine to make it a much more engaging drive than anything else here – and 148bhp and 243lb ft play their part as well. The Mini is fun. But grown-up family five-doors have to be more than fun, and not long after enjoying a merry flit around a few empty B-roads, I'm not sure I want to take it home and really use it.
The car's ride, on Bridgestone run-flat tyres, is noisy, short and abrupt. Its seats are hard and flat and a wearing stretch downwards to get into. Its boot, although clever, still isn't quite as big as it ought to be, and, from the downsized rev counter to those twin back doors, it's full of features that are quirky but don't work as well as they might. Will most owners care? Not much, I dare say. Charm and desirability, those intangibles that the likes of the Astra and Auris so tellingly lack, carry the car a long way. As does the quality of its fixtures and fittings.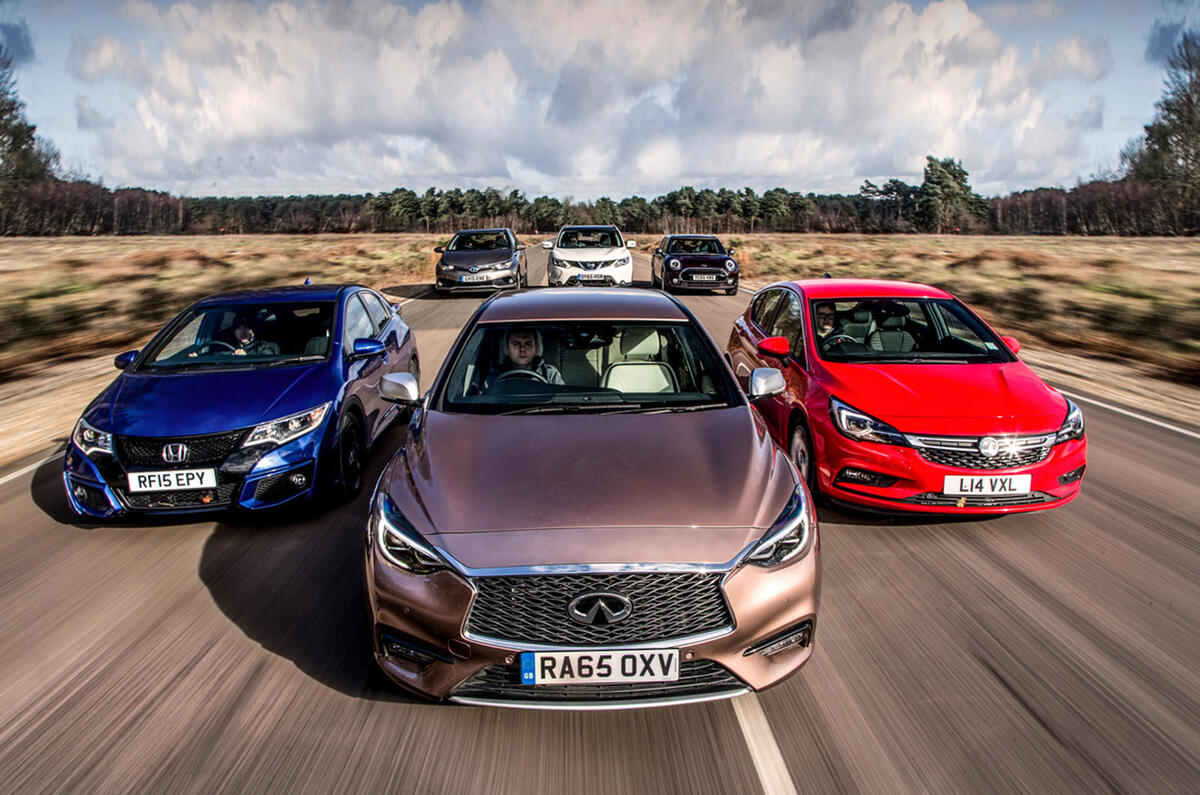 But how many Clubman drivers, you wonder, would be able to park up next to something so unassuming as a Civic and then be able to stand back and point to the really innovative car? Beneath the Honda's oddball styling lies evidence of some genuinely liberated thinking: a fuel tank moved forwards under the front seats, a flip-up second row useful in all sorts of ways, and a very large boot. The Civic is substantively different, not superficially so, and works better as a hatchback as a result.
To sit in, the Honda feels strange to begin with. You perch slightly high and, with four instrument displays in front of you, don't quite know where to direct your attention to first. But these are much bigger bugbears for a road tester than they would be for an owner, I reckon. They're unusual, but you'd get used to them. Elsewhere in the cabin, the Honda's materials and switchgear look and feel solid, simple, robust and quietly classy.
Its 1.6-litre diesel engine is a touch noisy from cold, but it settles to a cruise that's fairly quiet, and the combination of flexibility, outright punch and real-world economy it delivers is genuinely appealing (an easily achieved real-world 60mpg, no less). Its ride is supple and well isolated – a little restless at times but otherwise very measured. And the handling is crisp and coherent, with meaty steering, a weighty clutch and a slick gearshift all impressing.
ALL SIX IN THE DOCK
End of the road – almost literally. A couple of hundred yards ahead of us, Southampton's Cunard Road ends and Southampton Water begins. We're the guests of Wallenius Wilhelmsen, shipper of close to 200,000 UK-built cars to export markets every year, not to mention tens of thousands of foreign-built BMWs into the UK. Two enormous, very square-looking vessels are moored up, and the staff here claim they're just tiddlers. Time to decide which of these cars most deserves its place on the quayside.
The wooden spoon is easily handed out. The Auris is an odd concoction. It's part city-friendly, forward-looking hybrid, but mostly like a 25-year-old bland Japanese hatchback that has inexplicably survived deletion largely unaltered for all that time. How ironic it is, then, that Toyota's top brass are so far the only industry decision makers to publicly commit to continuing UK car-making operations whether Britain votes 'in' or 'out'.
Farther up the order come the Q30, the Astra and the Clubman. There isn't a bad car among them, but we could certainly call the Infiniti the most under-achieving. The Astra is commendable but plain and the Mini desirable and fun, but flawed.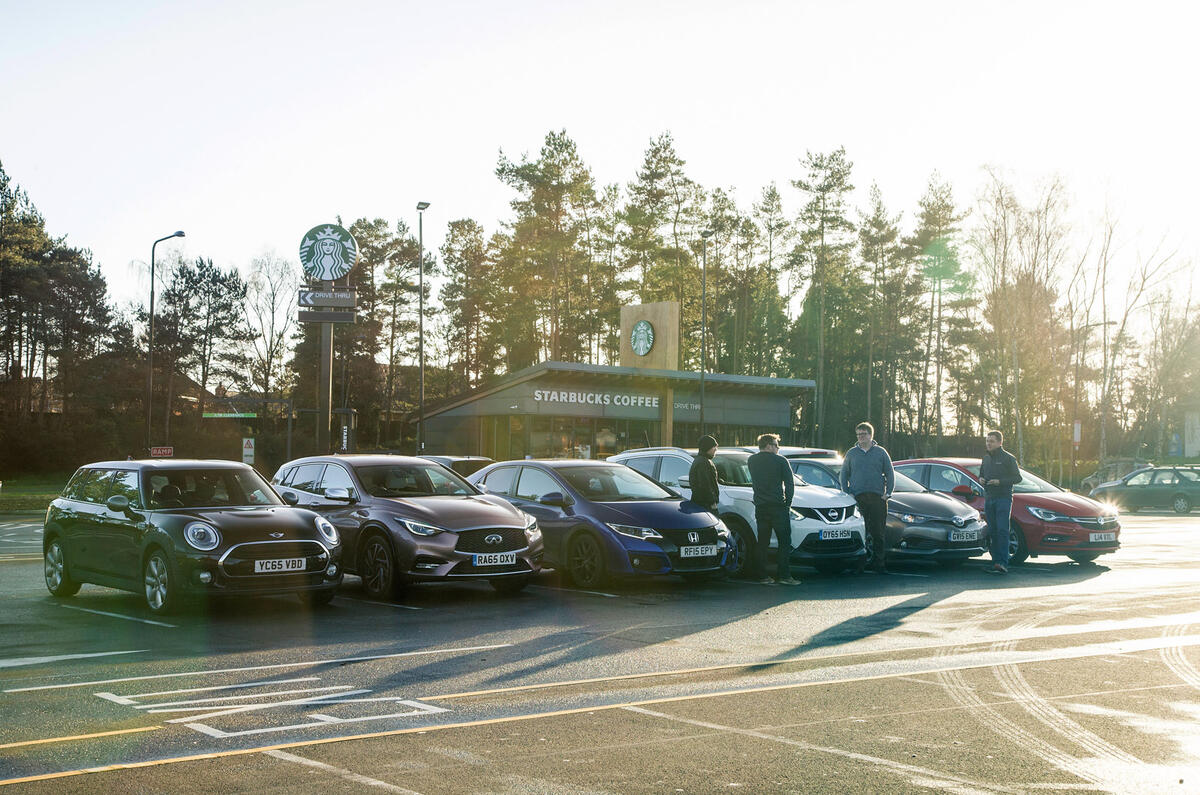 Which leaves just two. At the end of two days and plenty of mileage, it's readily apparent that the Qashqai and Civic are Britain's finest volume hatchbacks. If I could put only one of them on the boat, it'd be the Nissan. The fashionable fervour for crossovers may be what's fuelling its current popularity, but that success is underpinned by excellent design, expert tuning and very skilful execution. It could use a better engine, true. But none of the rest of our pack is as comfortable or convenient, as slick or easy to drive and to use as the Qashqai. None would slot into your life more readily and be ready to do more for you.
But although the Qashqai may be getting our only spot on the boat, I'm actually most keen to keep the Civic. I knew the Nissan was a strong car before even conceiving this exercise – but I couldn't have guessed how closely the Honda would challenge it. Almost as usable and even more practical than the Qashqai in some ways, the Civic is Britain's underrated, misunderstood gem. Innovative and interesting in ways the rest of the Brit pack just aren't and almost as rounded as anything else we make, it's frugal, good to drive and somehow so understated, even though it looks like an extra from Battlestar Galactica.
Like it or not, owning a Clubman makes a statement about you. Although the messages are very different, the same goes for a Qashqai, an Astra and an Auris. But owning a Civic says almost nothing at all, it seems to me – and what's more, I dare say that's a commodity that we Brits would pay a great deal for if only we were smart enough to consider it.