The Volvo S90 battles it out with Mercedes-Benz E-Class, Lexus's petrol-electric hybrid GS300h and Audi's Audi A6 2.0 TDI Ultra in our execuctive car showdown.
Frequent visitors to mainland Europe rarely pass up the chance to bemoan the relative state of the UK's motorway network, in my experience.
Compared with the paid-for indulgence of French autoroutes or the distance-munching majesty of much of Germany's derestricted autobahns, the overworked and undervalued grey sprawl of hurt that UK drivers are expected to tolerate has long been a national embarrassment.
Right now, its torrid state seems to have grown particularly acute. On a trip from the Midlands to Glasgow and back not so long ago, I turned up lengthy roadworks on the M1, M6, A1(M) and A74(M) – all in place on the same weekend. They probably amounted to 100 miles and several hours of delays and provided a tougher test of patience than on any long-distance trip I can recall. It's enough to make you reconsider your choice of car in favour of something supremely fit for the task of massaging away those irksome miles.
What you need is Britain's finest new motorway saloon, and we're about to discover exactly what that is. It could very well be the new Volvo S90, flashing its angular flanks at anyone who'll look at them ahead of a showroom debut in September. Or the new Mercedes-Benz E-Class, which has only been in the UK itself since May. Or one of this class's established purveyors of long-distance economy, refinement, comfort and becalming ease of use: Lexus's petrol-electric hybrid GS300h or Audi's Audi A6 2.0 TDI Ultra.
But first, a brief note to recognise absent friends. If this were a normal comparison test, the new S90 – here in range-topping 232bhp D5 trim – would be lined up against our class favourites (currently the Jaguar XF 2.0d and BMW 520d) and subjected to the broadest assessment we could manage. However, the E220d has already been through exactly that kind of test – and lost it on what felt like a very tight points decision. Our verdict recorded that the Mercedes was losing out mainly on preference, not ability – our preference for a more sporting driving experience wherever we can get one, to be exact. This test will be much more practical, pragmatic and straightforward.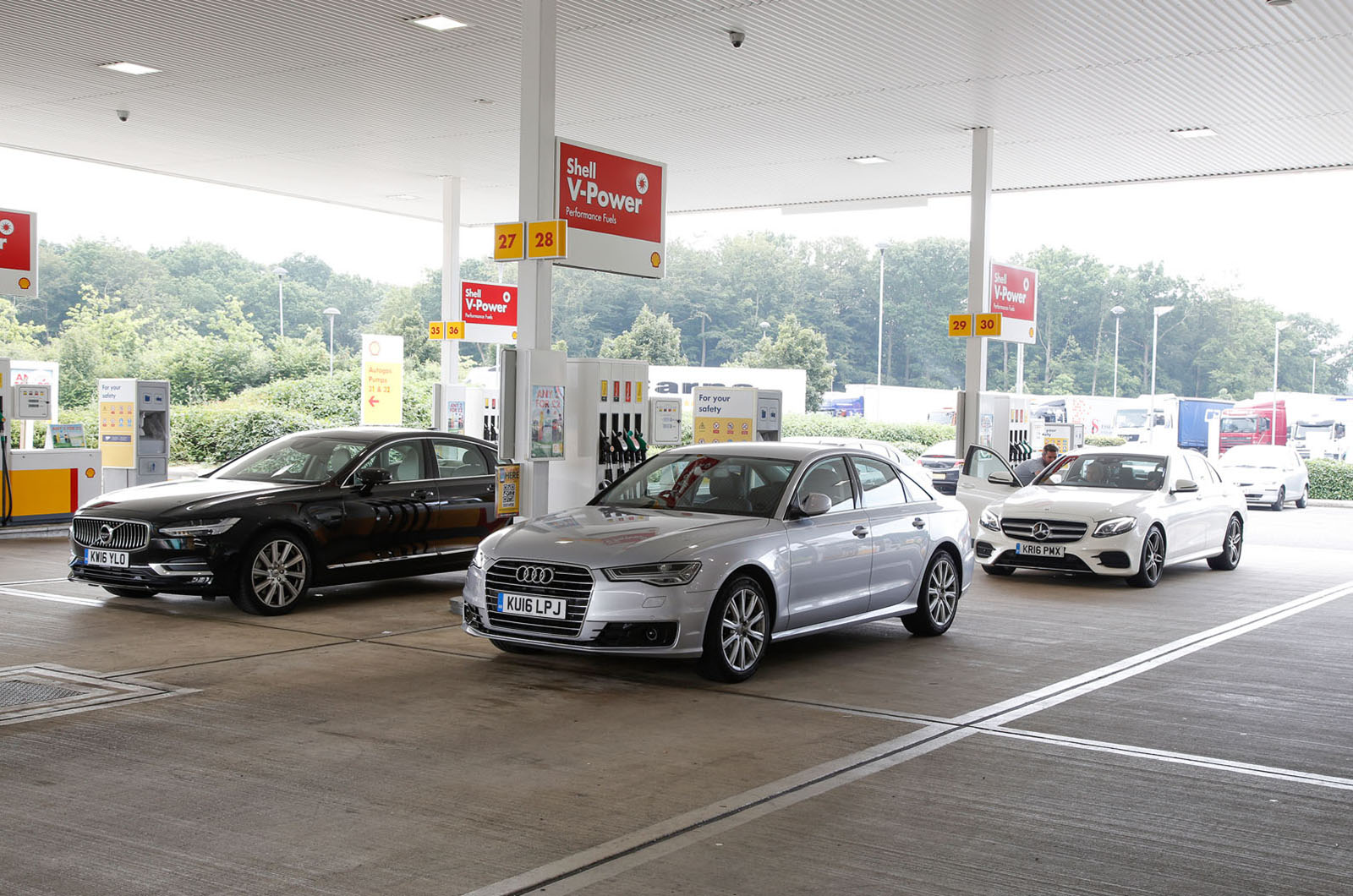 So let's get on with it. However practical and pragmatic you may be inclined to make your attitude towards a new 25,000-mile-a-year business saloon, you'll still want it to be 'nice inside'. It's no weakness or triviality to be convinced by readily apparent material quality, ample accommodation levels, convenient features and a few luxurious appointments, especially given the time you'll be spending at the wheel.
Several testers drove our four rival saloons during this exercise and ended up of one accord about the car in which they'd most like to spend extended time. The E-Class's cabin both looks and feels outstandingly good. The ornate, expensive appearance and cool metallic feel of so many of its switches and trims place the car's rich ambience a cut above that of every other here.