BMW has revealed armoured versions of its flagship saloon, featuring protective glass, a stronger chassis and bodywork capable of protecting against explosives.
The new BMW 7 Series Protection represents the first time the current generation of 7 Series has received an armoured edition. The electric BMW i7 also gains a Protection model.
Each car gains an armoured steel body, named the BMW Protection Core, strengthening the doors, underbody and roof. The firm said it offers "maximum protection" against explosives, bullets, drone attacks and hand grenades.
In addition, it features protective glass rated VPAM 10 - the highest level of protection for civilian protection vehicles.
The 7 Series Protection is VR9-rated, meaning it can hold off ballistic attacks from weapons travelling up to speeds of 820 metres per second.
It also offers PAS 300 blast resistance, plus a self-sealing fuel tank to prevent loss of fuel.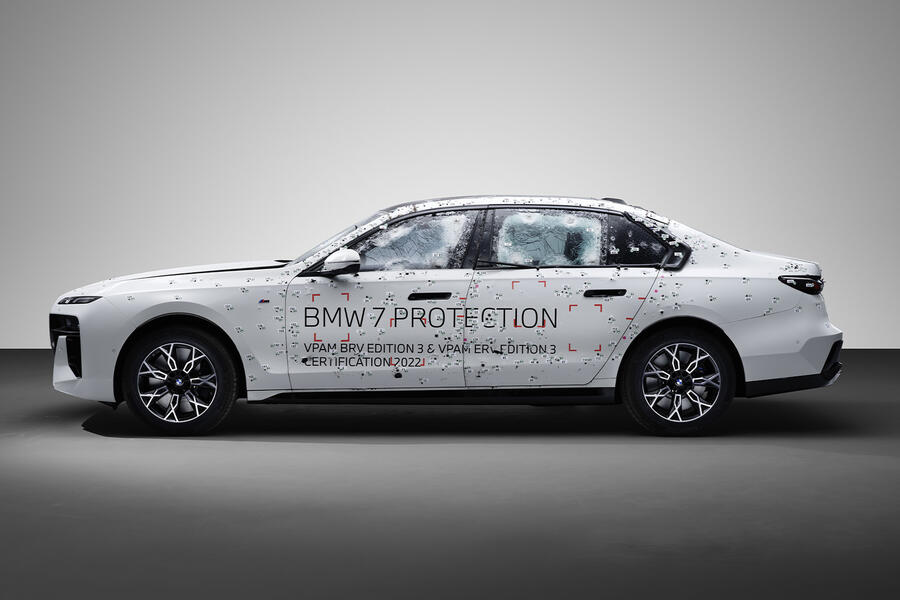 Other equipment includes a set of specifically developed PAX 20in light-alloy wheels, which are geared with a run-flat ring to allow driving up to speeds of 50mph when the tyres are devoid of air.
As a result of the protective bodywork, performance for the two cars is reduced.
The i7 Protection gets 536bhp and 549lb ft of torque from two electric motors. In the standard i7, that would mean a 0-62mph sprint of 4.7sec, but this doubles in the i7 Protection to 9.0sec. Top speed is limited to 99mph.
The 7 Series Protection, meanwhile, is equipped with a 4.4-litre V8 mild-hybrid petrol engine with 522bhp and 553lb ft. Its 0-62mph sprint drops from 6.6sec to 4.2sec. Top speed is limited to 130mph.