Alpina appears to be working on a performance version of BMW's BMW X7, just weeks after the maker's boss confirmed to Autocar that it is in the product plan.
Prototypes of the X7 have been spotted hammering around the Nürburgring Nordschleife with typical Alpina design cues, including large multi-spoke wheels and the tell-tale front bumper and lower intake design, split into two portions with a disguised Alpina badge mounted in the centre of the lower half.
BMW doesn't currently offer a full-fat M variant of the X7, but it recently revealed a halfway-house M50i variant. That makes 523bhp from BMW's ubiquitous 4.4-litre twin-turbo V8.
It's most likely Alpina would keep that powertrain but bump power up to (and possibly beyond) the 600bhp offered by the same unit in the Alpina B5 saloon and estate to make what's expected to be badged XB7. A high-performance diesel variant, badged XD7, could also be on the cards.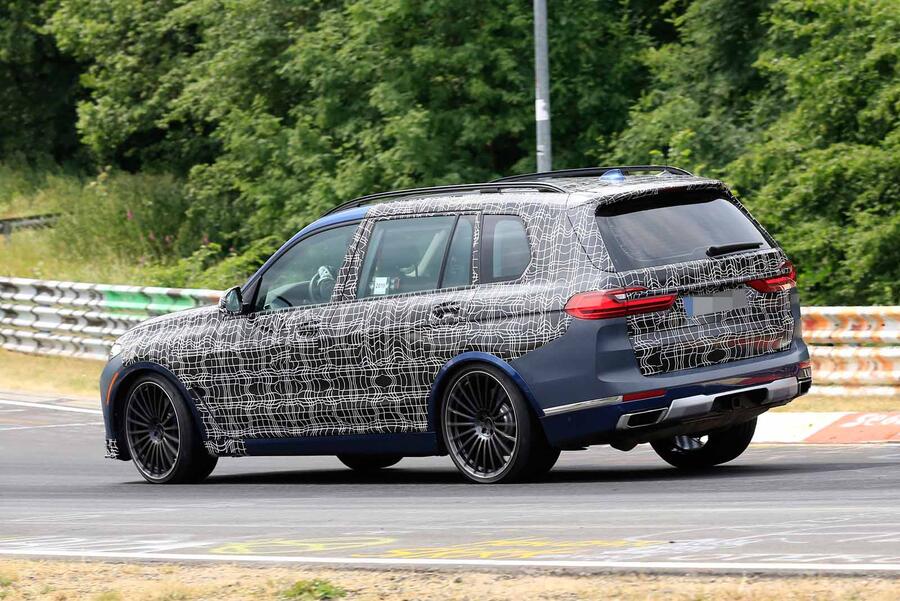 Alongside the power boost Alpina will also be complemented by its unique suspension componentry and tuning, while both inside and out there will be different design elements reserved for Alpina models.
Alpina boss Andreas Bovensiepen spoke to Autocar earlier this month, when plans for its version of the X7 were first discussed.
"We are thinking about having an X7 in the future but not right now, because BMW has a very high demand for it and currently the plant is full," Bovensiepen said at Alpina's headquarters.
He explained he has to keep production capacity in mind because BMW makes every member of the Alpina line-up on the same assembly line as the model they're based on. While he didn't provide a launch window, his comments suggest we won't see the Alpina-branded X7 until 2020 at the earliest.
Alpina boss discusses projects that never saw the light of day
Alpina has followed BMW into the lucrative world of high-performance SUVs, but it hasn't launched a hybrid yet. It nonetheless dabbled in petrol-electric technology in 2015 when it built and tested an evolution of the i8 powered by a four-cylinder engine that bumped the powertrain's output to 460bhp.