Fiat will enter the world of electric micromobility with the new Topolino, an 8bhp, 47-mile range sibling of the game-changing Citroën Ami that's bound for the UK next year.
Taking the name and design inspiration of the original Fiat 500, the two-seat EV has been created to "make young people fall in love with the 'car' again".
As such, Fiat will target Generation Z buyers with the ultra-compact urban EV, which is focused on easy-to-use and compact urban driving.
In some markets, such as France, it can be legally driven without a full licence and from the age of 14 due to its classification as a quadricycle.
Part of its draw, Fiat hopes, will also be some of its unique features. For example, in Dolce Vita guise, it can be optioned without doors – ropes are fitted instead – and with a retractable cloth roof (like the bigger 500). This gives a sense of more "freedom", the Italian brand said.
In both forms, and unlike the more customisable Ami, the Topolino is available in only one colour (Verde Vita), with one 14in wheel design and with one interior. It will, like the Ami, only be sold in left-hand drive.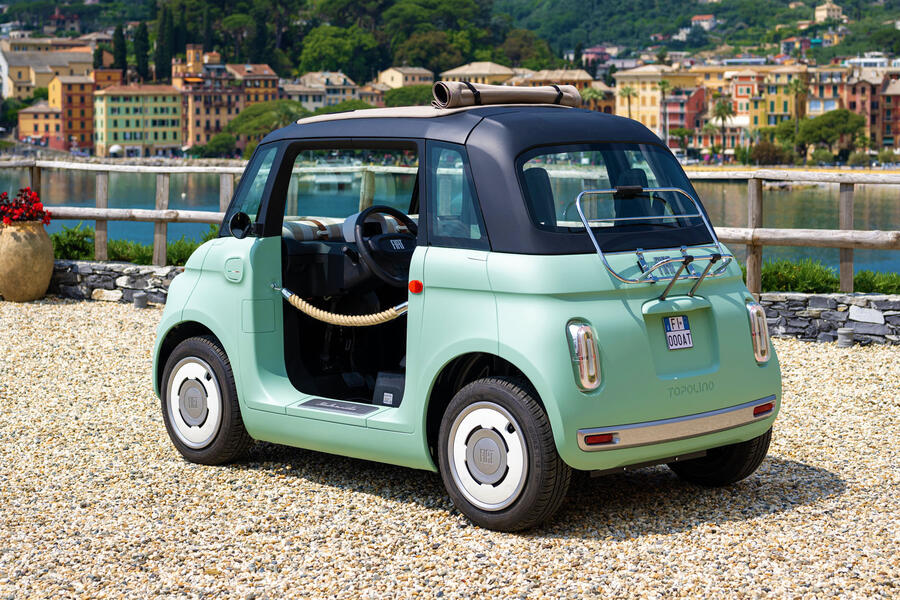 This decision will be part of a move to keep costs of the Topolino low, which is expected to arrive at a price close to – or possibly above – the £8095 Ami when it's launched in the UK next year. A cargo variant, in the same as the Ami Cargo, is also in the works.
Styling changes come in the form of small, round, 500-esque headlights, faux-chrome bumpers and more sculpted bodywork, giving it less of a rugged look than the Ami.
The pair are very clearly related, with the same base exterior shape and near-matching micro proportions: a stubby 2535mm long, 1530mm high and 1400mm wide.
The Topolino – which will be built alongside its French cousin and the Germany-only Opel Rocks-e in Stellantis's Morocco factory – sits on a skateboard-style platform and is powered by a single permanent-magnet synchronous motor, which powers the front wheels alone.