For better or worse, aerodynamics have dictated the look of racing cars for decades.
In recent years that's led to ugly F1 noses, overcomplicated IndyCar wings and square-fronted LMP1s such as the Porsche 919 Hybrid.
As highly efficient as these designs are, they're enough to leave fans pining for a time when good racing cars still looked great – a Porsche 917 or 956, for example, or the Brabham BT52 F1 car.
In the US, help is at hand from IMSA, which runs the WeatherTech SportsCar Championship that takes in the big endurance races at Daytona, Sebring and elsewhere. IMSA's new Daytona Prototype international (DPi) cars marry standard LMP2 chassis technology – as can be found in the second-tier prototype category at Le Mans – with restyled bodywork to give the racing machines the same design cues as manufacturer's road cars. There is also powertrain freedom from the stock Derbyshire-built, 4.2-litre Gibson Technology V8 that's fitted to regular LMP2s.
Crucially, a thorough Balance of Performance equalisation programme is designed to make good any aerodynamic disadvantages that result from the design changes, paving the way for a good-looking car that's still capable of winning against LMP2 rivals when the two race each other.
British motorsport expertise played a role here; IMSA's scalemodel aerodynamic test programme was conducted in a wind tunnel at Williams F1 with Ben Wood, a British aerodynamicist who previously worked for Brawn GP. Mazda's RT24-P DPi bodywork was co-developed with Multimatic in Huntingdon, Cambridgeshire.
Two of the new Mazdas, which share a chassis with the Riley MkXXX LMP2, were joined on the grid for the Daytona 24 Hours at the end of January by three Cadillac DPi-V.Rs, which are built on Dallara LMP2 chassis.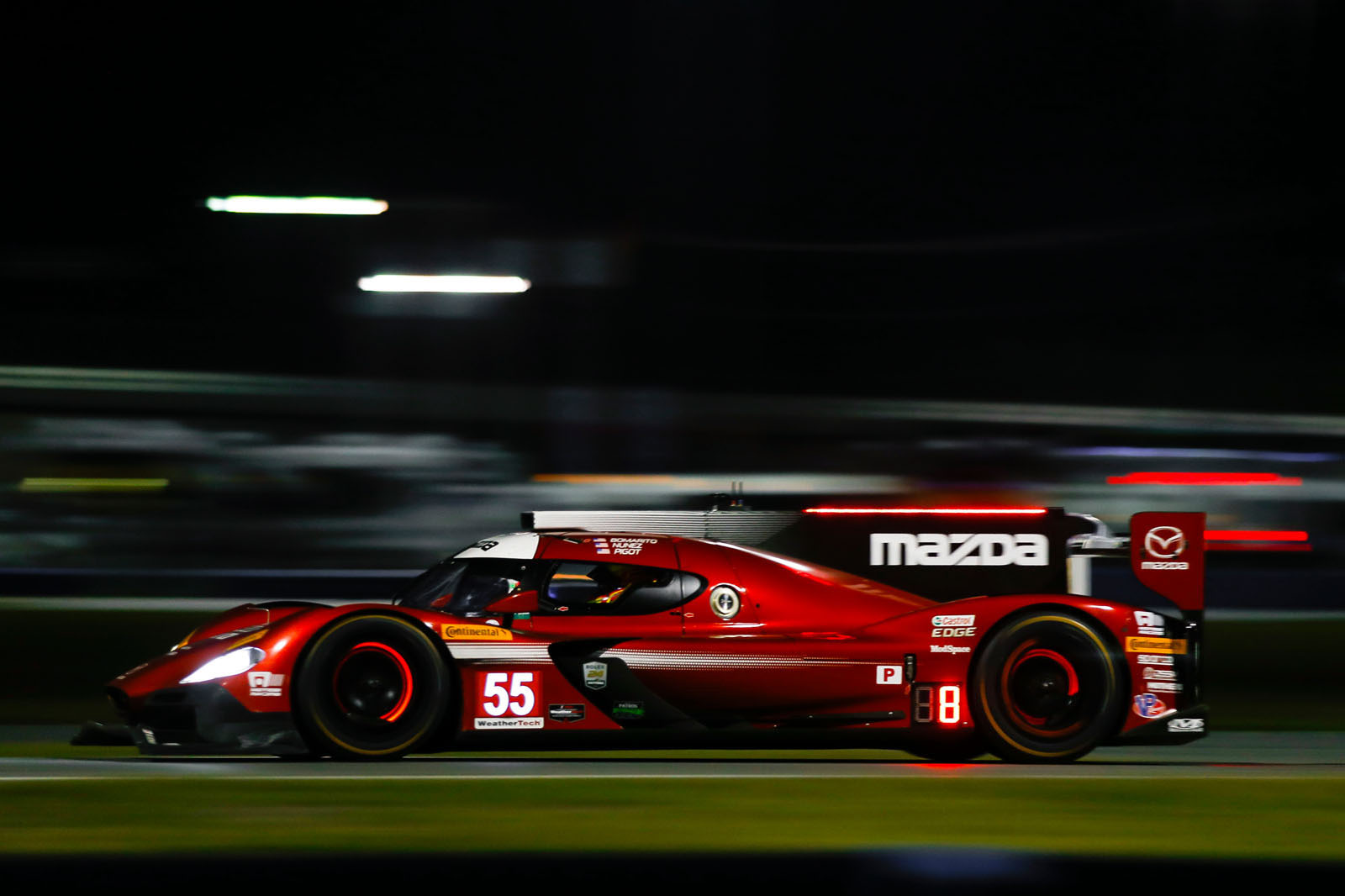 In late 2015, Dillon Blanski, lead creative designer for Cadillac exteriors, won an internal contest to shape the distinctive, angular look of the Cadillac DPi.
"There are a lot of Cadillac design cues in the body lines of the DPi," says Blanski. "The surface tension and line quality in the early sketches were inspired by the production vehicles in our studio."
Blanski's involvement extended beyond the Cadillac DPi's body shape to details like the large, vertical daytime running lights, the valve covers for the Earnhardt Childress Racing Engines-built, 6.2-litre V8 motor and even the deep-dish wheels, which mimic the style of those found on a CTS-V road car.
Some back and forth between the studio and Dallara refined the surfaces and design details until they were acceptable to stylists and aerodynamicists alike. Sometimes the two coincided perfectly; Blanski notes that the roof-mounted air scoop, for example, was styled so that from the front it looks like the Cadillac crest, but also delivered an aerodynamic improvement.