Lamborghini is heading to the world of top-flight endurance racing with a fearsome hybrid hypercar that has strong design and technological links to its road car line-up.
Presented to a huge crowd at the Goodwood Festival of Speed by CEO Stephan Winkelmann and technical boss Rouven Mohr, the SC63 – named for the year Lamborghini was founded – will race in the World Endurance Championship (WEC) and the American sports car championship IMSA from 2024.
One car will race in each series, and both will take on Toyota, Ferrari, Porsche and Glickenhaus at the legendary Le Mans 24 Hours in June next year.
Based on a chassis supplied by Ligier, one of four available architectures for the Hypercar class, the SC63 is described as representing the three core pillars of Lamborghini: hybrid, aerodynamics and design.
Winkelmann hailed the race car as a true sibling model to the brand's road cars, saying "Mitja [Borkert, head of design] has done a great job" in creating a "recognisable" Lamborghini for the track, the aggressive aero addenda and Y-shaped headlights highlighted specifically as trademark elements.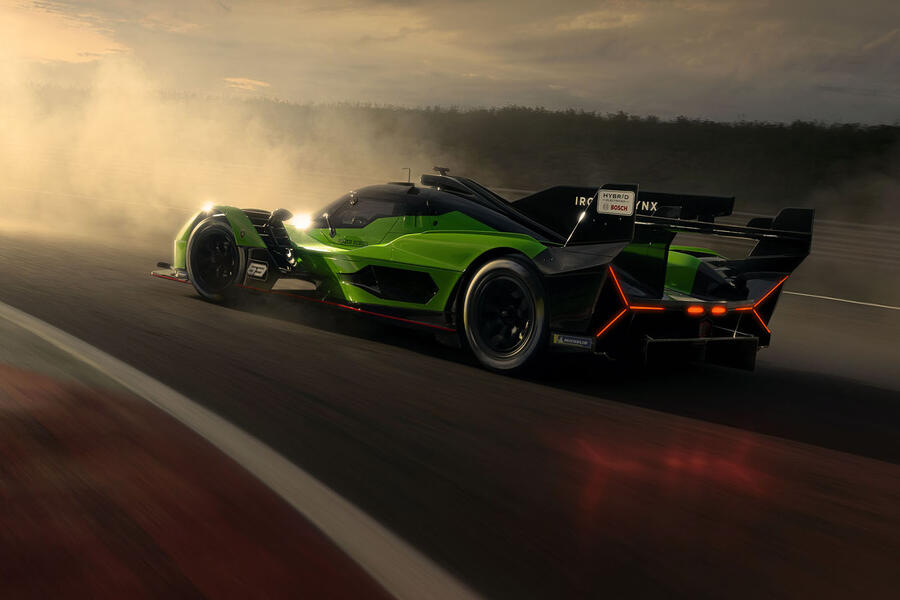 Borkert said: "From the beginning, my personal briefing to the design team was that the car needs to be highly functional, but we wanted to create a car that is immediately recognisable as Lamborghini.
"The main recognition of the front and rear of the SC63 is driven by the Y-shaped signature light. The size of the cabin and the main character of the car is driven by the sporting rules, but we have also implemented our own brand styling cues throughout the car.
"Integrated into the side panel of the body you can see a NACA duct that was inspired by the air intake of the Countach. When you look at the rear wheel arch, we gave the impression of acceleration towards the front, and this relates to the wheel arch design language of Lamborghini that can also been seen on the Revuelto."