US off-road start-up Bollinger Motors has confirmed the UK and Europe are among its launch plans for its first models, the B1 and B2.
On display at the Los Angeles motor show, the B1 and B2 share a common 'skateboard' electric platform that's modular in its design to allow for the differing SUV (B1) and pick-up (B2) bodystyles.
Bollinger announced pricing last month - from $125,000 (around £97,000) each - and started taking deposits. To date it has orders for more than half the first year's production, which runs from 1000-1500 units annually, according to sales director Chet Parsons.
Production is due to start late next year at a yet-undisclosed area, likely to be in Michigan, ahead of the first customer deliveries in 2021. Parsons said that there were deposit holders from the UK in the first wave, and the firm was working on EU and ECC type approval as part of the ramp-up to launch, to allow the B1 and B2 to be sold in the UK and Europe early in the pairs' launch phase.
The B1 and B2 are built to Class 3 US truck certification, which classes it as a medium truck like the Chevrolet Silverado, rather than the light truck category (built to Class 1 and Class 2 regulations) that the likes of the Ford F-150 and F-250 fall into.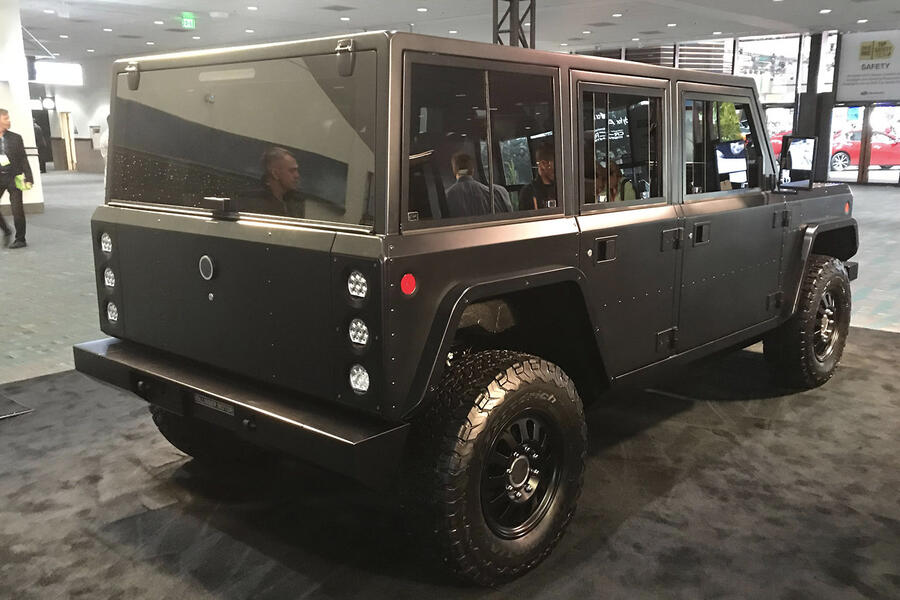 Being built to those regulations has opened up Bollinger to potential customers in the mining, scientific, and fire and rescue industries, where expressions of interest have all come from. Bollinger will even just provide a basic chassis and running gear to allow for conversions to safari vehicles, for example.
Parsons confirmed that the B1 and B2 in LA were beta prototypes, and are the first four-door vehicles after the firm created a two-door prototype as a proof-of-concept. The pair are identical from the rear doors forward, and can be produced side-by-side. Parsons said that further vehicles were planned to share the architecture, including a two-door and shorter wheelbase versions.
Both draw power from a vast 120kWh battery pack, and have an electric motor on each axle to provide four-wheel drive, though no range is quoted yet. Combined output is 614bhp and 668lb ft with a 0-60mph time of 4.5sec and a top speed of 100mph.
The pair are designed as heavy duty, off-road trucks rather than as car-derived SUVs or crossovers. Drive is through a two-speed automatic gearbox with high and low ranges, and there are front and rear electronically locking differentials.
Designed for extreme off-road use, the B1 and B2 have 50/50 weight distribution, 10-20in of variable ground clearance, 10in of wheel travel, all-round ventilated 11.75in disc brakes and geared axle hubs.
Payload is a hefty 2359kg, while towing capacity is 3402kg. For context, the Toyota Hilux pick-up manages up to 3500kg. The Bollinger models also have a unique 'pass through hatch' running their entire length.