Audi will will start diversifying its electric car lineup with a second E-tron SUV, the Sportback, set to make its public debut at November's Los Angeles motor show.
The more style-focused sibing to the regular Audi E-tron quattro SUV has been undergoing hot weather testing with barely any disguise, allowing us our best look at the car's coupe-influenced design.
UPDATED: The Audi E-tron Sportback has been officially revealed at the LA motor show - read the full story here
The with sportier styling is designed help it challenge the likes of Jaguar's Jaguar I-Pace. As well as the more steeply raked rear windowline, it features a lowered stance and a bespoke rear-end profile.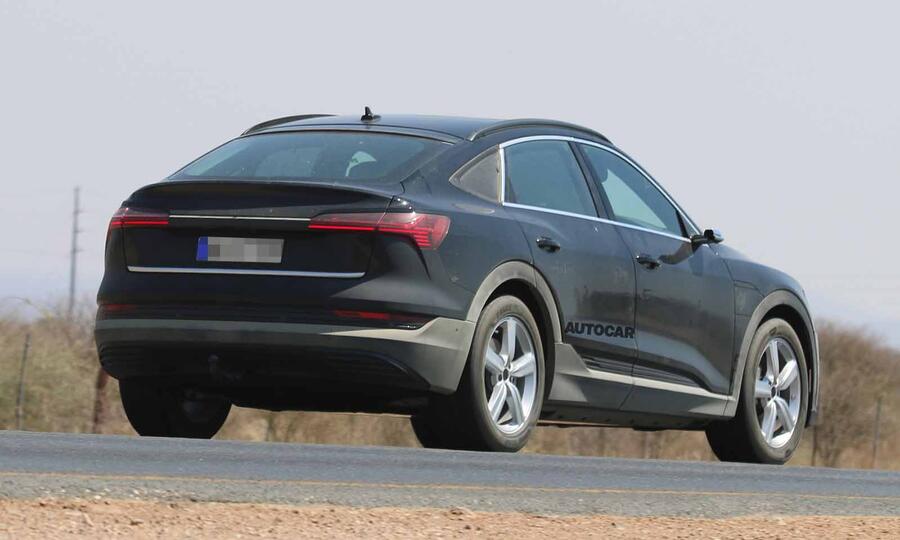 The car sports a more traditional front grille design than the Sportback concept that made its debut at 2017's Shanghai motor show. It does, however, retain digital rear-view cameras in place of traditional door mirrors as first seen on its E-tron sibling.
The E-tron Sportback appears to use the same kind of rear LED brake light bar first introduced on the Audi A8 limousine and which is quickly becoming a staple of premium Audi models.
The concept mixes the lines of a liftback with the stance of a four-seat SUV to create what the brand describes as "a new class of car" that will attract buyers who might have previously considered an Audi A7 Sportback but want a more commanding view of the road. The E-tron Sportback concept sits on 23in alloy wheels.
Opinion: electric cars like the Audi E-tron are leading a design revolution
The production version of the E-tron quattro produces 402bhp and 487lb ft in Boost mode, where it achieves 0-60mph in 5.5sec. The E-tron Sportback is likely to have similar performance.
It will also be capable of the same 150kW charging rate as its sibling, which is already among the best rate of any EV on sale. Expect a range similar to the 248 miles offered by the E-tron, perhaps aided sightly by better aerodynamic performance.