Having been the custodian of our long-term Jaguar XE last year, the larger cabin of the Jaguar XF feels familiar.
The same basic layout and fittings, the same plush materials and the same rotary gearknob rising majestically from the centre console. But what's this? A digital screen in place of analogue dials? And upgraded infotainment? These I have to try.
JLR's InControl Touch Pro set-up, on a 10.2in screen, is much easier to use than the 8.0in version fitted to our XE. It has the intuitive feel of a smartphone, is impressive graphically and responds quickly if you enter information such as a postcode. But it's not as slick as BMW's iDrive system, and while touch screens are becoming the norm, a rotary dial is easier on the move.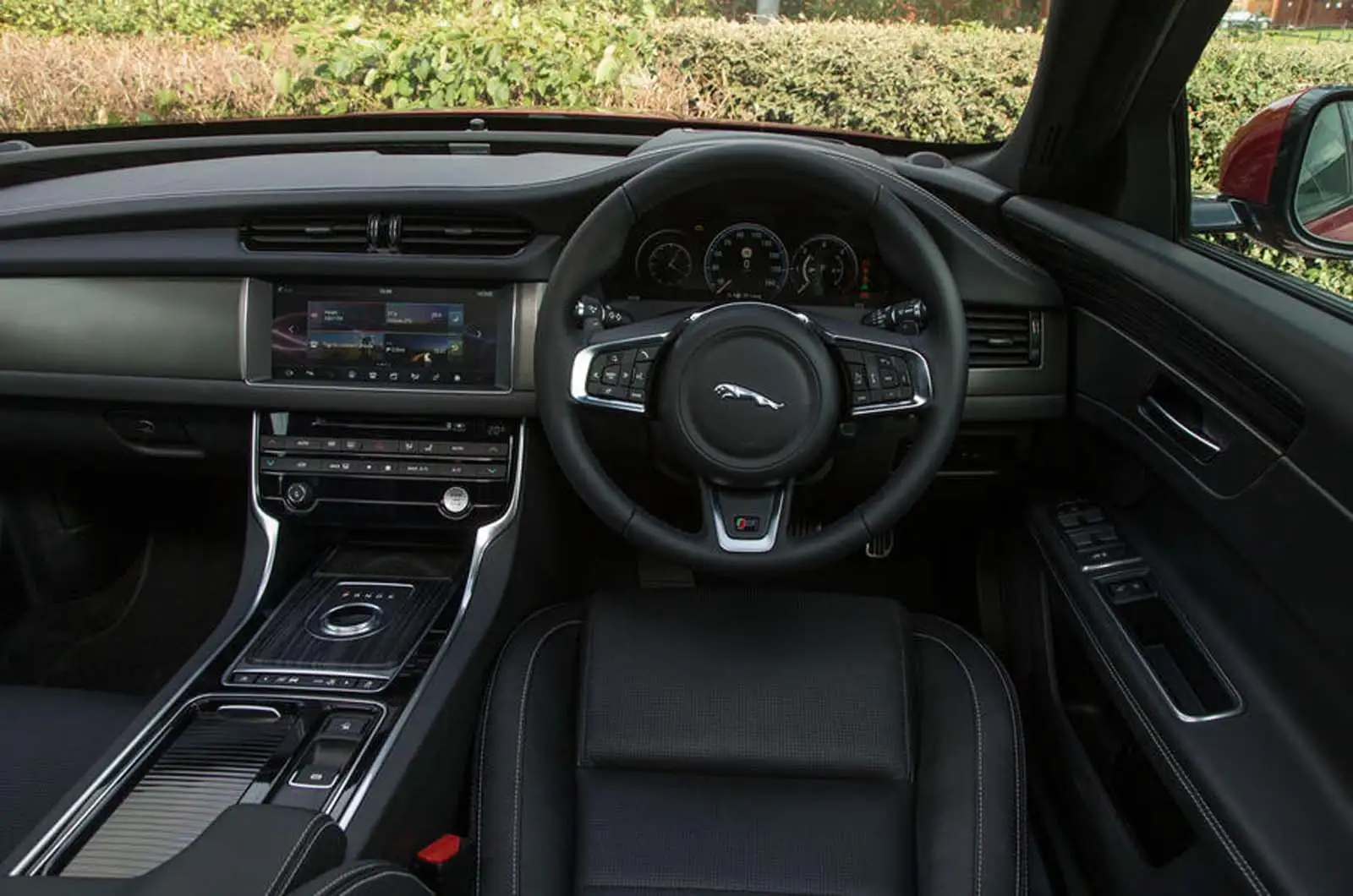 The upgraded infotainment set-up also unlocks Jaguar's virtual instrument cluster. You can choose between three pre-set themes, which alter how the system looks and the information displayed, plus there's a Map mode which – you guessed it – gives over most of the instrument panel to the satnav guidance and usefully puts it right in your field of vision. There's an uprated Meridian sound system, too.
The cost of these extra features? Brace yourself: it's £2095. On a car that's already knocking on for £50,000 before options that is pretty steep, especially as Audi charges just £250 for its Virtual Cockpit on the Audi A5 (it can't yet be had on the Audi A6). That said, I'd tick the option box anyway, because the overall experience is so much better than the standard one.
I managed to drive the XF as well as playing with all its toys. And, with just a sentence left to tell you about it, I'll just say that, in my opinion, it's better to drive quickly than anything else in this class.
JAGUAR XF 3.0 TDV6 S
Price £49,995 Price as tested £61,920 Economy 45.8mpg Faults None Expenses Four new tyres plus fitting £810, 10 litres of AdBlue £13.49 Mileage 18,357