Swindon Powertrain has launched the 'crate' electric motor for low-volume EV conversions that it first announced last year. 
Available to order now, it costs £6400 plus VAT. That price includes the 80kW (107bhp) motor itself plus the transmission and differential. Options for cooling, inverters and even a limited-slip differential are available. 
Swindon Powertrain has perfected the formula when moving from concept form to production. It's actually smaller than what was originally proposed, at 441mm wide and 384mm long, and the firm claim the highest power/volume ratio of any automotive system. It weighs in at a touch under 50kg. 
The powertrain was being developed in partnership with electric motor manufacturer iNetic and engineering firm Code, with funding coming from the Niche Vehicle Network, a body that supports more than 900 of Britain's lowest-volume automotive production and engineering companies. 
The unit is described as 'turnkey', meaning it's ready for installation straight from the box. Primary intended uses for the new motor include sports cars, classic cars, small commercial vehicles and recreational vehicles such as golf buggies.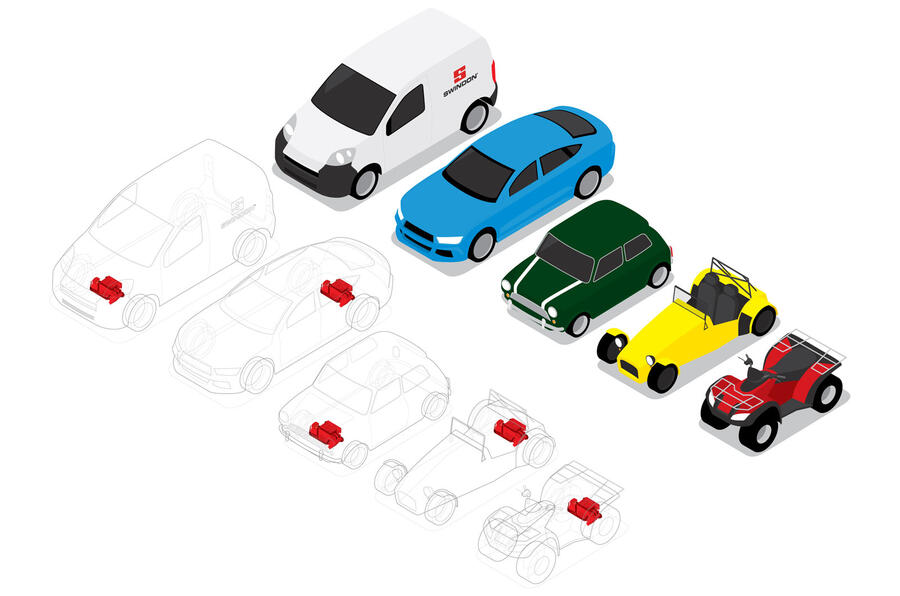 Swindon Powertrain also states that waterproofing options will enable it to be used in compact off-roaders. It claims that as well as operating as a standalone motor, the unit could also be used as the electric component in a hybrid vehicle's drivetrain. 
Different installation points and two inverter options give the powertrain the flexibility for a variety of uses. Two gear ratios can also be selected as a no-cost option, with Swindon Powertrain's website offering a configurator. 
The firm plans to deliver the first batch of crate motors in August and will cover the cost of any necessary research and validation processes, which it says will further ease costs for buyers. 
Q&A with Raphaël Caillé, Swindon Powertrain managing director
When did this project become a reality for you?
"Really we started the design two years ago. We saw an opportunity in the market: if you're a car manufacturer and you want to make 10,000 or 100,000 [electric] vehicles a year, there are plenty of suppliers to talk to. If you want to do an electric vehicle and you're looking at a dozen, a hundred or even a thousand a year, there was nobody to talk to until now. 
"This is definitely the only EV powertrain that you will be able to buy online from a website, with a credit card, on a one-by-one basis."
Is there a specific application that has been most popular so far?  
"We're in advanced talks with a manufacturer of quadbikes; there are no orders yet, but I'm confident they will come. The big push at the moment is the electrification of existing cars, in particular classic cars. So this is where at the moment we have quite a few orders, private buyers, but it also goes all the way up to well-established companies that convert classic cars."