There are 43 separate colour segments in an Aston Martin 'wing' badge. Each is bounded by a slender line of chrome, which the pads of your fingers will feel if you slide them across the surface of the badge.
The badge's centrepiece 'Aston Martin' lettering is framed by an equally slender rectangle of chrome, with a black infill. It's an intricate badge, and one that's usually white, apart from the black background to the Aston Martin characters.
But the remaining 42 segments, which fan out from the badge's centre like the sun's rays, provide some extra scope for creativity. Zagato Aston Martins, for instance, feature a variation on the badge, and occasionally a bespoke badge will be produced for a customer.
This year, Aston Martin Racing will field several cars in the World Endurance Championship carrying individual wings badges handmade by Vaughtons from the Birmingham Jewellery Quarter, which produces all of Aston Martin's badges. They appear for the first time on the V8 Aston Martin Vantage GTE racers competing at Silverstone on 16/17 April.
Making them is a surprisingly intricate business, requiring no less than 21 different stages that combine semi-mechanised metal-working, considerable craftsmanship, some baking, chroming, and plenty of polishing. We got the chance not only to observe this process but to then have a go at decorating one.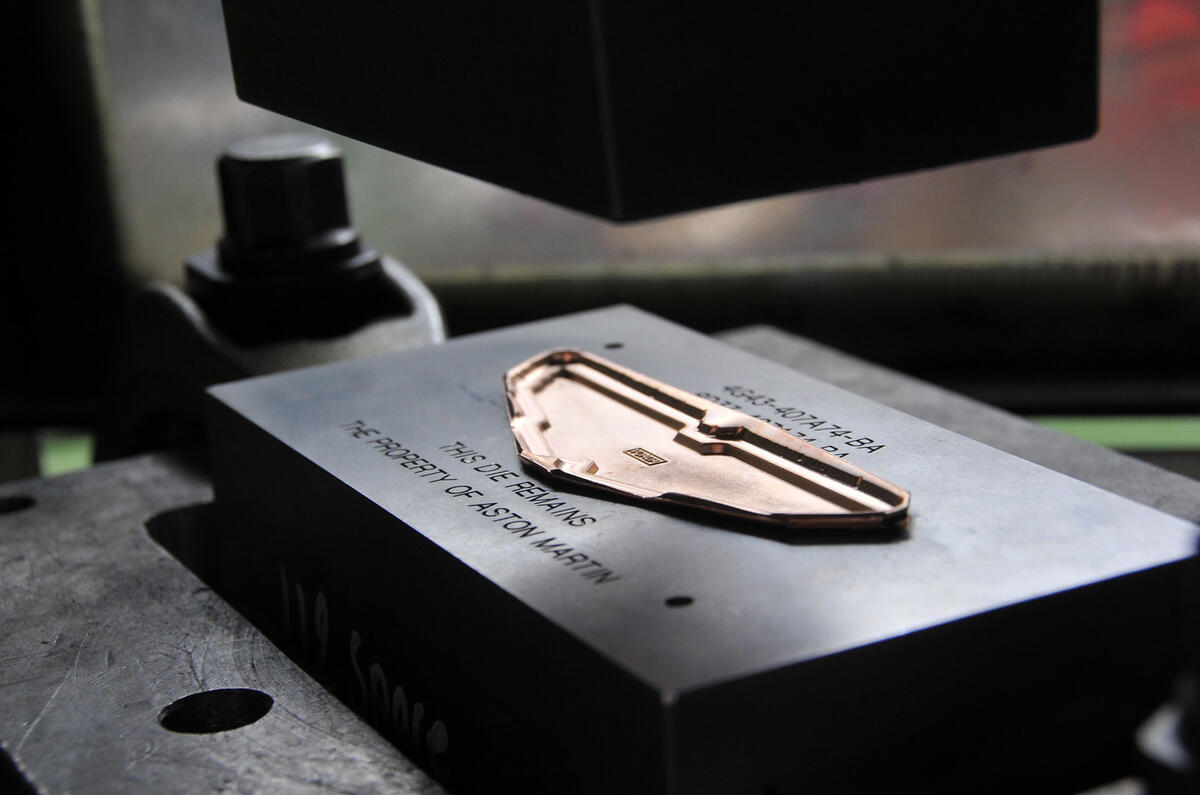 Producing the badge starts with computer-aided design (CAD) data from Aston Martin itself, which is used to make the highly accurate die that will stamp the badge's baseplate. The process itself has a pre-cut, rectangular strip of copper alloy that enters the stamping machine, to emerge one thump later as a recognisable and fairly detailed core, but with a plinth-like rim of excess copper around it known as flash.
The baseplate is then placed on a small conveyor that propels it into an oven, rather like one of those mechanised hotel toasters. The heat anneals the metal so that it can undergo further stamping to ensure that all the detail emerges without thinning and splitting, after which the flash is cut off.