The future of Formula 1 can be found not only on a race track but hidden deep inside an imposing concrete bunker on the outskirts of Oxford.
This small corner of the Renault F1 team's operations base is where a new generation of drivers trains for competition on virtual circuits rather than real ones. Instead of full-blown simulators that cost millions, they use PlayStations, and anyone with a copy of the latest official F1 game can get involved.
Welcome to the burgeoning F1 e-sports scene, part of a push by the sport's owners Liberty Media to attract younger fans. Renault Sport's commercial director, Antoine Magnan, gives some context: "The average F1 viewer is 39 years old. Eighty percent of e-sports viewers are younger. It brings our sport and motorsport in general to a much wider audience." Last year, that audience was 5.8 million viewers, who tuned in largely through YouTube and game-streaming website Twitch rather than via traditional broadcast TV.
The Formula 1 Esports Series holds four fast-paced live events per season. Each one comprises three races, run to one-third of real-life distance. Competition is fierce, with every team effectively using a differently liveried version of the same virtual car. Drivers can tweak their set-up and choose tyre strategies, but no single team dominates proceedings. Renault finished bottom in the 2018 season but ended last season in fourth. And Mercedes failed to take a single podium in 2019 – a far cry from the real thing.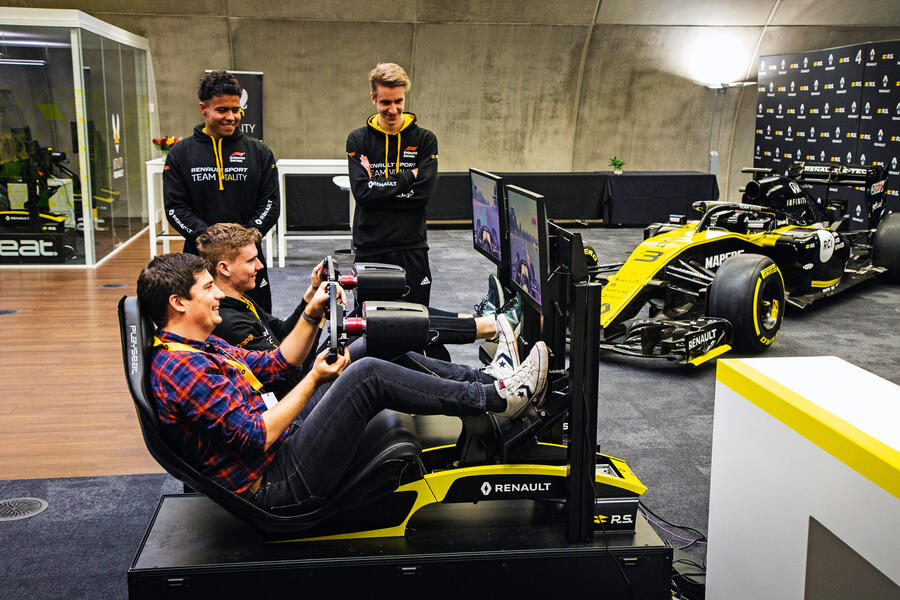 Every constructor involved in real-life F1 must field an F1 e-sports division, but Renault's involvement goes further than a logo on the branded jerseys worn by its players. They have access to the same fitness programmes as Renault Academy drivers, focusing on postural work to avoid aches and pains after spending eight hours a day in a bucket seat. "If we know it works, we'll employ it for e-sports," says head of Renault's Human Performance Centre, David Thompson. "The physicality may be different, but they still need to perform."
The goal isn't to prep players for real racing, just to keep them performing as best they can in e-sports. But Renault's star player, Jarno Opmeer, actually has some on-track experience, having competed in Formula Renault Eurocup. "I think it gives me an edge over other players," he says. "Some of the drivers are really good, but they don't have the racecraft and track placement knowledge that comes from real driving."
Opmeer lives close to Renault's Enstone-based facility and puts in around eight hours of practice per day. As in real-life F1, drivers have to perform in order to retain their seat. Tens of thousands of players compete in online qualifiers each year, with the best going into the series' Pro Draft, from which drivers are selected to represent F1 teams in the Pro Series.