Even by Silverstone's high standards of specialness, this Valentine's Day was pretty remarkable.
Out on the main circuit the new Mercedes-AMG Formula 1 car was making its moving debut, the W11 snarling and stuttering its way around the track as Valtteri Bottas and Lewis Hamilton put it through its paces, a smattering of VIPs standing trackside and with drones buzzing overhead to capture footage. Ordinarily I'd have been looking for a vantage point, but the cars on the junior Stowe Circuit – now Aston Martin's high-performance test track – proved to be even more compelling.
To celebrate its involvement in the forthcoming James Bond film No Time To Die, Aston Martin had assembled a group of cars connected with the film. That meant a DBS Superleggera, a 1980s V8 pretty much identical to the one featured in The Living Daylights and which has a modest cameo in the new film, and what appear to be four near-identical DB5s in the silver birch colour made famous by the one Sean Connery first drove in Goldfinger.
That turns out to be half right. Two of the DB5s are very much the genuine article. One is an immaculate 1964 car wearing the BMT 216A registration of the original film car, the other a similar-vintage model that's being used as a test bed for the gadgets in the forthcoming Goldfinger continuation version – and yes, it has replica Browning machine guns in its indicators. The other pair look identical but are pretty much entirely different, being two of the eight near-perfect replicas that Aston Martin built for stunt work.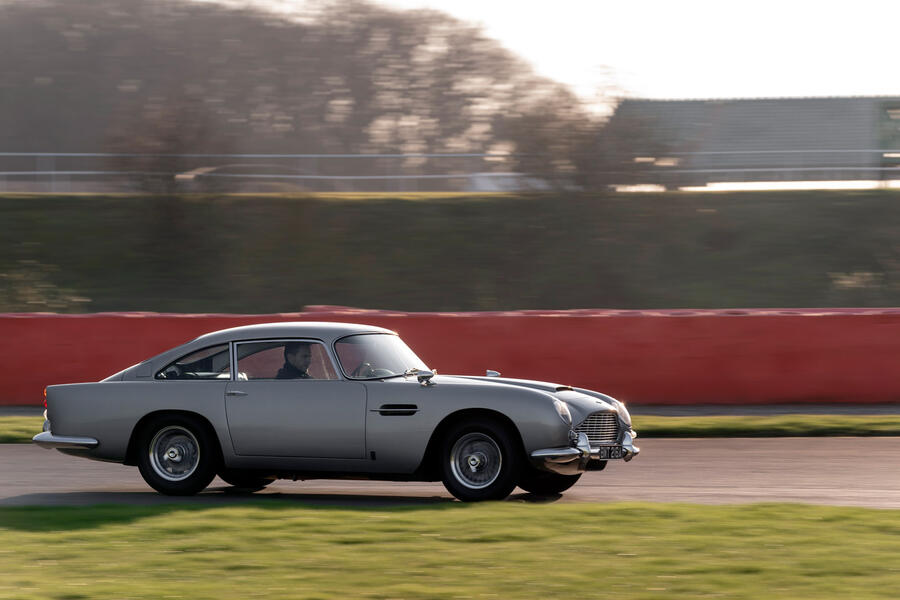 I was lucky enough to get a chance to visit the set in Matera, Italy last year to see one of the set pieces of No Time To Die being filmed, but today promises to be even more special, with the chance to drive both the original DB5 and its high-tech doppelgänger back to back. And I'm not even wearing a dinner jacket.