Last year we opened our garage doors to show you what we drive in our own time. Well, we've been busy buying again. Here's what we've acquired in the past 12 months.
Matt Prior - Baja Bug (1961)
The Ariel Nomad is to blame. I drove it, loved it, and three days later my colleague Lewis Kingston and I were sharing posts from a sandrail buggy forum's 'For sale' section. Two clicks away from a rolling buggy chassis (that would have been killer with a turbocharged Subaru engine) was this, a 1600cc 1973 Volkswagen Beetle in 'Baja Bug' style.
It was cheap, pink, available, didn't need much work and, I thought, might just answer my need for a deft, softly sprung car that would be as entertaining on a green lane or field as it would be on the road. It doesn't.
Dynamically, the Bug is quite possibly the worst car I have ever driven – and I've driven a Tata Safari. The ride is appalling, it feels unstable while cornering, and there are clonks and bangs from places that, I suspect, are referenced in the two pages of 'advisories' that I should but haven't looked at from its MOT test. The wiring is a joke and you can see daylight through the dashboard. None of which I care less about. This is a cool car.
I've painted it an early 1970s VW van colour I'm fond of and will add race numbers and some stickers for the full Baja Rally look. The wheels and mirrors need to change colour, but I'm going to leave the interior shade alone – although I'll add black carpets and door cards to tone it down. And I have a roof rack that needs to go back on, after I've fixed it. It fell off on an A-road, you see.
It is one of those cars that will probably never be finished, but that doesn't matter. It is not the air-cooled, rear-engined German car that cliché suggests I should have, but it is the one I could afford. Whatever arrives in future, I suspect I'll always find a place for it somewhere. Unless Ariel will accept it as a deposit.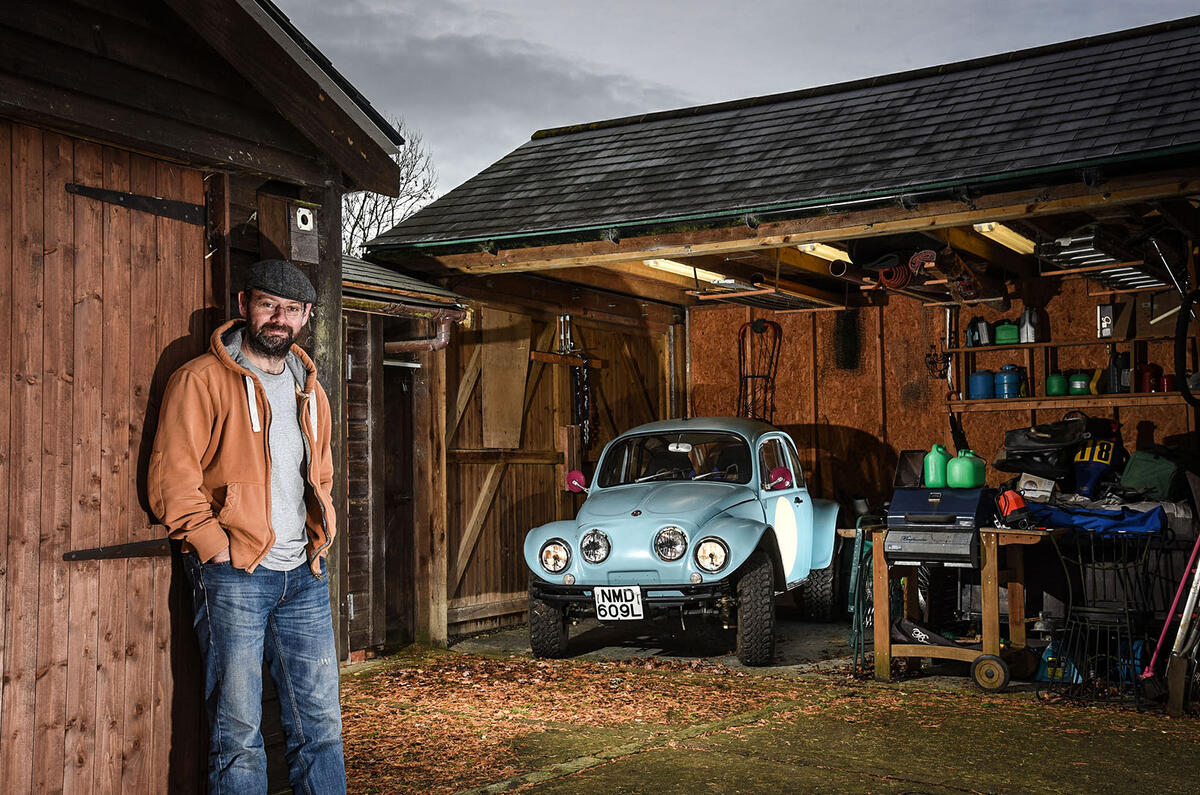 Jesse Crosse - Nissan Skyline GT-R V-Spec R34 (2000)
If you do this job for long enough, sooner or later a particular car comes along and gets under your skin. At the Autocar Handling Day in 1999, the line-up included a Bayside Blue Nissan Skyline GT-R V-Spec and the sheer shock-and-awe presence of the thing took my breath away. After driving it, I scribbled in the notebook "the sort of handling you expect from a race-prepped car. Turn-in ludicrously sharp. Fantastic grip despite the power" and parked the R34 in my fantasy garage.
The search began early this year and the value of importing direct from Japan soon became obvious. There's no salt used on the roads there and it's not hard to find completely rust-free cars, but finding a standard Skyline is much harder than finding a good one. With 330bhp as standard, the RB26DETT 2.6-litre twin-turbo straight six has enormous potential and 600-800bhp is not uncommon in road cars. The V-Spec has the ATTESA E-TS Pro active all-wheel drive system, which controls torque split front to rear and across the back axle. It also has Brembo four-pot calipers on the front and HICAS all-wheel steering, so the whole package is perfect for tuners.