By 1951, Ferrari was a well-established player in international motor racing.
Enzo Ferrari's Prancing Horse made its debut in the 1930s on Alfa Romeo grand prix cars, and after cutting cut ties with Alfa in 1939, he built the first car of his own – the Auto Avio Costruzioni 815 – in 1940.
The first Ferrari road car was the 166 Inter grand tourer of 1949. Essentially an evolved version of the 166 S racing car, 37 examples were produced.
Ferrari's racing success continued after World War II, and José Froilán González then took Ferrari's first Formula 1 win at Silverstone in 1951.
That same year, it produced the 212 Export, a 2.5-litre-engined two-seater sports car for the road, and the first Ferrari we here at Autocar ever got our hands on. As was the style at the time, buyers would commission a coachbuilder of their choice to design a body for Ferrari's chassis and mechanicals.
"Being individually made, Ferrari cars are very expensive," we began. With a two-seater body, the 212 Export was priced at 5,600,00 lire, equivalent to £3,200 at the time - although it wasn't on sale in the UK. Today, that would be £92,240 – nowhere near enough to buy you even the cheapest of new Ferraris.

"It is not the most powerful sports model sold today," we said. "That distinction probably belongs to the 4.1-litre America Ferrari which is just going into production – but its high speed acceleration exceeds anything previously recorded in The Autocar road tests."
We found the 212 Export's 140bhp V12 could propel it from 0-80mph in an average of 16.2sec, and 0-100mph in 22.5sec. And even then, our test car was limited – having just 400km on the clock, it was limited to 6500rpm – "the peak of its power curve, but not the absolute limit of its capabilities." We also had to be kind to the gearbox, which included not maxing out first gear.
"Ferrari's chief tester accelerated smoothly away from 10mph up to over 90mph, still in fifth gear, as though he were driving the most tractable of family cars, but at a pace which few cars could equal even when driven flat out through the gears."
We also said that the smooth progression in gear from 1000 up to 6500rpm "brings to mind the gas turbine cars of the future". Eh?
Due to a near-flat torque curve from 3000 to 5000rpm, "the rate of acceleration on each gear is maintained over a wide range of speed." This meant that despite being as fast as previous 2.0 and 2.3-litre Ferraris, the 212 Export could be driven much more "lazily" while still giving "all the performance that most people can use".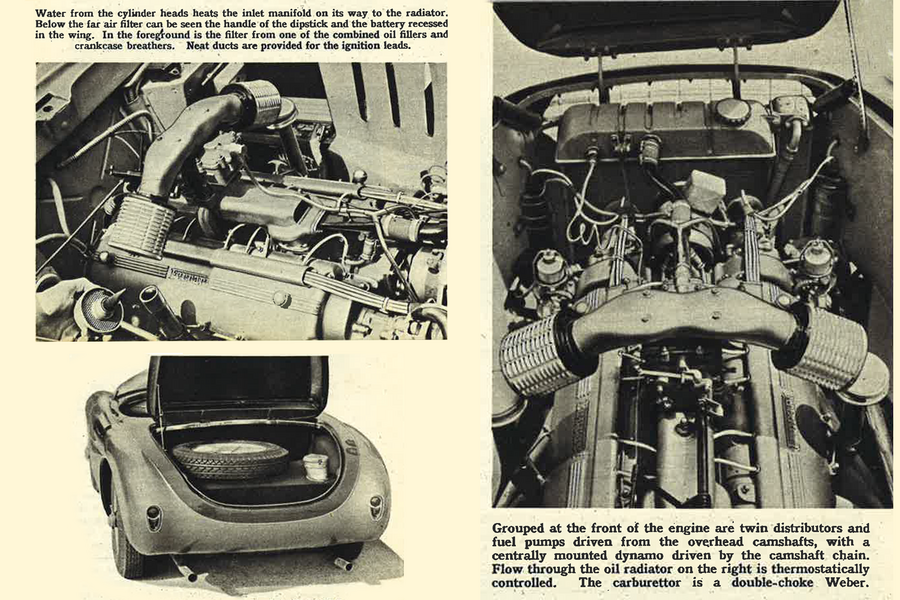 "However," we said, "there are subtleties in food, wine, painting and music, which only the initiated can savour fully, and the same applies in motoring. There are few machines which have a capacity for brilliant performance and instant response to the will of the driver, but yield their best only to the skilful hand which controls them with sensitive appreciation, and the Ferrari is one of them."
We certainly didn't find the gearbox easy to use; of the five gears (a novel concept at the time), fourth gave direct drive, while second, third and fifth were in constant mesh, with fifth being geared up. "The box has to be learned, but it yields rewards in a complete mastery over the vehicle which is not at present to be enjoyed by any driver who hands over control of his transmission to a series of oil pumps and electrical relays".
You needed a flick of the throttle if you wanted to shift, but the instant response from the 212 Export's 2.5-litre engine made this no problem at all.
"The hardened car critic will carry in his memory for years those first few moments of acceleration, with the wind howling, the engine screaming and the horizon rushing to meet him. He is happy just to hurtle down a straight stretch of road and enjoy the strange intoxication of speed. Cornering, he tells himself, can come later, and then he realizes that he has just swept through an S-bend at 80mph instinctively, safely, and almost without noticing it."
The feel from the small, far-away-set steering wheel was one of heaviness and insensitivity in sharp bends, but we were assured it would become lighter as the car was run in, and it was still "superbly accurate", even in the wet – "a fast run over slippery and sinuous mountain roads provided a rare motoring experience".
The handling was sublime, and "completely without vice; the response flatters the skill of the driver and brings a thrill of deep satisfaction".
If you had taken things with a bit too much vigour, the rear end would instantly step out, but stability was "of the highest order imaginable within the current scope of knowledge".
Body roll was non-existent, allowing the driver to "put the car into a four-wheel drift and bring it out smoothly and rhythmically unembarrassed by the spasmodic jerks which roll so often implies."
The brakes, meanwhile, were strong, smooth and progressive.
We found the suspension firm and sharp over rough surfaces, but at high speeds, "riding comfort is really outstanding," allowing fast cornering on cambered and indifferent surfaces "without the slightest sense of insecurity".
The body on our car had no hood, windows or windscreen wipers for the small visor. This meant air would beat at the rear bulkhead, making it "desirable for the occupants to wear goggles". Occupants were treated to deeply padded, supportive separate seats, with plenty of room, and a "snarling but not excessive" exhaust note.
This body was designed by Vignale. Other Italian coachbuilders to have had a go with the 212 Export included Corrozzeria Touring, Motto and Fontana.
We achieved a top speed of 120mph, but if it had a closed body, 130mph was put forward as a reasonable estimate.
We were mightily impressed with the fine little motor provided to us by Il Commendatore de Maranello, and concluded by saying: "It would be easy to describe the Ferrari as a racing car with sports bodywork, but this would not do justice to its extraordinary docility and perfect road manners. It brings tumbling forth the superlatives which a cautious tester tries to keep in reserve for the really great occasion. If they have not all been employed on this occasion, it is partly because there is still the 4.1-litre America, which, according to those who have driven it, accelerates as fast on top gear as the 2.5-litre 212 Export does on second."
Talk about setting a precedent.