"Unconventional but effective. That describes both the Hustler kit car and its designer, William Towns," said Autocar's Nigel Fryatt.
Automotive designer Towns began his career at Rootes in 1954, helping with the styling of some Hillman models, before moving to Rover in 1963, and then Aston Martin in 1966, where he designed the divisive original Lagonda saloon.
After leaving Aston, he worked on numerous odd projects, including for Reliant, Jensen-Healey and Railton. Most interesting, though, was his own endeavour, the Hustler, a kit car based on the Mini that looked rather like the 1980s' golf cart of the future.
After road-testing the initial version in December 1978, where we found it to be "an impressive concept that really worked", we went to see how the project was progressing on 19 May 1984, by which time the Hustler was a modest commercial success.
We began, "It doesn't look like a boat, does it? But then you wouldn't expect it to, because a visit to designer William Towns' home in rural Warwickshire exceeds expectations."
"The rowing boat that emerges could have come from the pen of only one man. It looks like the roof of an ice-cream van."
"We haven't put a sail on her yet, but we're going to," Towns proclaimed. Turns out the reason it looks like the roof of an ice-cream van is because it is – a Hustler ice-cream van, to be precise.
In fact, the rowing boat could be had as a roof-mounted optional extra for six-wheeled models…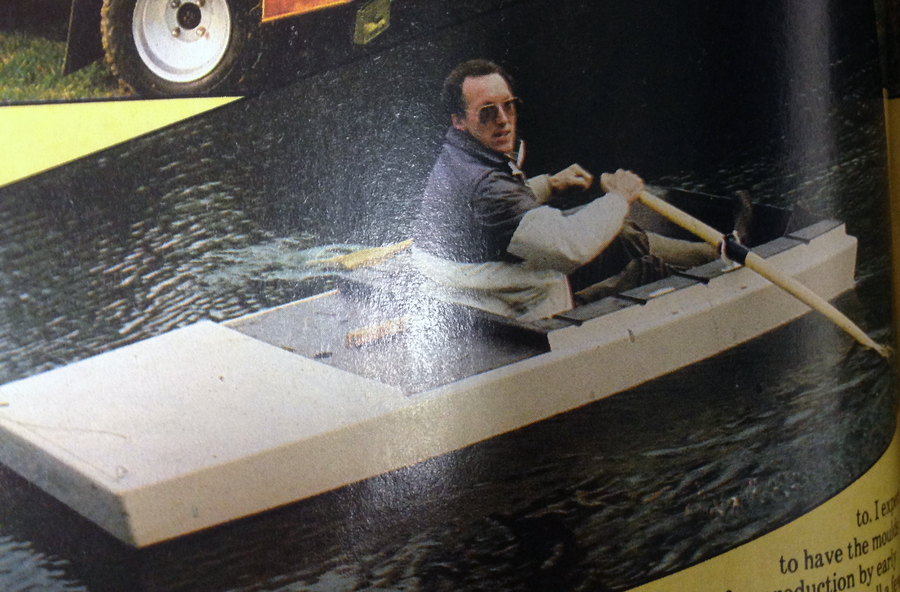 By 1984, Towns had various four and six-wheeled versions of his whacky car: the Huntsman, the Hellcat, the Sprint, the Sport, the Harrier – and one built of marine ply.