Up until last year when news dropped of how energy prices were about to go sky high, installing solar panels may have seemed like an expensive luxury to most of us.
Now it seems like a way out, and demand for domestic and industrial solar systems has shot up. I had made the switch to EVs in 2021, and although it wasn't part of a master plan, suddenly the idea of turning the house into a mini power station became strangely compelling.
If a solar system is producing more energy than can be used there and then, EV batteries are an ideal place to store it.
Solar systems come in various types. The most popular option is to install a hybrid system, integrating inverter, solar panels and battery storage together. The inverter also manages the flow of power between house, batteries and, when excess power is produced, back into the grid.
Batteries can also be charged from the grid on a low tariff, then the power used during peak periods, but they're not that big, which is why EVs with their huge storage capacity are an ideal accessory.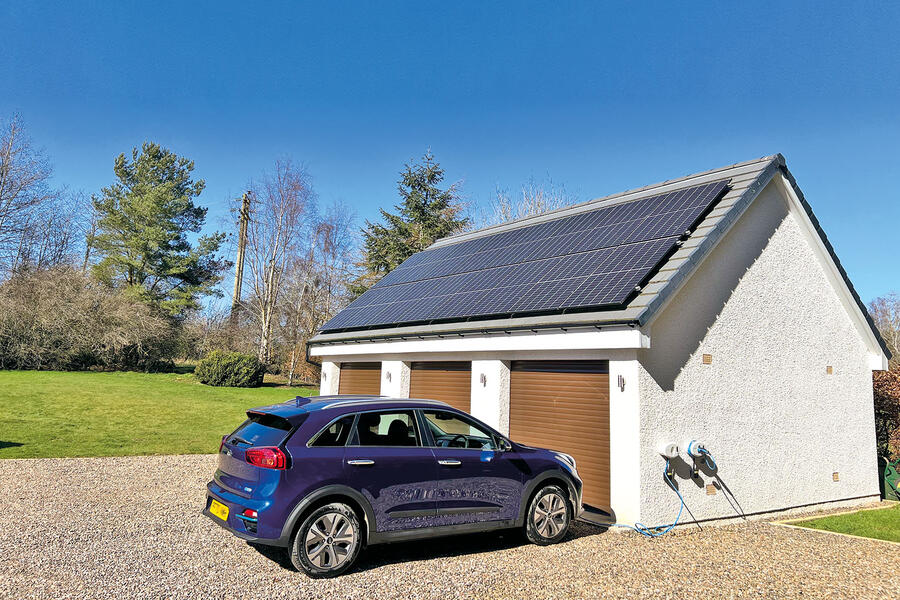 My starting point was to check the household energy bills, which told me that over the past 12 months, including charging two EVs at home, we had used around 6500kWh (units) of electricity.
For solar systems to be effective, they ideally need to be facing south or thereabouts, and my garage faces south-south-west and is free of shade for most of the day. So far so good, and I thought it might be possible to generate around 6000kWh a year.
Interest-free loans for solar systems are available from the government in Scotland, where I live, via the Energy Savings Trust and, even at 2022 energy prices, I hoped it would be cheaper to make the loan repayment than pay the energy supplier.
Even using a commercial low-interest loan would still stack up. To qualify, I had to use an MCS-certified installer (Microgeneration Certification Scheme), who should adhere to a set of standards for installation and equipment.