Advanced aerial drones have revolutionised filmmaking, offering never-before-seen perspectives that elevate visual storytelling to the next level. Now, first-person-view (FPV) drones are changing the game again, using VR goggles to put the pilot directly in the hot-seat for even-more dynamically thrilling results.
It's a similar game-changing story with the Audi Q4 Sportback e-tron: the latest in Audi's fast-growing line-up of advanced all-electric e-tron models. It sports up to 323 miles of range (WLTP) and ultra-rapid 125kW charging that delivers big boosts of range in just a few minutes. Equally, its impressive performance and advanced driving tech – including a digital cockpit and fighter-jet-style head-up display – are perfectly complemented by a refined cosseting ride and lots of practical space.
That's why we gave an Audi Q4 Sportback 40 e-tron to FPV drone pilot Chris Wilkinson: asking him to help us tell the story of the car from a fresh point-of-view, while also finding out if it's the perfect car for his busy dynamic creative lifestyle.
Learn more about the Audi Q4 Sportback e-tron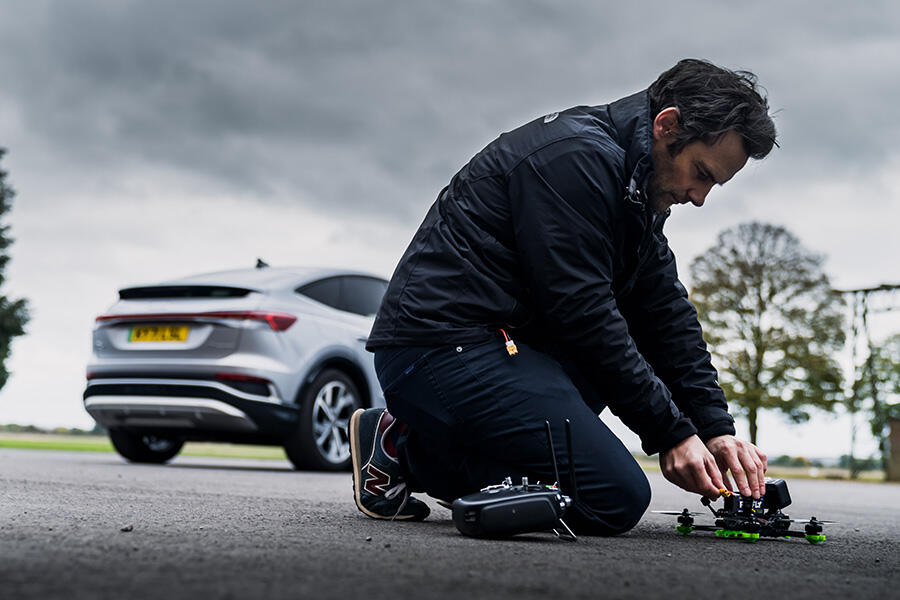 Perfect for long-haul travel
"I've always been fascinated by things that fly," says Chris. "Before drones existed, I loved the idea of capturing images from above. So, I ended up strapping a camera to a helium balloon! First-person view is an awesome way of flying a drone. Wearing the goggles, it's like you're in the cockpit, so it's much more connected and you tend to capture much more dynamic shots."
When it comes to working on busy film productions, the range to get you to far-flung locations is everything. The Audi Q4 Sportback e-tron's high-capacity 82kWh (gross capacity) lithium-ion battery boasts a range of up to 323 miles (WLTP) on selected models – with the Audi Q4 Sportback Edition 1 40 e-tron we gave to Chris offering up to 313 miles.