Professional rally teams are few in number in North America, where the new-for-2017 American Rally Association (ARA) National Championship and the long-established Canadian Rally Championship (CRC) run open classes alongside production-based machinery.
The result is a diverse field of cars – classic and modern, 2WD and 4WD – that helps to keep fields healthy and the competition interesting. Further diversity stems from the geography: Vancouver to Montreal is nearly 3000 miles by road, for example - about a 48-hour drive. Few teams have the logistical budget to compete nationwide, so many competitors stick to clusters of rallies on the east and west coasts, north and south of the border.
A west-coast rally regular is Dave Clark, a dentist in Washington state who campaigns a tail-happy 1989 Merkur XR4Ti that was built by a mechanic friend, Sean Medcroft. As the name suggests, the Merkur is a version of the Ford Sierra that was built by Karmann in Germany and sold in North America in the late 1980s.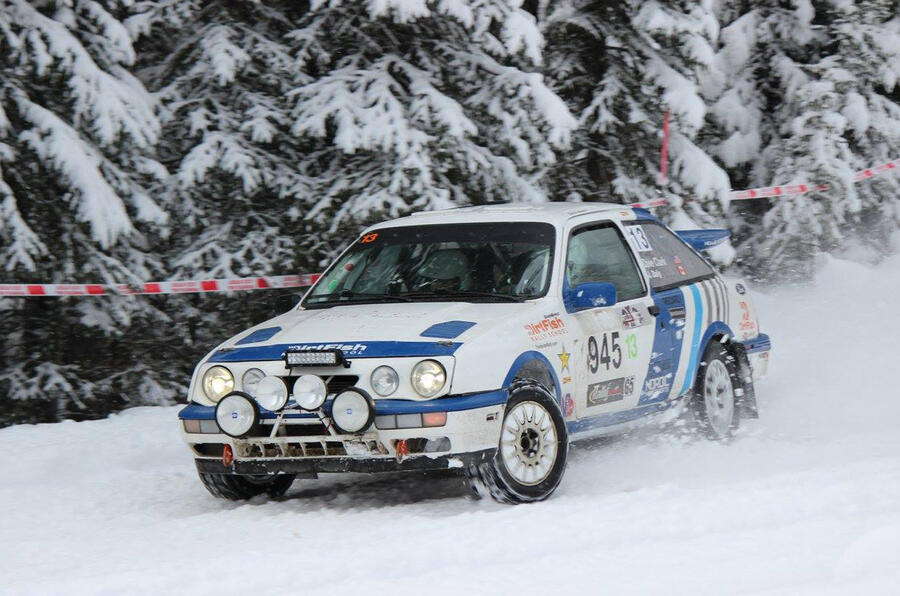 The Sierra RS Cosworth was a handy Group A rally car in its day and Clark's car has the look of a Cossie with its one-piece rear windows, tea-tray wing and diagonal blue stripes. But a peek under the hood reveals no sign of the Merkur's original Pinto 2.3-litre SOHC turbo. Instead, this XR4Ti is powered by something more contemporary.
"We had the crazy idea to put in a 2-litre Ecoboost from a 2013 Focus ST, turned 90 degrees," explains Clark. "We then had to make it all work – clear the steering rack, give the ECU a Ford Racing flash, route the coolant to the back of the motor and marry the engine to the diff, which is from a Toyota Supra for a little more strength.
"Now the power is great – about 250 horsepower – but it also has 350lb ft of torque. The turbo is tiny and it builds boost from 1,500rpm; it's so linear and smooth, you almost can't tell it's turbocharged."