It would be easy to believe that the small car was in its death throes, its demise brought on by environmental legislation that makes these mini marvels unprofitable despite their inherent efficiency of movement and less greedy use of raw materials.
This impression is only heightened by the decision to axe the Ford Fiesta, production of which ceases in only a month or so after more than 40 years of service.
However, if this really is the case, then nobody has told Renault. For starters, there are the retro-themed Renault 4 and Renault 5 EV concepts that have been wowing show crowds and are soon to be turned into a showroom reality. Moreover, bosses have also revealed that there's an all-new Clio on the drawing board, its design as good as signed off. But before we get to that there's still the current car to consider, which has just received a mid-life refresh.
Given the cost of meeting impending EV legislation and the wafer-slim profit margins in superminis, it's no surprise to find that this is more mild makeover than full-on refresh. In fact, mechanically the Clio is pretty much identical, the changes being merely cosmetic and aimed at boosting showroom appeal - although a top five placing in Europe's 2023 sales charts suggests the French machine is hardly lacking in popularity, even if it does play second fiddle to its value-for-money cousin, the Dacia Sandero.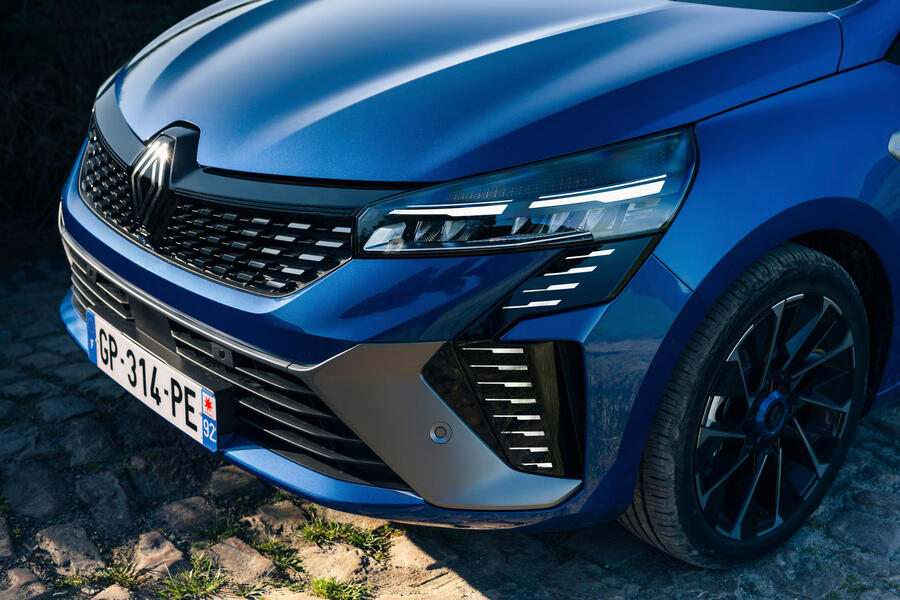 As a result, the most obvious changes are cosmetic, with a more aggressive design for the front and rear bumpers, slimmer LED headlights and an eye-catching daytime-running light signature. Added together, they give the Clio a more purposeful stance, especially in the new range-topping Esprit Alpine trim tested here. A replacement for the old RS Line, this packs plenty of Alpine logos inside and out, patriotic tricolore inserts and some 17in alloys that feature natty hub caps that mimic centre-lock wheel nuts.
Inside, there's the same neatly designed dashboard and generous use of high-grade materials, which combine to create a surprisingly classy feel. Renault also makes a great play of the cabin's sustainability, with at least 60% recycled materials used throughout and a strict 'no leather' policy. There's also more standard kit across the board, including a digital instrument cluster for all versions and slick portrait touchscreen infotainment screen (7.0in as standard, 9.3in on the Esprit Alpine). And while the rear seats remain a little cramped, the boot is one of the biggest in the class, measuring up to 391 litres.