Our Verdict
First Drive

Mildly revised hot hatch is enjoyable on UK roads but continues to play second fiddle to the Ford Fiesta ST

First Drive

The Renault Clio RS 220 Trophy is now an official and permanent part of the Renault Sport line-up.
And this week's new Renault Clio variant is the 182 Trophy. It seems like only last week that we had the 182 Cup, the basic 182 came a couple of months back and if memory serves, the 172 Cup wasn't that long before.
In fact, when you troop through the hot Clio back catalogue you discover just how active Renaultsport's policy of self-improvement actually is: this is the sixth iteration since 1999. In that time Peugeot has only given us the 206 GTi 180. And last year that took a pasting from whatever that year's Clio was called. I think it was the 172 Cup, which incidentally is known as the 'Light' inside Renault on account of the thin glass and lack of air-con.
There are no such shenanigans on this latest model. With the Trophy, Renault has acknowledged that most owners aren't so worried about the odd tenth of a second that they are willing to emerge from every drive with a sodden back. It has air-con, and it has anti-lock brakes. Both are a welcome addition to a car that I suspect we will be talking about in years to come.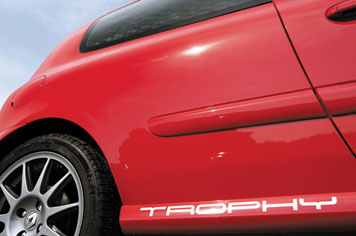 As Britain is the largest market in the world for Renaultsport products, Renault UK was keen to give its little car a decent send-off before the new version arrives next year. But whereas the process could have been another exercise in squeezing a little more power from the 1998cc, 182bhp four-cylinder engine and altering the visuals, they've done something that sounds unexceptional, but which in practice results in a car so complete in its role as the ultimate supermini-warrior that everyone should get a drive in one. And the nature of the modification? They've put some expensive dampers on it.
Doesn't sound like much, but it turns what was already a car capable of shaming much more expensive machinery over most roads into something otherworldly. I have never driven a car like it. There are faster hot hatches, and some have more exceptional abilities in specific areas, but none adheres to the basic premise of what a hot hatch should do, nor the type of driving experience one should offer like this car.
In conjunction with Sachs Race Engineering, Renault has fitted the Clio with what are effectively race dampers. They have a remote reservoir holding nearly half of the oil and gas that fills them, and which allows a thicker and stiffer damper rod to be used. The front suspension is 10mm lower than on the Cup and with uprated front hubs and a set of Speedline rims that save 1.3kg per corner, this amounts to a large investment on a car that will only be sold in the UK and Switzerland. We get 500 units, the Swiss just 25. Each damper is roughly 10 times more expensive than the equivalent item fitted to a basic Cup car, and the list price is £15,500. Handling genius has never been so affordable.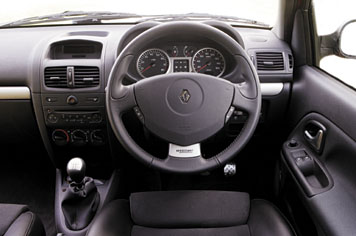 Lowered and stiffened are not words you would normally associate with improved handling on UK roads, but the Clio Trophy is a car with so much damping sophistication that it achieves the impossible. It rolls less than the Cup, has less suspension travel at the front, and yet it rides fully 30 per cent better than that car. To drive it fast over virtually disintegrating asphalt and feel just how well controlled each wheel is for bump and rebound is eye-opening. And disappointing. Because it confirms that a small amount of damper investment would turn many cars that simply can't cope with UK roads into great steers. Hydraulic bump-stops play a significant role alongside the dampers. Put simply, they are out of a Tarmac rally car and allow much more progressive damping behaviour once the stop is hit. Anyone who has felt how violent a Clio Cup can be under the same circumstances won't believe the difference.
The upshot is a car of unrivalled cross-country pace and enjoyment in this class. Grip is stronger than you'd ever believe possible of a 205/45 WR16 Michelin Exalto 2, and the engineers admit that, had there been time, they'd have fitted a cup tyre. The driving position is still compromised, despite some excellent new Recaros (they're a must-have option on the basic car) mounted 10mm lower. The only problem now is the powertrain: with the ability to carry so much speed, suddenly 182bhp doesn't feel lively enough. That said, it's identical to the 182 Cup that crucified the opposition in last week's 0-100-0 contest.
To put the Clio Trophy in perspective, you don't compare it to other cars in its class – it is so far ahead of even the excellent Ford Fiesta ST that the comparison is unfair. This is one of the great enthusiast's cars and it demands evaluation alongside cars of similarly focused appeal. Porsche owners will scoff at such a suggestion, but they will modify their opinion after a 20-mile drive trying, and failing, to remove a Clio from their rear-view mirror. What a car. What a bargain.
Chris Harris