What is it?
It is a measure of the way the wizards of Weissach go about their work that this new GT4 is not the quickest Cayman on sale. Despite its new 4.0-litre engine, despite it being the first mid-engined Porsche to offer more than 400bhp (Carrera GT and 918 Spyder hypercars aside), if you look at the numbers you'll discover that, thanks to offering more torque lower down and offering the option of a paddle-shift transmission, a humble GTS can be configured to be quicker to 62mph and no slower to 100mph. Criticised though they are, you can't say those turbo motors are entirely without merit.
But a Porsche GT car has never been about the numbers, and this one is no different. The Motorsport department that makes these cars recognises 'fast' as a mere component of 'fun', and that speed comes in more than just straight lines. If they simply wanted this car to be quick, they could have easily wrung more power out of the 2.5 turbo four than offered by this normally aspirated 4-litre six, kept the PDK and saved a fortune in the process.
But no. Every Porsche to date to wear the GT badge has been flat six powered, this one would be no different and hang the expense. And it would only have manual gears (though we believe PDK will be made available), as well as GT3 front suspension like the last.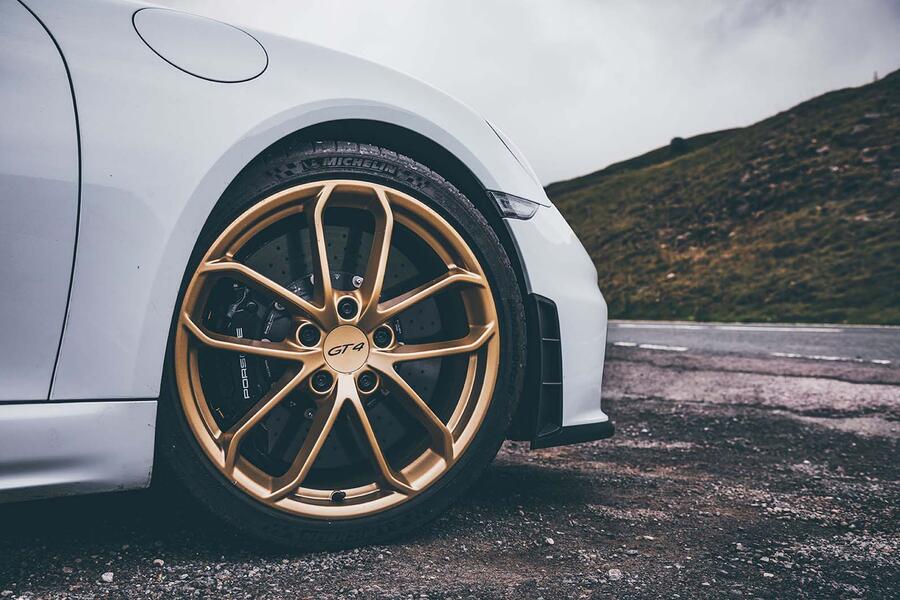 Yet despite these modifications and the aero package offering half as much downforce again as the previous GT4 (but with no drag penalty), it's very much business as usual inside. There's some Alcantara and GT4 badging (plus optional carbon fibre race seats in the test car you need to sit in before choosing), but even when you twist the key and hear the flat six spark up it doesn't feel like you've finally reached the promised land. You may be grateful there's no four cylinder fart, but six-cylinder Caymans are nothing new and like them, this one does not threaten to rip your head off at the first blip.