Why we ran it: To find out how well this high-tech exec blends luxury and sporting traits in a practical body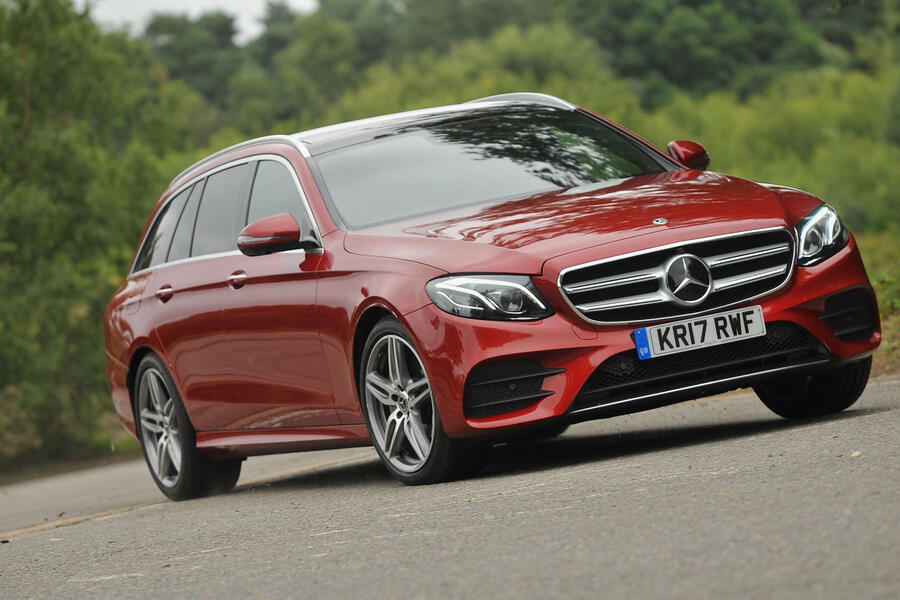 Life with a Mercedes-Benz E-Class Estate: Month 6
Saying goodbye to the Mercedes-Benz E-Class Estate - 18th April 2018
Last summer, editor-at-large Matt Prior introduced our Mercedes-Benz E220d 4Matic AMG Line estate by listing the things he didn't like about it – all two of 'em, namely the four-wheel drive system binding on full steering lock, and a minor issue relating to using the sat-nav and Apple CarPlay at the same time.
After 22,000 miles and three seasons in the car, I reckon we can add only one or two similarly trifling quibbles to that list, which speaks volumes about its immense appeal. This is a consummate all-rounder.
Consider the below picture of our E220d together with its Mercedes-Benz E-Class range-mates at Brooklands: you can get, if you so desire, E-Classes that are longer, faster, cheaper, more rugged or, er, more drop-toppy than ours. Yet if you were to ask me to choose one to spend many months in, I'd make a beeline to the E220d.
Why? Because the type of driving I do means I put comfort, frugality and practicality at the top of my priority list.
Our 2.0-litre diesel came in a high spec: AMG Line. A smattering of options swelled the on-the-road price by almost £10,000. Could we have done without the additional expense?
Not really, as it turned out. The £3895 Premium package includes comfy upgraded seats and brilliant (in the true sense of the word) LED lights. The Driving Assistance package (£1695) combined the adaptive cruise control and lane-keeping assist to offer a semi-automated driving function that made long trips far less taxing.
The 360deg camera (£395) proved hugely useful when negotiating the 4933mm car into tight parking spaces. Perhaps specifying the upgraded 12.3in infotainment screen (£1495) and widescreen instruments (£495) was a touch decadent, but they're very easy to use and read, and emphasise what a technological tour de force this S213-era E-Class is.
We'd think hard as to whether the 4Matic four-wheel drive system is a necessity. Opting for two-wheel drive instead would have saved £1600, some of which could have been spent on a decent set of winter tyres, as a knuckle-whitening drive in February's blizzards on as-standard Goodyear Eagles emphasised.