Our Verdict
The Mercedes-Benz E-Class comes with fine engines and a typically laid-back dynamic character. Not one for the interested driver, but a good advert for being disinterested.
First Drive

The Mercedes-Benz E-Class could be all the estate car you'll ever want — or it could be overkill. We found out which after spending six months with one

First Drive

Mercedes-Benz's decision to extend the wheelbase of the E-Class for the Chinese market is an inspired one, judging by our brief test drive
Why we ran it: To find out how well this high-tech exec blends luxury and sporting traits in a practical body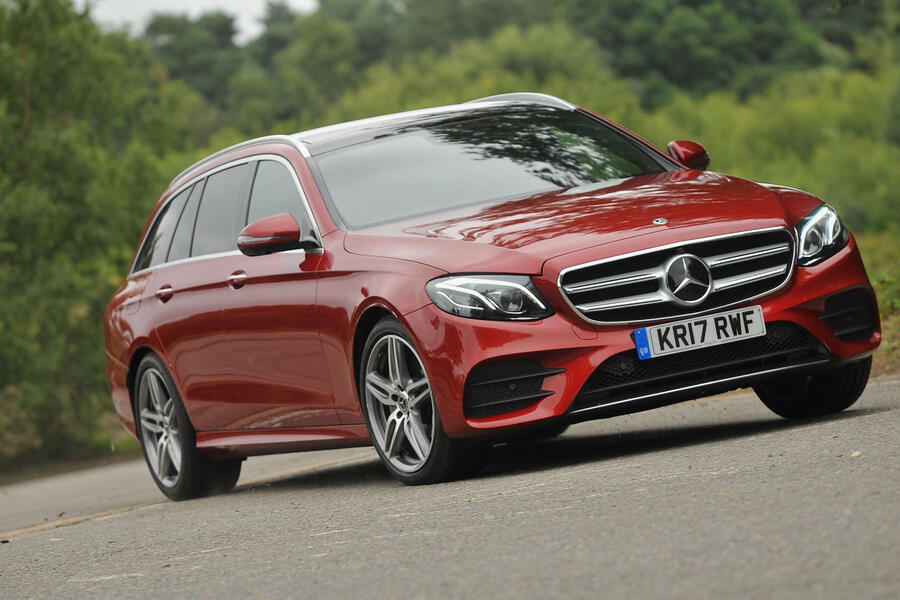 Life with a Mercedes-Benz E-Class Estate: Month 6
Saying goodbye to the Mercedes-Benz E-Class Estate - 18th April 2018
Last summer, editor-at-large Matt Prior introduced our Mercedes-Benz E220d 4Matic AMG Line estate by listing the things he didn't like about it – all two of 'em, namely the four-wheel drive system binding on full steering lock, and a minor issue relating to using the sat-nav and Apple CarPlay at the same time.
After 22,000 miles and three seasons in the car, I reckon we can add only one or two similarly trifling quibbles to that list, which speaks volumes about its immense appeal. This is a consummate all-rounder.
Consider the below picture of our E220d together with its E-Class range-mates at Brooklands: you can get, if you so desire, E-Classes that are longer, faster, cheaper, more rugged or, er, more drop-toppy than ours. Yet if you were to ask me to choose one to spend many months in, I'd make a beeline to the E220d.
Why? Because the type of driving I do means I put comfort, frugality and practicality at the top of my priority list.
Our 2.0-litre diesel came in a high spec: AMG Line. A smattering of options swelled the on-the-road price by almost £10,000. Could we have done without the additional expense?
Not really, as it turned out. The £3895 Premium package includes comfy upgraded seats and brilliant (in the true sense of the word) LED lights. The Driving Assistance package (£1695) combined the adaptive cruise control and lane-keeping assist to offer a semi-automated driving function that made long trips far less taxing.
The 360deg camera (£395) proved hugely useful when negotiating the 4933mm car into tight parking spaces. Perhaps specifying the upgraded 12.3in infotainment screen (£1495) and widescreen instruments (£495) was a touch decadent, but they're very easy to use and read, and emphasise what a technological tour de force this S213-era E-Class is.
We'd think hard as to whether the 4Matic four-wheel drive system is a necessity. Opting for two-wheel drive instead would have saved £1600, some of which could have been spent on a decent set of winter tyres, as a knuckle-whitening drive in February's blizzards on as-standard Goodyear Eagles emphasised.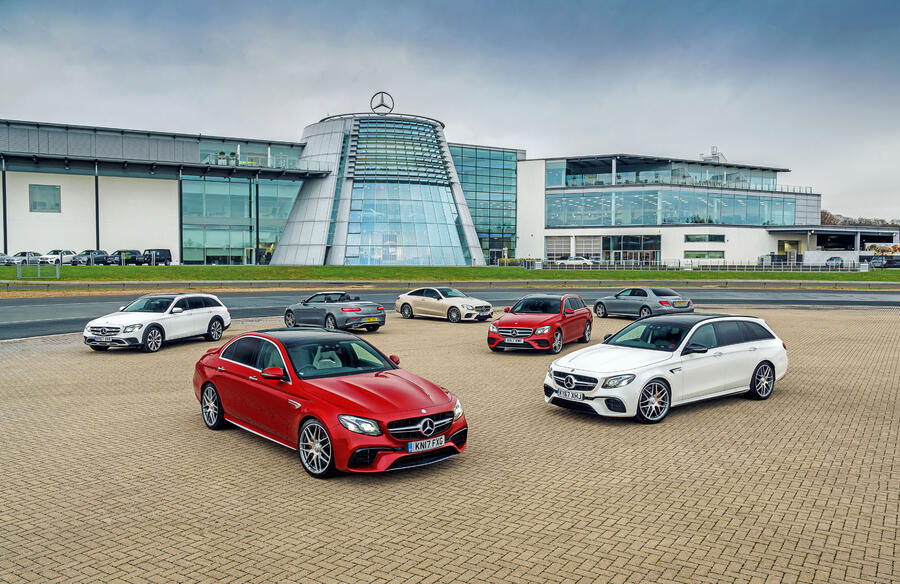 We were very happy with the fuel economy we achieved over the course of our long-term test. Most of our trips were on the motorway, where above 50mpg was easy to achieve and the E-Class excels. It cruises competently at under 1500rpm, and when you have the driving mode set to Comfort, the nine-speed automatic gearbox shuffles gently through its ratios.
I rarely felt much call to engage the more raucous Sport or Sport+ driving mode – it's just not that kind of car – nor did I feel inclined to use the steering-wheel-mounted paddles very often. At a steady cruising speed, there is so little noise being generated from engine or body that you'd be forgiven for thinking the powertrain was electrified, bar some road hum generated by the run-flat tyres.
We used our E220d for trips to the Isle of Mull, Cornwall and Paris. It felt at home on the sparsely populated motorways of northern France – where its sublime cruising ability and useful semi-automated driving system made for a stress-free journey – but also excelled in more remote rural areas.
The latter was a surprise, because I was concerned that the size of the car might make it unwieldy on country lanes, but the consistently weighted steering and excellent all-round visibility make it easy to manoeuvre on narrow, twisty roads.
Cost of ownership was reasonable, with the proviso that our car's above-average mileage after nine months contributed to above-average depreciation. Brimming the E220d with diesel wasn't cheap, but it was pleasing to fill the car and see the driving range go well over 600 miles.
So, those gripes, then. Our car suffered an issue with the driver's side window, which occasionally refused to remain fully closed. A reader wrote in with a successful solution. I found the wheel binding on full steering lock on low-grip surfaces irritating. Several readers wrote in to say they'd complained to dealers about the issue; some had received replacement tyres of a different compound that seemed to alleviate it. Certainly, it feels disappointingly less than premium.
And that's it. It really is that good. The E220d didn't thrill us with apex-scything dynamics or a spine-tingling engine note, but blended excellent refinement with a smart cabin layout and flexible powertrain. Its advanced, yet common-sense, technology ensures it feels utterly contemporary, but it also fulfils the remit of a premium load-lugger perhaps better than every previous generation of big Mercedes estate.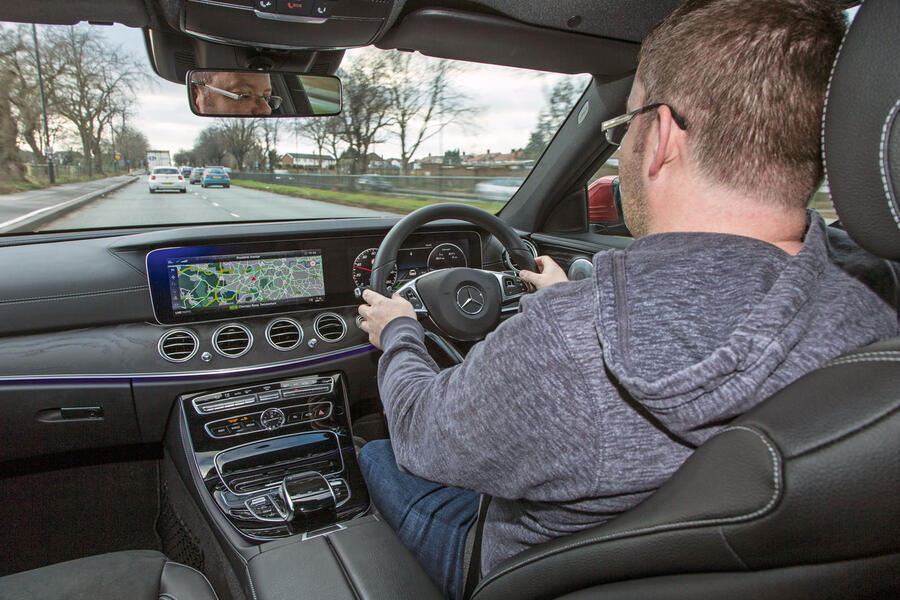 Second opinion
I've got lots of time for this car. It's the 'right' size for everyday family life, while Mercedes makes great interiors at the moment and the powertrain is smooth and efficient. If you didn't need the towing or off-road ability of an SUV, I don't know why you'd have one over something like this.
Matt Prior
Life with a Mercedes-Benz E-Class Estate: Month 5
Traction stations - 14th March 2018
The recent snow made me regret not switching the E-Class's Goodyear Eagle F1s for a winter-specific tyre compound. Although our car is equipped with Merc's 4Matic+ fourwheel-drive system, I slithered on the three miles of untreated roads from my driveway to the motorway. Once on the cleared M3, though, the big Merc felt as secure as ever.
Mileage: 23,912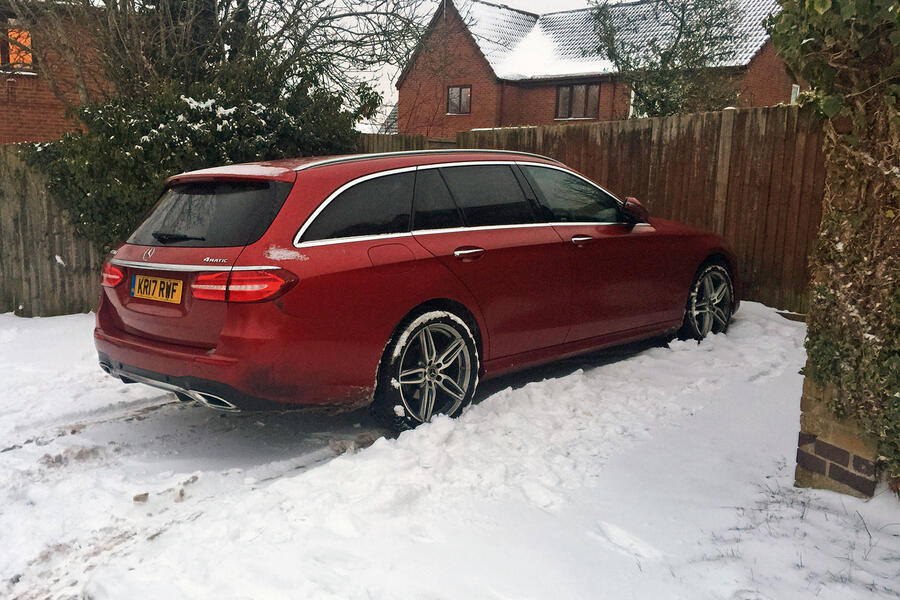 A cure to our window woes - 28th February 2018
Our readers are a knowledgeable bunch. Rob Quinn was one of several to write in with thoughts on the curious window-closing issue afflicting our Merc. Based on a similar glitch on his W208-gen CLK, his suggestion – holding the button in a half-closed position to reset the window's electric function – appears to have cured the problem.
Mileage: 21,216
Life with a Mercedes-Benz E-Class Estate: Month 5
All kinds of surprises - 14th February 2018 
Even though the 20,000- mile mark is fast approaching, I feel like I'm still learning useful things about our big Merc.
On a recent drive home on the M3, the remaining fuel indicator stopped giving me a mileage countdown to empty and instead displayed a threatening red fuel pump on the TFT instrument panel. I was keen to tease out the remaining fuel in order get back to my local filling station. In fact, I was mainly determined to avoid stopping at Fleet services, which the E220d's useful on-screen fuel price indicator told me was charging 141 pence per litre for diesel, so I engaged Eco driving mode on the Dynamic Select rocker switch.
I didn't appreciate that Eco mode, which I'd rarely used up until now, has a coasting function, so when you lift off the throttle at motorway speeds, it takes the car out of gear to save fuel until you accelerate again.
Obviously you're still hauling along a fair bit of weight, so our four-wheel-drive estate-bodied E-Class doesn't glide as far or as serenely as some cars with coasting functions, but a bit of careful throttle anticipation rewards you with some impressive fuel economy figures.
The 'service due' indicator on the instrument panel illuminated in the run-up to Christmas and so I arranged our E-Class's first fettling on the day after Boxing Day. Using Merc's pleasingly straightforward online portal – you need your vehicle identification number and some personal details – I booked the E220d in at Mercedes-Benz Basingstoke, part of the Sandown Group of dealerships.
The service cost £378.37 and covered the kind of checks and parts replacement that's normal at first service: fresh oil and filter and so on. The AdBlue tank was replenished again; I've already poured in 20 litres of the diesel exhaust additive since our car arrived in the autumn, and the technicians appear to have added a further 20 litres at the service.
The attentive staff did an efficient job, keeping me appraised of progress and even offering me a lift into town so I could while away the hours until the car was ready for collection.
I'm going to have to head back to the dealership soon for attention to the curious quirk of the driver's electric side window refusing to return to a fully closed position. I've mentioned this before but it is still rearing its head on occasion. If you prod the button on the armrest in the door, the window fully closes but then automatically returns to partially open and remains there. As a workaround, you have to close the window inch by inch with several short stabs of the button, stopping when you sense that the glass has met the door seal – but if you linger on the button, the window will open again.
It's one of those trifling but slightly maddening intermittent issues, so what's the betting that I can't replicate it when I finally get around to visiting the dealership?
In other news, since I mentioned in a previous report the front tyre 'skipping' that afflicts the Merc on acute lock at slow speeds on slippery road surfaces, readers have got in touch to expand on their experiences of the issue, which seems to be a feature of several premium cars.
Many suggested that the fitment of winter or all-weather tyres, designed with a softer compound and with lower temperatures in mind, can cure the issue. What's more, some reported that they had their car's tyres replaced under warranty after consulting their Mercedes dealership.
Mileage: 19,866
Life with a Mercedes-Benz E-Class Estate: Month 4
Cracks in the Merc E-Class' armour – 24 January 2018
Two odd glitches. First, the drivers' electric window refused to stay fully closed when I pressed the switch, instead returning to three-quarters closed.
Second, the infotainment froze for 10min when my partner and I plugged our phones into the USB ports at the same time.
The first issue seems to have cured itself. The second is thus far a one-off.
Mileage: 16,483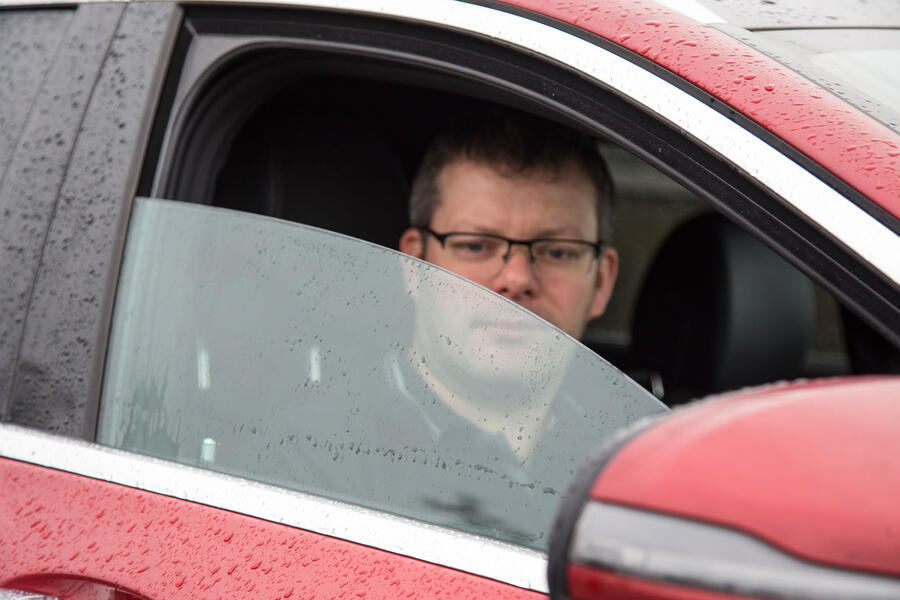 The Merc's roadtrip to Dinseyland Paris – 10 January 2018
Our E-Class estate may be packed to the panoramic roof with technological baubles, but there's one option that hasn't been used a great deal – the Driving Assistance Plus Package.
This adds semi-autonomous driving functionality with radar cruise control and steering assist that can follow white lines, the car in front and even guardrails.
That was all the excuse I needed to blag the key from appointed keeper Matt Burt for a holiday at Disneyland Paris. Even without the self-driving tech, the thought of wafting through France in a luxuriously appointed holdall capable of around 50mpg was most appealing.
Setting off at sparrow's fart, the E220d initially proved slightly disappointing. While it was certainly comfy on smooth but undulating motorways, rougher surfaces caused the car to fidget a surprising amount, something you wouldn't find in the equivalent 5 Series Touring.
Things improved greatly once we'd got to the French side of the Channel Tunnel. Not only did the smoother roads allow the E220d to settle down into a comfortable cruise, the lightly trafficked and clearly marked roads showed the autonomous driving functionality in its best light too.
@Matt_Burt_'s long term managed to get from West Sussex to our hotel at @DisneylandParis on just half a tank of diesel. 49.6mpg averaged. pic.twitter.com/wx1nb6kNaB

— Alan Taylor-Jones (@alantaylorjones) November 28, 2017
As soon as I'd got onto the autoroute, I set the cruise control to 130km/h, made sure the steering assist was on and got comfy. You always need to keep hold of the wheel (let go and it'll beep at you after a few seconds before eventually switching off the automatic driving), but you'd be amazed at how few inputs you actually have to make.
With clear white lines, you feel the steering wheel twist in your palms as you're guided through gentle bends with the minimum of fuss. There's none of the 'pinballing' between white lines that you experience with some rival systems; instead, you're kept in the middle of your lane the majority of the time.
Should you approach another car, you get notified of it in the instrument cluster before the car starts squeezing the brakes. I found that a nudge of the indicators on the first warning was enough to keep speed constant, with the E-Class changing lanes automatically should no other car be around.
While plenty of people (including my nervous wife in the passenger seat) still have reservations regarding autonomous cars, at no point in the trip did I feel at all worried that the car was going to spear me off the road or do anything remotely concerning. Given that most of the route was dull as ditchwater, I was more than happy to let the Merc do the work.
Of course, there are plenty of other things our E220d estate does well: overall economy was in the high 40s for the trip and there was plenty of space for some cheap red wine too.
Mileage: 15,441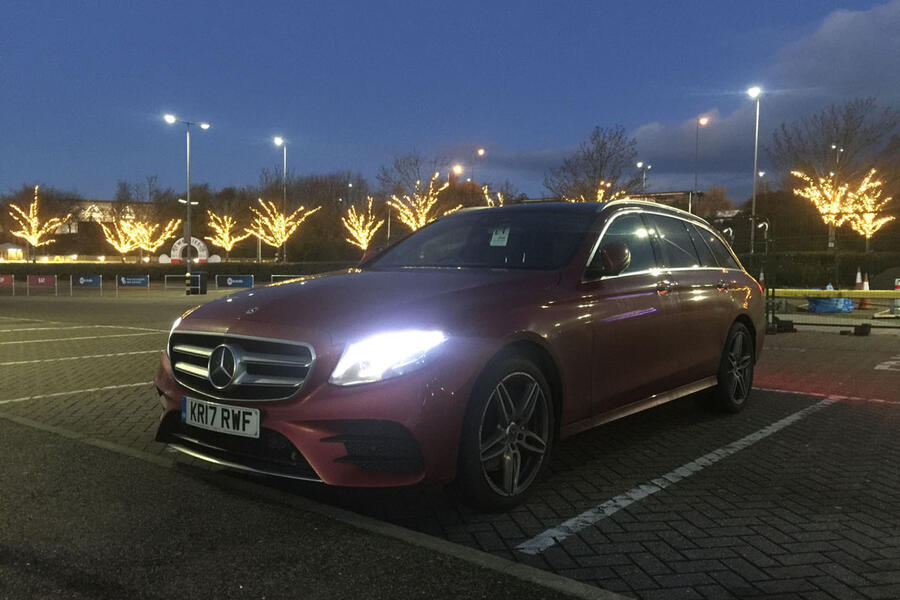 Satisfying the Merc's AdBlue demands – 03 January 2018
The Merc was thirsty for more AdBlue, which it told me about via a prompt on the instrument panel.
The last time it was low on the diesel exhaust fluid, I'm sure it gave me a 'miles to empty' countdown, but this time it went straight to Defcon 1 with no warning.
A further 10 litres of AdBlue have given me an indicated range of 4700 miles.
Mileage: 14,209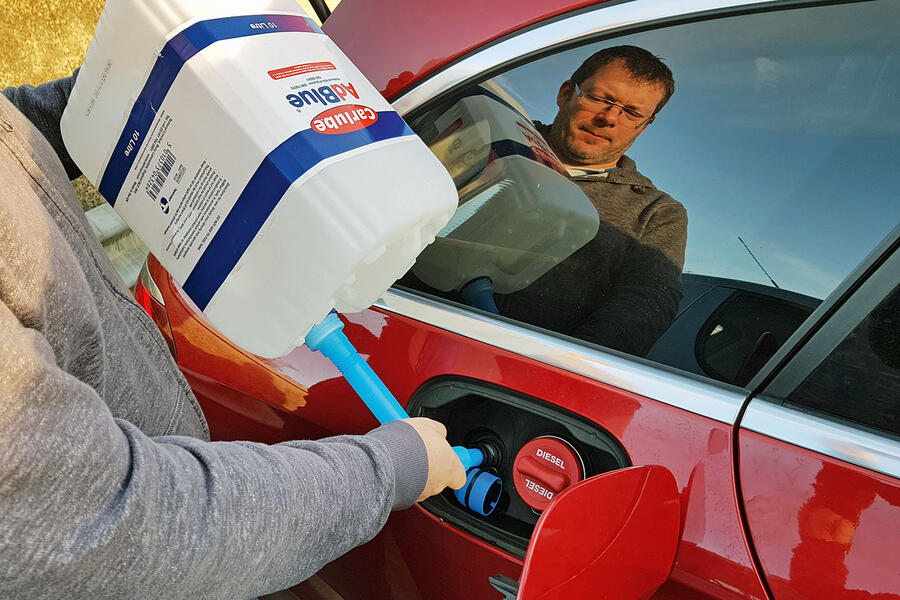 Life with a Mercedes-Benz E-Class Estate: Month 3
Cutting out the lottery when filling up – 28 December 2017 ​ 
The Merc's sat-nav map shows you the price of a litre of diesel at each filling station on your route.
It's a rather useful function, especially when Shell at Fleet services on the M3 is showing 139.9 pence per litre and Texaco in nearby Hartley Wintney is 120.9ppl and I need to brim the big estate's 66-litre fuel tank from nearly empty.  
Mileage: 13,464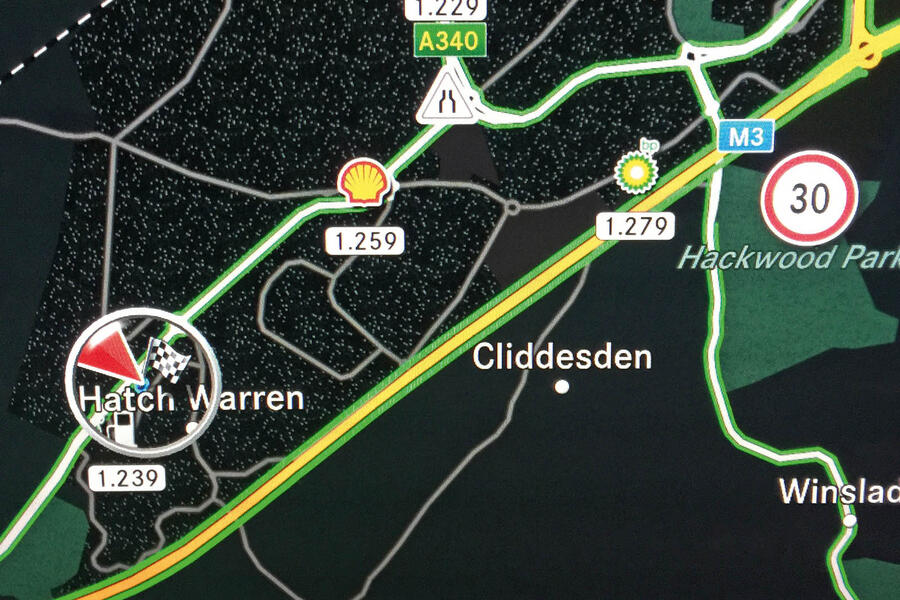 Mull-ing over the E-Class Estate's brilliance – 29 November 2017 
Reader Michael Williams accused me of 'a double fail' for the apparently pitiful average fuel economy I achieved on a 567-mile trek from the Isle of Mull to Basingstoke.
Michael pointed out that my indicated 47.8mpg average paled in comparison with the 53.3mpg he'd achieved in his E350 Estate over a 453-mile drive, and also fell flat in comparison with the new Worldwide Harmonised Light Vehicles Test Procedure (WLTP) figure of 67.3mpg for the E220d.
I'd counter by saying my learned friend failed to note that our car is a 4Matic four-wheel-drive E220d, which rates at an official claimed combined economy figure of 57.7mpg.
In any case, I don't think my average, achieved over a variety of roads, weather, traffic conditions and moods, was too shabby at all, but I salute Michael's parsimonious efforts.
My drive to the Hebridean island to stay in a static mobile home and watch the Mull Rally was an opportunity to really test the E220d on a long drive.
First, a practical stating-the-blooming-obvious consideration: this is quite a long car. I was tickled by the overhead view from the upper deck of the Caledonian MacBrayne ferry to Mull, where the Merc's 4933mm appeared to outstretch most of the other cars on the lower deck.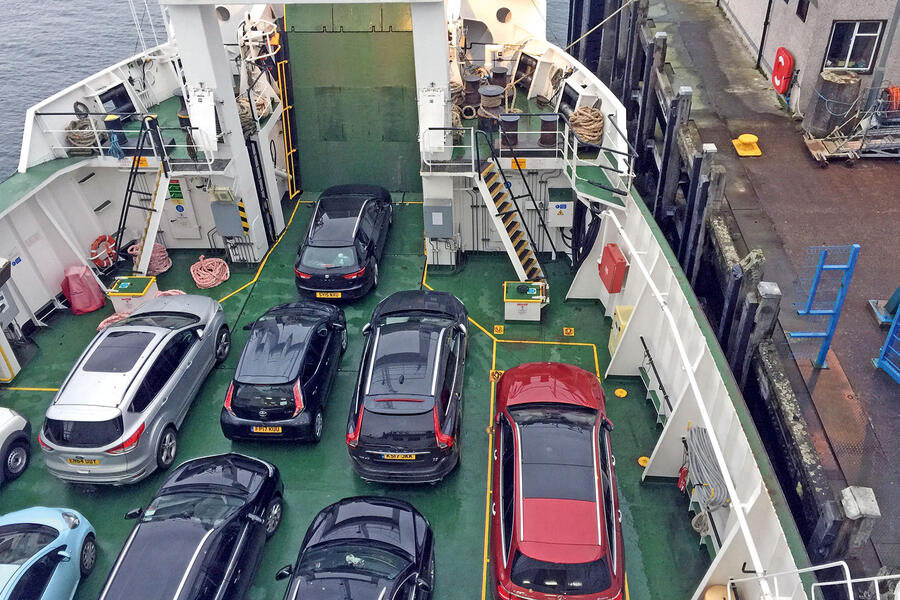 When we set off on our journey, this was a cause for concern. Most Mull roads are tight and twisty – the ferry carries quaint leaflets advising how to use passing places on single-track lanes – and I was worried that our E-Class might prove too cumbersome.
That was unfounded; for a big and fairly heavy car, this Merc has surprisingly light, precise (and yet still feelsome) steering, particularly in Comfort driving mode, and once you've worked out the extent to which you can ignore the over-sensitive proximity sensors, it is easy to place on narrow roads.
The hugely impressive headlights were useful while driving in the pitch dark on the remote roads.
Our car is equipped with Multibeam LED headlights that come as part of the £3895 Premium Plus option pack. Each headlight comprises 84 individually controlled LEDs arranged in a grid pattern, which is adjustable in a multitude of ways to provide better illumination around corners, during heavy rain and so on. They provide an excellent depth and spread of brilliant white illumination – particularly useful on an island inhabited by deer with a death wish.
The other factor that comes into play on long journeys is comfort. It dawned on me during our long, fraught return drive that you really notice how cosseting or otherwise a car is when you're stuck in solid traffic in it.
When you aren't moving, your mind and body get fidgety but, like Baby Bear's porridge, I find our car's AMG Line driving seat just right: it's supportive but not over-firm.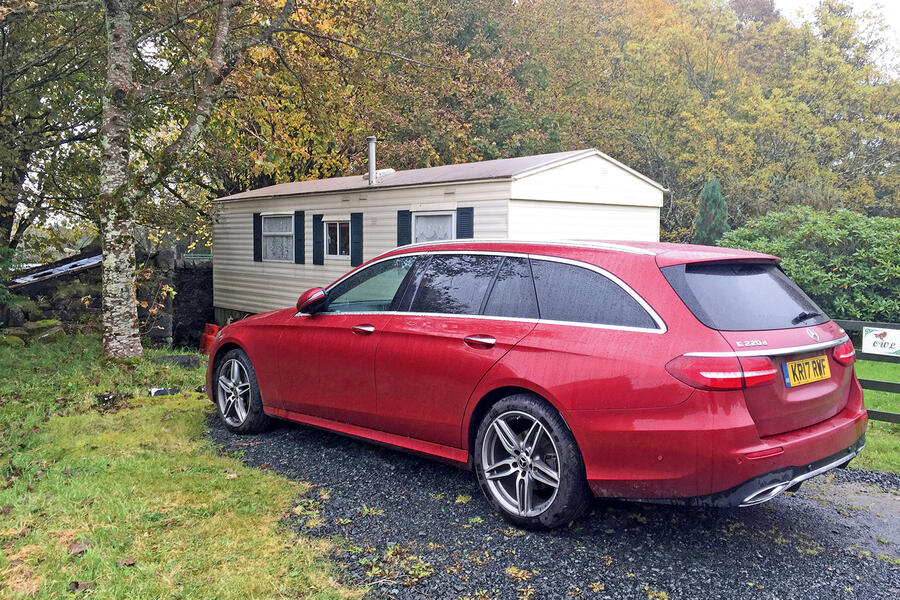 A couple of new quibbles did present themselves. The first is partial obstruction of traffic approaching from the right by the A-pillar, although this is likely down to the particulars of my driving position, which is that of a person who is short-of-leg.
Second, I noticed during our bumper-to-bumper crawl that our Merc's stop-start system kills the engine very quickly indeed.
Sometimes it reacts when you don't want it to, because the traffic ahead is on the move and you're preparing to pick up the throttle. I'm loath to disengage the stop-start, though.Mr Williams would never forgive me.
Mileage: 10,945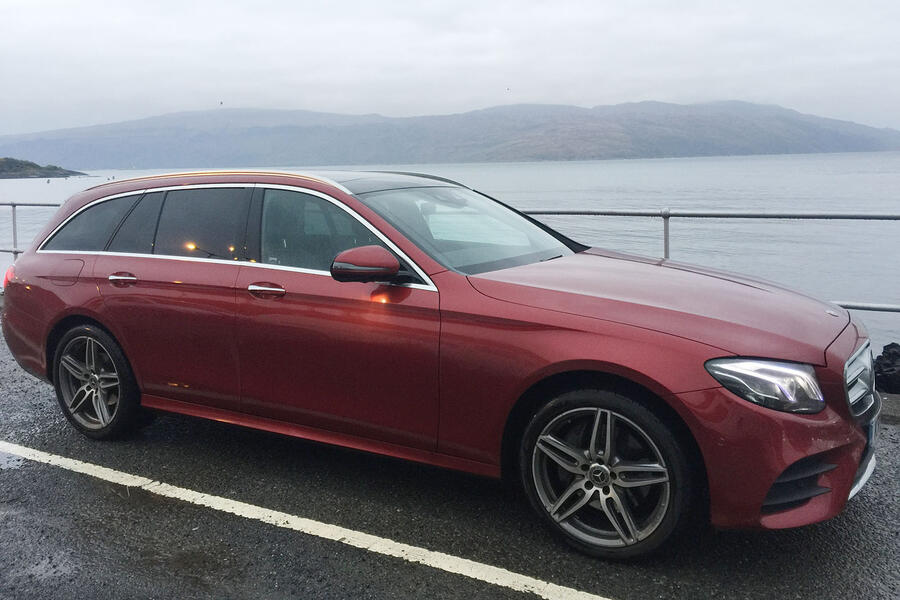 Life with a Mercedes-Benz E-Class Estate: Month 2
Gaining the E-Class Estate's attention – 08 November 2017
When Attention Assist, which flashes up a warning when it recognises that the driver could be getting tired, appeared during a recent long drive, it didn't cause me to veer into the nearest services for a triple espresso but did prompt a conversation between myself and my travelling companion about when we might like to next stop. Job done, then.
Mileage: 9905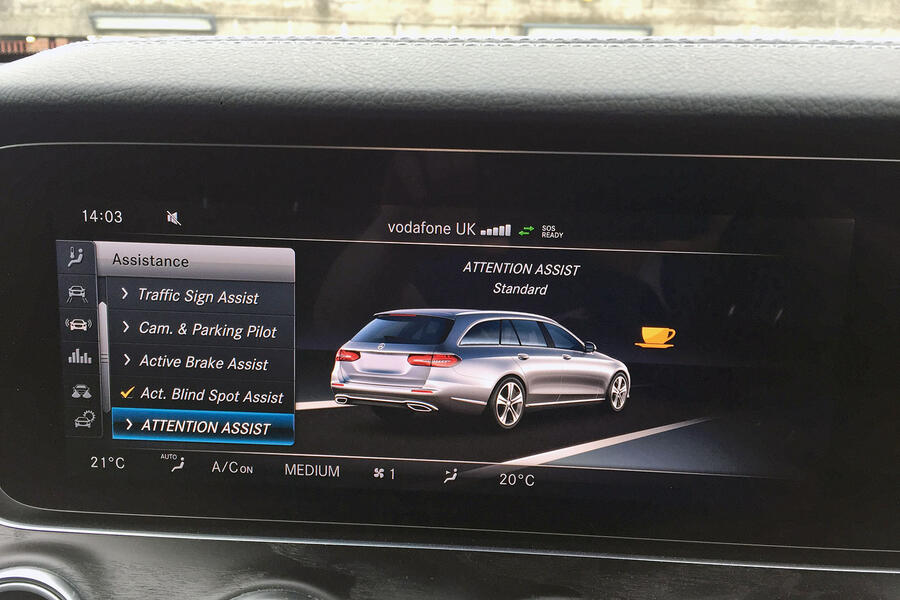 Stretching the E-Class Estate's legs – 25 October 2017
If you wake up in Basingstoke and have to be on the Isle of Mull in time to grab supper from the (Prince Charles-approved) fish 'n' chip van on Tobermory harbour, you need a car like this.
A vast diesel tank means you stop more regularly to refuel occupants than the car and its blend of space, comfort, security, performance and useful tech make it perfect for a 556-mile trek.
We're travelling by Merc too... pic.twitter.com/LdUAIMceWC

— Matt Burt (@Matt_Burt_) October 12, 2017
Mileage: 8399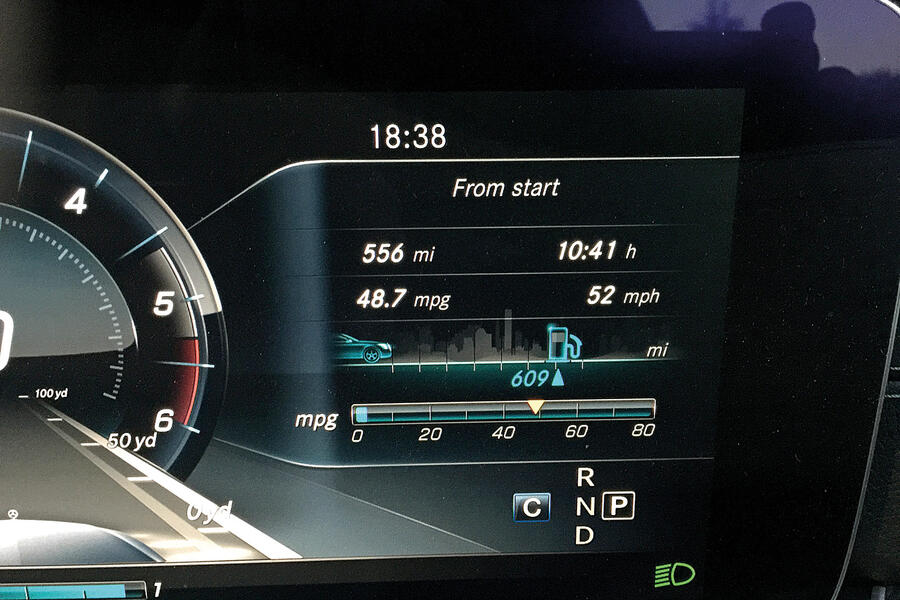 Getting to grips with the E-Class Estate – 18 October 2017
One of the vehicles pictured above is a people-carrier and load-lugger extraordinaire, a go-anywhere, practical German machine designed to deal with anything that life can throw at it. The other is a Volkswagen Type 2. Titter.
Joking aside, if you asked me to choose one of those vehicles in which to spend a road trip with a mate, I'd choose the red (sorry, that's 'hyacinth red metallic' to me and you) one. In fact, I'm about to embark on just such an adventure to the Hebrides. More on that in a future report.
I took the photo below in a car park in the New Forest, on a day when our E220d had been pressed into parent-chauffeuring duties.
That day had a bit of everything: but whether it was holding a fast cruise on the M3 or pootling past the ponies and donkeys through Beaulieu village, it performed with aplomb.
The blurb at the head of this article explains that we set out to appraise this E220d's 'sporting traits', but I'm not sure if that isn't something of a misnomer. That isn't to say it reacts poorly to being hustled – quite the opposite – but if this car does have sporting traits, they are characterised by quiet, ruthless efficiency and unflappability.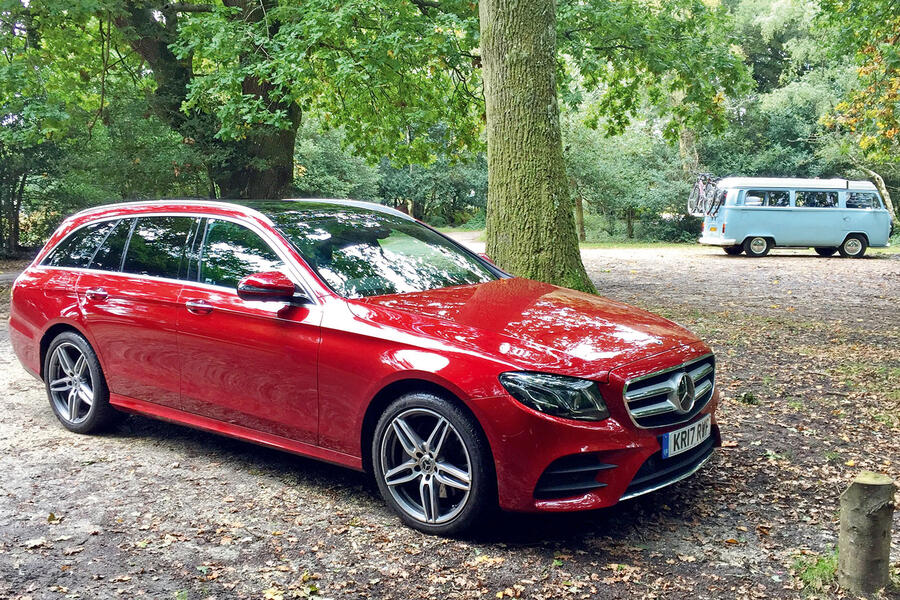 Think Stephen Hendry or Don Bradman in their pomp, rather than the kind of bombast the word 'sporting' implies.
Spending a couple of weeks in the E220d has caused me to ponder this philosophy of 'sportiness' that car makers in general – perhaps spurred on by buyers – seem to have an obsession with.
For the most part, I'm entirely content bowling around with Comfort engaged on the big Merc's Dynamic Select driving mode controller. Even without engaging Sport driving mode, the E220d isn't left wanting, with the 4Matic four-wheel drive system providing prodigious grip levels even on greasy roads and the air suspension maintaining impeccable composure on twisty, narrow lanes.
Our car is specified in performance-biased AMG Line trim (a £2495 premium over the SE model below it) so inside and out is fitted with shiny bits from Affalterbach's store cupboards. But even with all that, it still feels like a consummate, laid-back cruiser, and it's all the better for it in my opinion.
Our E220d is hard to fault so far. I've found myself wondering if road noise might be a smidgen less in a two-wheel-drive variant, or whether it is down to the 19in tyres fitted in place of the 17in or 18in available on SE-trim models.
As excellent as the cabin is, some of the switchgear could be better arranged. I'd like the control for the air blower and the Dynamic Select button to be closer to the driver, rather than on the passenger's side of the centre console.
Anything else? Well, the engine and transmission impinge slightly on where I like to position my left leg in the footwell. You'll think these niggles petty but, so far, identifying significant demerits is proving to be a challenge.
Mileage: 7481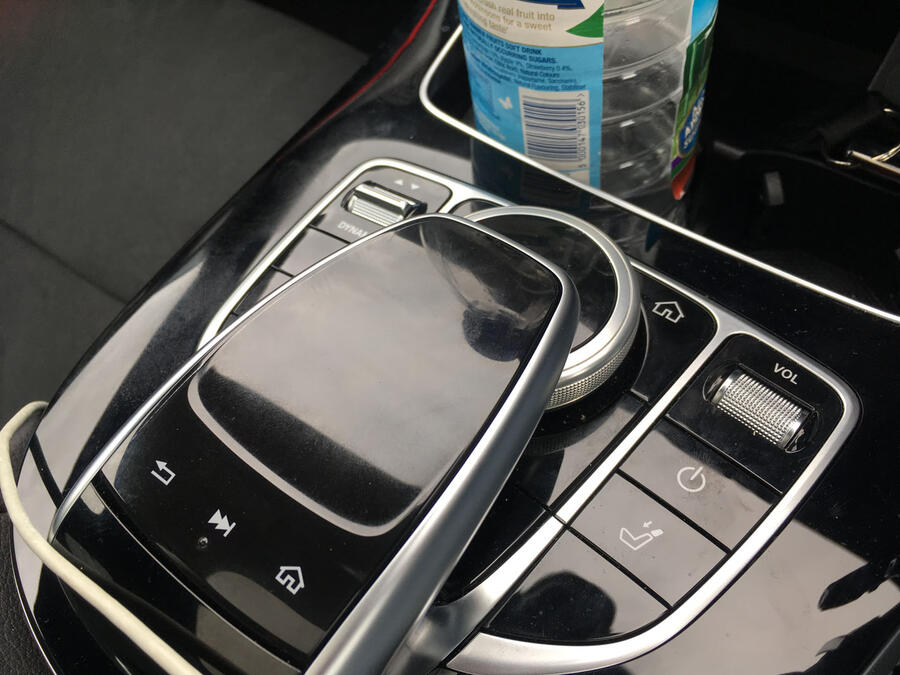 Life with a Mercedes-Benz E-Class Estate: Month 1
Welcoming the E220d Estate to our fleet – 23 August 2017​
The four-wheel-drive system binds mildly on full lock. The car's sat-nav system disappears and only uses your phone's navigation if you're using Apple CarPlay.
And that, friends, is the sum total of things I so far don't like about the Mercedes-Benz E220d 4Matic AMG Line Estate.
This is unusual. Oh, sure, there are things I've excused in other long-term test cars.
Things that you think "well, that's a bit annoying, but I can see why they've done it, and it doesn't bother me that much", and you let it go.
But in the E-Class? Well, it's just polished to the extent that there are very few blemishes.
Unusual, then, but it probably shouldn't be a surprise. The latest E-Class is pretty new to the executive car class and joined it at a time when said class has never been more competitive.
Even the Audi A6 Avant, grey of beard though it is, is still likeable for its dim but solid interior. The latest-generation Volvo V90 is more likeable still – predominantly for its un-dim and still solid interior – plus there's a new BMW 5 Series, too.
The quantities that these cars sell in – much larger than cars in the luxury class above them – mean their makers tend to throw the whole lot at them. I doubt there's a class of car in the world where more is at stake.
For this E-Class, then, Mercedes reverted to tradition. The E has been at times – at most times – solid, dependable, comfortable. Kinda like you'd want your house to be: just there, where it was, when you left it, not tiring to sit in, so that it's as easy to get out of it as it was to get into it several hours previously.
The new E does that. Oh, yeah, does the new E ever do that.
Semi-autonomous mooch in E-Class: adaptive cruise and lane keep. Not bad. Keeps lane pos well; frontal gap understandably conservative. pic.twitter.com/FW7eddq4kO

— Matt Prior (@matty_prior) August 11, 2017
The seats: big, supportive, comfortable. The driving position: big, adjustable, with an easy-reaching wheel. This car has (as an option) electric chairs, and you can tell who some of the buyers will be from the fact that I can push a button to adjust the front passenger seat from my driving position; to give, say, a paying rear passenger more leg room.
It has infotainment, too. It has infotainment coming out of its ears. The all-singing, all-dancing displays for this are also optional – there are a lot of options for it to feel über-swish, unfortunately – but if you spec them, this feels every inch a junior S-Class.
The controls are sensible. There's no touchscreen, which is fine, and there are two large control pads on the transmission tunnel. Usually, that would take up precious space that you'd want for cupholders and such, but the E-Class's gearlever is on a column stalk, thus allowing the turnable, pressable knob, plus the multi-function pad above it – you can write on it, or you can press it – the space they need to work.
And if you're looking at that pad and thinking that you might press it inadvertently if you rest your wrist on it, you're having the same thoughts that Mercedes' engineers did. If you push it with your wrist, nothing happens. Two fingers, three, four, a clenched fist: nothing happens. But press on it with one diddy finger, when you want to do something, and it responds. Perhaps witchcraft is at work.
Anyway, here lies one of my gripes. The system pairs, straight away, with my phone. Apple CarPlay begins and gives me my music immediately. But should I want to use the nav, too – and there's every chance I will – the Mercedes, inexplicably, locks out its own navigation system and only opens Apple Maps, which I don't use. Perhaps there's a way around it, but the internet suggests not.
Finally worked out how to get all the screens I want in an E-class up at once. speed, rev, music app, Merc nav, with phone/voice texts. Phew pic.twitter.com/W18rhV8Lvo

— Matt Prior (@matty_prior) September 6, 2017
Still, small gripe. Oh, yes, that other one. This Mercedes is an E220d 4Matic, which means it has a 191bhp 2.0-litre diesel that drives all four wheels (with a 45:55 front-to-rear power split) through a nine-speed automatic gearbox.
Truth be told, most of the time, you wouldn't know it was four-wheel drive at all. It just drives smoothly and elegantly and with the kind of soft ride that an E-Class should have.
And if you weren't paying attention, you wouldn't notice the binding of the four-wheel-drive system on full lock, which is only particularly prevalent on gravel anyway. But, then, the four-wheel-drive system does help me pull out of my driveway, and onto a busy road, because traction is brilliant. Swings and roundabouts.
Plus I'd feel more comfortable trying to pull things that weigh near the E's 2100kg towing limit on grass with four-wheel drive.
With the options listed below, this E-Class weighs in at £52,820. It's in AMG Line trim. Mercedes offers SE, too. An AMG Line is ostensibly more sporting but actually sportif in no way whatsoever. And that's absolutely fine by me. This, so far, is proving a ridiculously easy car to live with. Matt Prior
Second opinion
As a videographer, I'm always getting my ear twisted by the road testers about carrying too much kit.
For a recent shoot in Snowdonia, I packed cameras, tripods, sliders, a jib… you get the point. Anyway, I didn't even need to fold the E220d's rear seats. Maybe I should buy a drone.
Mitch McCabe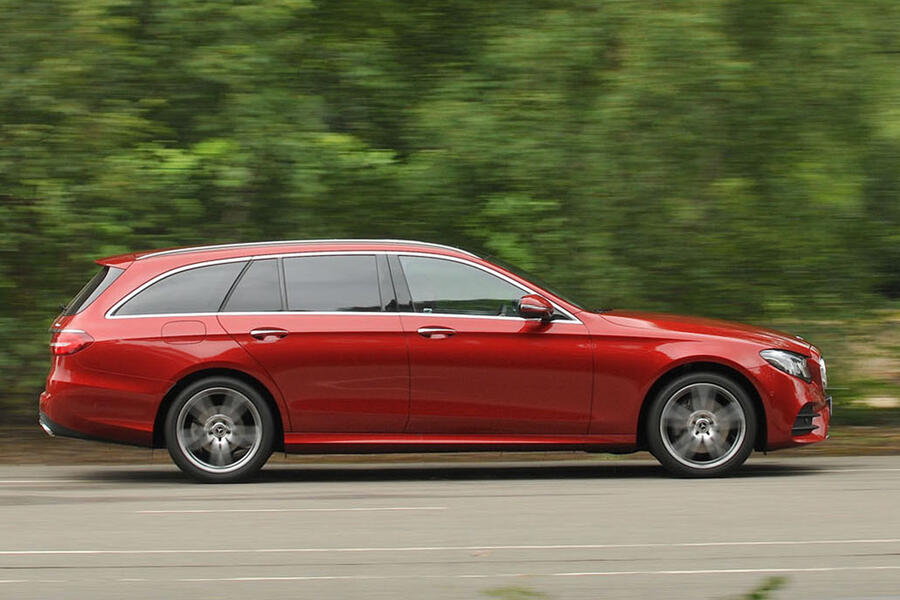 Mercedes-Benz E-Class Estate costs & specification
Prices: List price new £42,855; List price now £43,455; Price as tested £52,820; Dealer value now £33,395; Private value now £29,695; Trade value now £27,575 Options: Premium package (electric/memory seat, keyless go, sunroof, Burmester stereo, LED lights) £3895, Driving Assistance package (blindspot, lane keep, brake and lane change assist, adaptive cruise, pre-safe plus) £1695, automatic climate control £750, 360deg camera £395, 12.3in monitor £1495, widescreen instruments £495, privacy glass £345, metallic paint £895
Fuel consumption and range: Claimed economy 57.7mpg; Fuel tank 66 litres; Test average 49.2mpg; Test best 53.3mpg; Test worst 46.5mpg; Real-world range 648 miles
Tech highlights: 0-62mph 7.8sec; Top speed 145mph; Engine 4 cyls, 1950cc Max power 191bhp; Max torque 295lb ft; Transmission 9-spd automatic; Boot capacity 640-1820 litres; Wheels 19in alloy; Tyres 245/40 R19 (f), 275/35 R19 (r) Goodyear Eagle; Kerb weight 1855kg
Service and running costs: Contract hire rate £548.17 (30k miles/36mth); CO2 137g/km; Service costs £378.37; Other costs AdBlue refills, £30; Fuel costs £2798.61; Running costs inc fuel £3206.98; Cost per mile 13 pence; Depreciation £25,245; Cost per mile inc dep'n £1.22; Faults Intermittent electric window glitch (resolved)