Our Verdict
The Mercedes-Benz E-Class comes with fine engines and a typically laid-back dynamic character. Not one for the interested driver, but a good advert for being disinterested.
First Drive

Mercedes-Benz has given the classy E-Class Estate all-wheel drive and some extra ground clearance to tackle off-road excursions – and it's good

First Drive

The Mercedes-Benz E-Class could be all the estate car you'll ever want — or it could be overkill. Let's see which...
Why we're running it: To find out how well this high-tech exec blends luxury and sporting traits in a practical body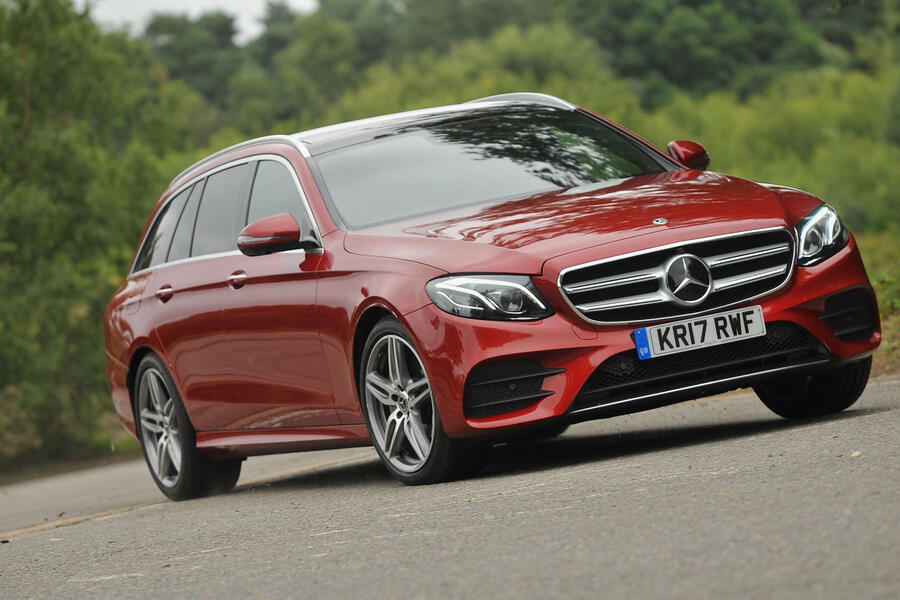 Life with a Mercedes-Benz E-Class Estate: Month 2
Gaining the E-Class Estate's attention – 08 November 2017
When Attention Assist, which flashes up a warning when it recognises that the driver could be getting tired, appeared during a recent long drive, it didn't cause me to veer into the nearest services for a triple espresso but did prompt a conversation between myself and my travelling companion about when we might like to next stop. Job done, then.
Mileage: 9905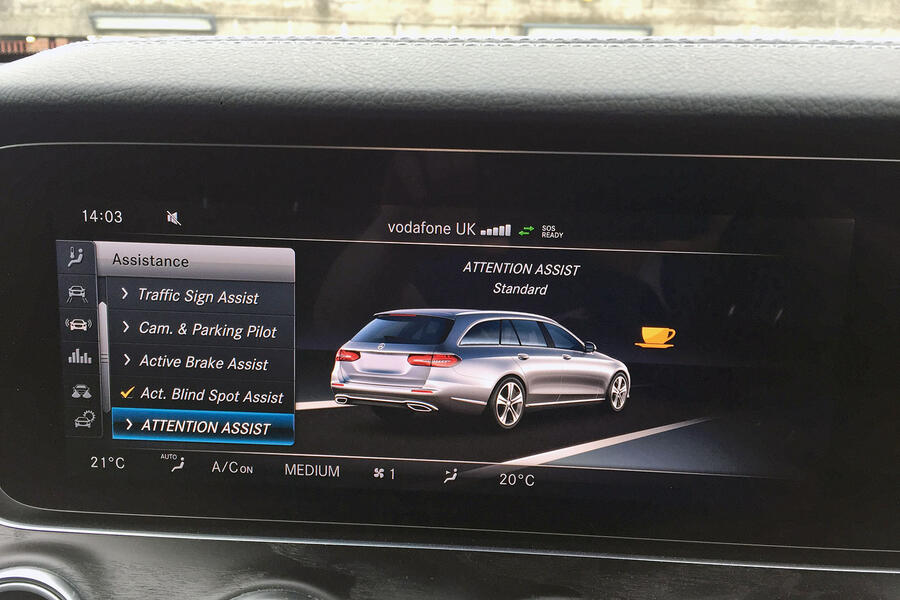 Stretching the E-Class Estate's legs – 25 October 2017
If you wake up in Basingstoke and have to be on the Isle of Mull in time to grab supper from the (Prince Charles-approved) fish 'n' chip van on Tobermory harbour, you need a car like this.
A vast diesel tank means you stop more regularly to refuel occupants than the car and its blend of space, comfort, security, performance and useful tech make it perfect for a 556-mile trek.
We're travelling by Merc too... pic.twitter.com/LdUAIMceWC

— Matt Burt (@Matt_Burt_) October 12, 2017
Mileage: 8399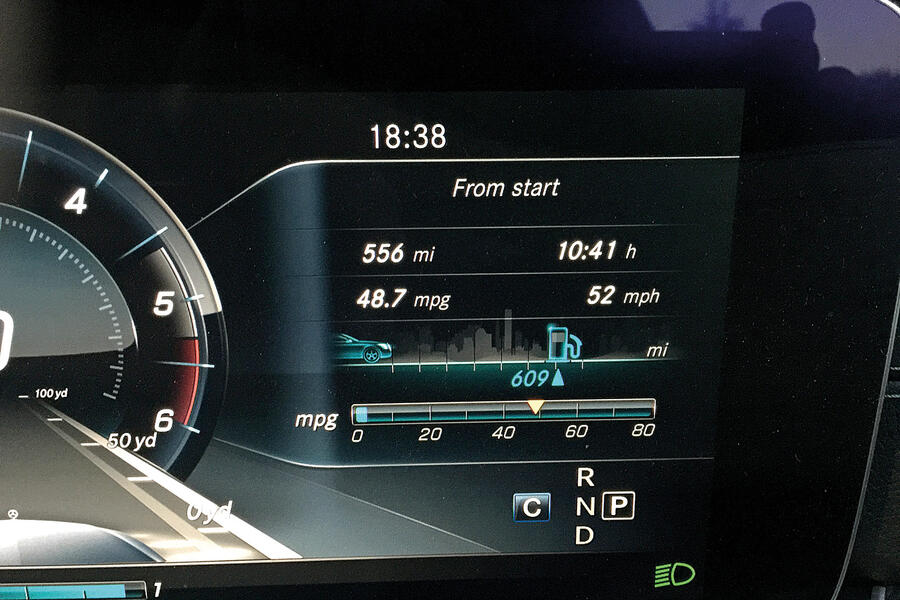 Getting to grips with the E-Class Estate – 18 October 2017
One of the vehicles pictured above is a people-carrier and load-lugger extraordinaire, a go-anywhere, practical German machine designed to deal with anything that life can throw at it. The other is a Volkswagen Type 2. Titter.
Joking aside, if you asked me to choose one of those vehicles in which to spend a road trip with a mate, I'd choose the red (sorry, that's 'hyacinth red metallic' to me and you) one. In fact, I'm about to embark on just such an adventure to the Hebrides. More on that in a future report.
I took the photo below in a car park in the New Forest, on a day when our E220d had been pressed into parent-chauffeuring duties.
That day had a bit of everything: but whether it was holding a fast cruise on the M3 or pootling past the ponies and donkeys through Beaulieu village, it performed with aplomb.
The blurb at the head of this article explains that we set out to appraise this E220d's 'sporting traits', but I'm not sure if that isn't something of a misnomer. That isn't to say it reacts poorly to being hustled – quite the opposite – but if this car does have sporting traits, they are characterised by quiet, ruthless efficiency and unflappability.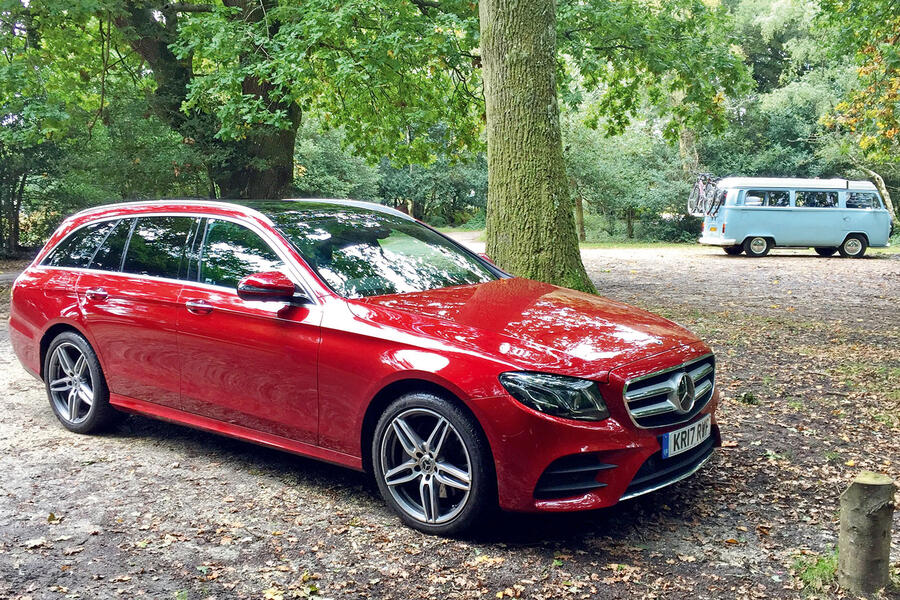 Think Stephen Hendry or Don Bradman in their pomp, rather than the kind of bombast the word 'sporting' implies.
Spending a couple of weeks in the E220d has caused me to ponder this philosophy of 'sportiness' that car makers in general – perhaps spurred on by buyers – seem to have an obsession with.
For the most part, I'm entirely content bowling around with Comfort engaged on the big Merc's Dynamic Select driving mode controller. Even without engaging Sport driving mode, the E220d isn't left wanting, with the 4Matic four-wheel drive system providing prodigious grip levels even on greasy roads and the air suspension maintaining impeccable composure on twisty, narrow lanes.
Our car is specified in performance-biased AMG Line trim (a £2495 premium over the SE model below it) so inside and out is fitted with shiny bits from Affalterbach's store cupboards. But even with all that, it still feels like a consummate, laid-back cruiser, and it's all the better for it in my opinion.
Our E220d is hard to fault so far. I've found myself wondering if road noise might be a smidgen less in a two-wheel-drive variant, or whether it is down to the 19in tyres fitted in place of the 17in or 18in available on SE-trim models.
As excellent as the cabin is, some of the switchgear could be better arranged. I'd like the control for the air blower and the Dynamic Select button to be closer to the driver, rather than on the passenger's side of the centre console.
Anything else? Well, the engine and transmission impinge slightly on where I like to position my left leg in the footwell. You'll think these niggles petty but, so far, identifying significant demerits is proving to be a challenge.
Mileage: 7481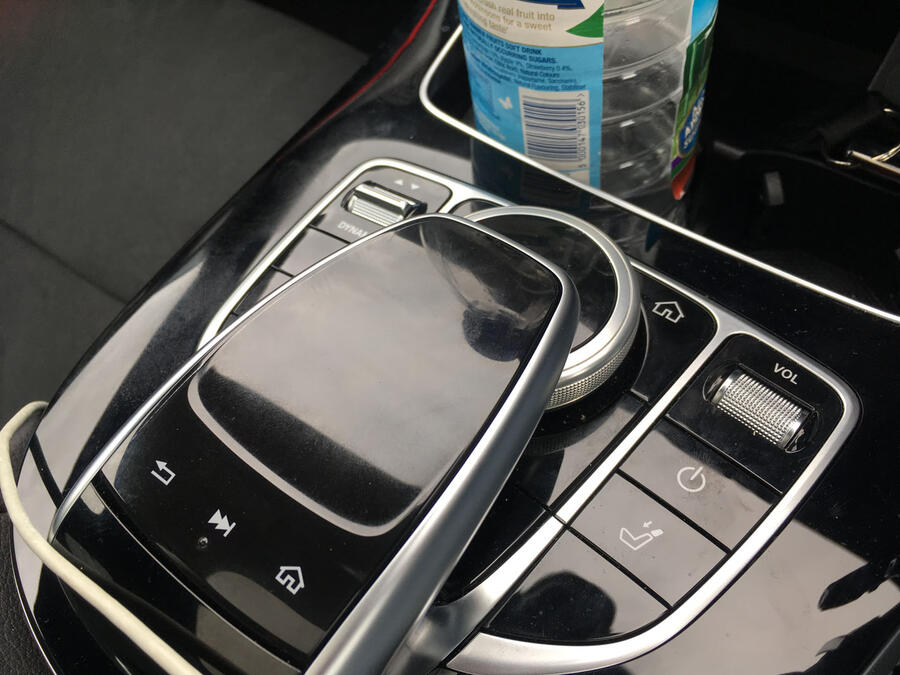 Life with a Mercedes-Benz E-Class Estate: Month 1
Welcoming the E220d Estate to our fleet – 23 August 2017​
The four-wheel-drive system binds mildly on full lock. The car's sat-nav system disappears and only uses your phone's navigation if you're using Apple CarPlay.
And that, friends, is the sum total of things I so far don't like about the Mercedes-Benz E220d 4Matic AMG Line Estate.
This is unusual. Oh, sure, there are things I've excused in other long-term test cars.
Things that you think "well, that's a bit annoying, but I can see why they've done it, and it doesn't bother me that much", and you let it go.
But in the E-Class? Well, it's just polished to the extent that there are very few blemishes.
Unusual, then, but it probably shouldn't be a surprise. The latest E-Class is pretty new to the executive car class and joined it at a time when said class has never been more competitive.
Even the Audi A6 Avant, grey of beard though it is, is still likeable for its dim but solid interior. The latest-generation Volvo V90 is more likeable still – predominantly for its un-dim and still solid interior – plus there's a new BMW 5 Series, too.
The quantities that these cars sell in – much larger than cars in the luxury class above them – mean their makers tend to throw the whole lot at them. I doubt there's a class of car in the world where more is at stake.
For this E-Class, then, Mercedes reverted to tradition. The E has been at times – at most times – solid, dependable, comfortable. Kinda like you'd want your house to be: just there, where it was, when you left it, not tiring to sit in, so that it's as easy to get out of it as it was to get into it several hours previously.
The new E does that. Oh, yeah, does the new E ever do that.
Semi-autonomous mooch in E-Class: adaptive cruise and lane keep. Not bad. Keeps lane pos well; frontal gap understandably conservative. pic.twitter.com/FW7eddq4kO

— Matt Prior (@matty_prior) August 11, 2017
The seats: big, supportive, comfortable. The driving position: big, adjustable, with an easy-reaching wheel. This car has (as an option) electric chairs, and you can tell who some of the buyers will be from the fact that I can push a button to adjust the front passenger seat from my driving position; to give, say, a paying rear passenger more leg room.
It has infotainment, too. It has infotainment coming out of its ears. The all-singing, all-dancing displays for this are also optional – there are a lot of options for it to feel über-swish, unfortunately – but if you spec them, this feels every inch a junior S-Class.
The controls are sensible. There's no touchscreen, which is fine, and there are two large control pads on the transmission tunnel. Usually, that would take up precious space that you'd want for cupholders and such, but the E-Class's gearlever is on a column stalk, thus allowing the turnable, pressable knob, plus the multi-function pad above it – you can write on it, or you can press it – the space they need to work.
And if you're looking at that pad and thinking that you might press it inadvertently if you rest your wrist on it, you're having the same thoughts that Mercedes' engineers did. If you push it with your wrist, nothing happens. Two fingers, three, four, a clenched fist: nothing happens. But press on it with one diddy finger, when you want to do something, and it responds. Perhaps witchcraft is at work.
Anyway, here lies one of my gripes. The system pairs, straight away, with my phone. Apple CarPlay begins and gives me my music immediately. But should I want to use the nav, too – and there's every chance I will – the Mercedes, inexplicably, locks out its own navigation system and only opens Apple Maps, which I don't use. Perhaps there's a way around it, but the internet suggests not.
Finally worked out how to get all the screens I want in an E-class up at once. speed, rev, music app, Merc nav, with phone/voice texts. Phew pic.twitter.com/W18rhV8Lvo

— Matt Prior (@matty_prior) September 6, 2017
Still, small gripe. Oh, yes, that other one. This Mercedes is an E220d 4Matic, which means it has a 191bhp 2.0-litre diesel that drives all four wheels (with a 45:55 front-to-rear power split) through a nine-speed automatic gearbox.
Truth be told, most of the time, you wouldn't know it was four-wheel drive at all. It just drives smoothly and elegantly and with the kind of soft ride that an E-Class should have.
And if you weren't paying attention, you wouldn't notice the binding of the four-wheel-drive system on full lock, which is only particularly prevalent on gravel anyway. But, then, the four-wheel-drive system does help me pull out of my driveway, and onto a busy road, because traction is brilliant. Swings and roundabouts.
Plus I'd feel more comfortable trying to pull things that weigh near the E's 2100kg towing limit on grass with four-wheel drive.
With the options listed below, this E-Class weighs in at £52,820. It's in AMG Line trim. Mercedes offers SE, too. An AMG Line is ostensibly more sporting but actually sportif in no way whatsoever. And that's absolutely fine by me. This, so far, is proving a ridiculously easy car to live with. Matt Prior
Second opinion
As a videographer, I'm always getting my ear twisted by the road testers about carrying too much kit.
For a recent shoot in Snowdonia, I packed cameras, tripods, sliders, a jib… you get the point. Anyway, I didn't even need to fold the E220d's rear seats. Maybe I should buy a drone.
Mitch McCabe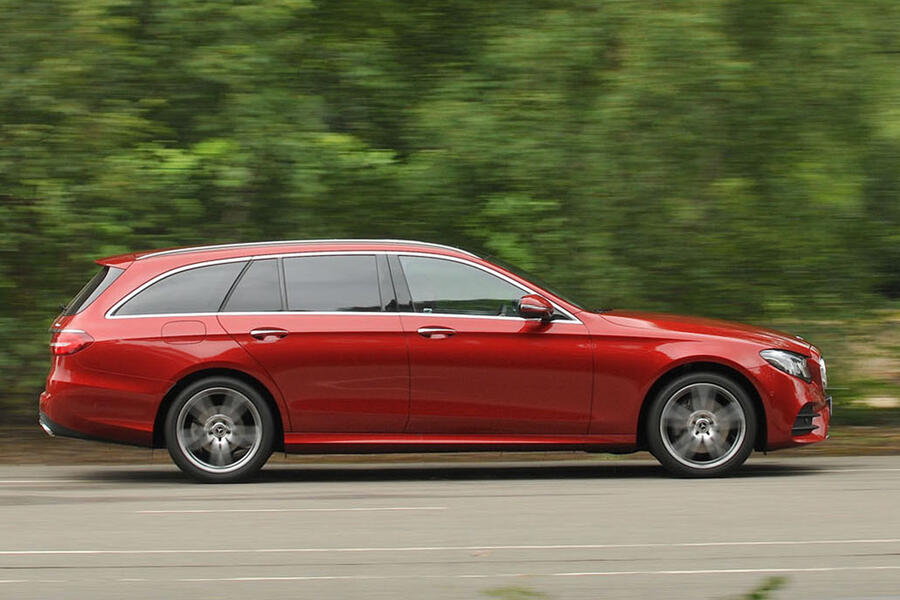 Mercedes-Benz E220d 4Matic AMG Line Estate specification
Specs: Price New £42,855; Price as tested £52,820; Options Premium Package – includes keyless go, electric/memory seats, sunroof, Burmester stereo, LED lights (£3895), Driving Assistance package – includes blind spot monitoring, lane guidance, brake and lane change assist, adaptive cruise control, pre-safe plus (£1695), automatic climate control (£750), 360-degree camera (£395), 12.3in infotainment display (£1495), 12.3 instrument cluster display (£495), privacy glass (£345), metallic paint (£895)
Test Data: Engine 1950cc, turbocharged diesel; Power 189bhp at 3800rpm; Torque 295lb ft at 1600-2800rpm; Top speed 145mph; 0-62mph 7.8sec; Claimed fuel economy 57.7mpg; Test fuel economy 49.5mpg; CO2 129g/km; Faults None; Expenses None