What is it?
The new GT Roadster returns an open-top to the upper end of Mercedes-AMG's line-up, acting as an indirect successor to the earlier SLS roadster.
The latest in a long line of recent AMG models, it will be sold in two distinct flavours: this, the standard Mercedes-AMG GT Roadster, and its faster, pricier sibling, the GT C Roadster, which is derived from the GT S coupé.
The GT Roadster costs from £110,145, and while that's £11,950 more than Mercedes-AMG asks for the cheapest of its fixed roof siblings, the Mercedes-AMG GT coupé, it still undercuts the price of its nearest rival, the Jaguar F-Type SVR Convertible, by £3650. In comparison, the GT C Roadster will set you back a cool £139,445.
Mercedes-AMG says the GT Roadster was conceived at the same time as the Mercedes-AMG GT coupé, so isn't a mere afterthought, despite the fact that it has arrived more than two years after its fixed-roof sibling. This is reflected in its styling, which is richly cohesive, both roof up and down. This styling, including the 'Panamericana' grille, first introduced on the range-topping GT R coupé late last year, have resulted in a very good-looking car.
The only real difference in styling between the two GT Roadsters is at the rear, where the GT C Roadster is 57mm wider, due to it having the same, sportier bumper of the GT R coupé. This allows it to run larger 20in rear wheels and thicker tyres than those wrapped around the GT Roadster's 19in rims.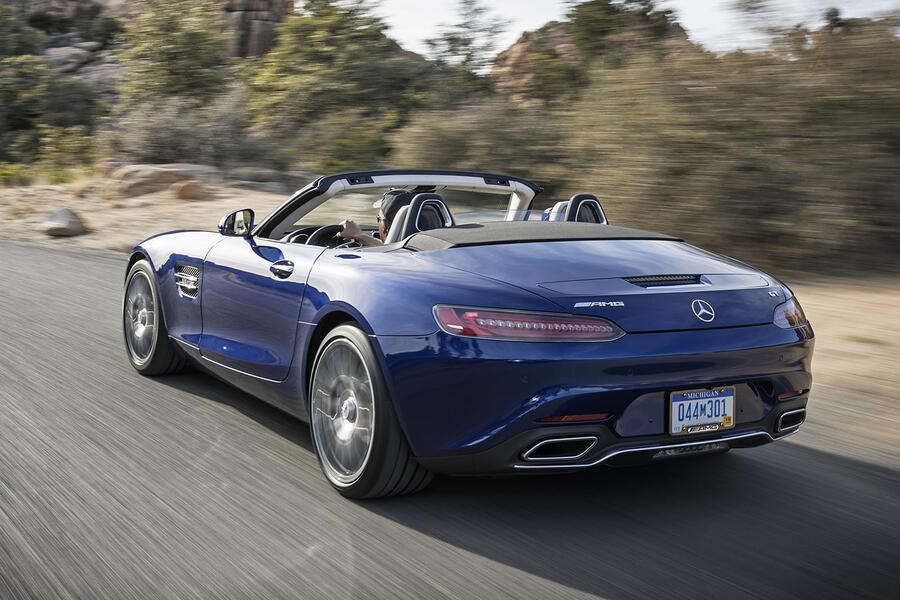 The GT Roadster has an automatically folding fabric roof. It's a three-layer structure, available in black, red or beige, that is supported by a frame made from aluminium, magnesium and steel. It opens and closes in just 11sec while you're driving at speeds up to 31mph, folding and stowing over the rear bulkhead behind the two seats.
To offset the reduction in rigidity due to the loss of a fixed roof structure, the GT Roadster's aluminium body is stiffened with thicker sill elements, an additional dashboard support and a new aluminium cross-member integrated into the rear bulkhead that supports for fixed roll-over bars.
Under the bonnet is a lightly revised version of the twin-turbocharged 4.0-litre V8 petrol engine first used in the standard Mercedes-AMG GT coupé, but with 13bhp and 21lb ft more than in that car, producing a total of 469bhp and 464lb ft.