What is it?
What is that nagging feeling about the Range Rover Velar? That little suspicion that not everything is quite as clear cut as it should be?
I don't know. Because, on the face of it, everything up here in this imperious cabin is very straightforward. There was a gap in the Range Rover line-up, see, and it is now filled. The Range, er, range started with the Evoque and then, via a large leap, went to the Range Rover Sport before naturally culminating with the Range Rover. This new Velar sits in that large space between the Evoque and the Sport.
Mechanically, then, this 4.8m-long car is more 'Sport-minus' than 'Evoque-plus'. It's not as full of fat as the Sport, sure, but it does sit on a longitudinal-engined, aluminium platform – the same one as Jaguars Jaguar XE, Jaguar XF and Jaguar F-Pace, incidentally – rather than the transverse-engined set-up of the Evoque. The Velar's chassis contains more aluminium than any of the Jaguars', mind. It's bigger than them all, too, and – fairly obviously – it is more off-road focused. But, fundamentally, that's where it starts.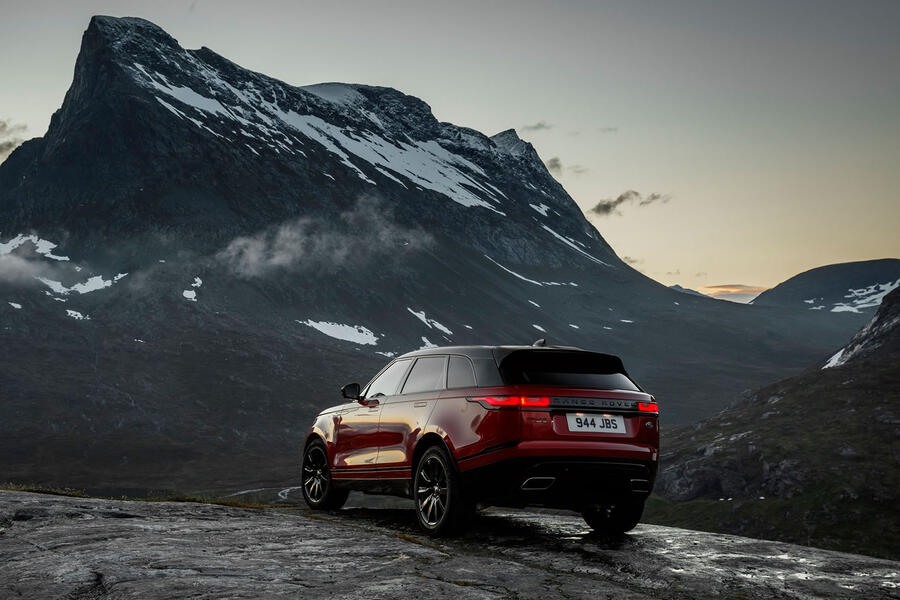 The Velar, then, ends up with an 81%-aluminium body, with some steel under the boot floor, where it doesn't hurt that it brings the weight distribution rearwards (albeit there's a composite tailgate to maintain a low centre of gravity), and some magnesium under the bonnet to, conversely, lighten the front end. Consequently, the claimed kerb weight for all versions, barring the biggest diesel, is less than 1900kg.
In the same way that the Jaguar models on this platform have double wishbones at the front and an integral link set-up at the back – which is like multi-link but with additional, lateral-rigidity-increasing components – so too does the Velar. Think of the Velar as a semi-skimmed Range Rover, then, to the Sport's full fat and the RR's gold top. (The Evoque is… what? Kinda non-dairy?)
If you want it less figuratively, compared with the Sport, the Velar's towing limit is 2500kg, not 3500kg, and it doesn't get a low-ratio transfer case. Of its six engine options, four are 2.0 four-cylinder units, the other two V6s; and the four-pots, as standard, get coil springs. Air springing, which Land Rover uses to great effect to increase off-road capability on big models, is standard on V6s and optional on the fours. Some of those things will inhibit the Velar off-road – we'll come to that – but that might not matter because Land Rover says this is the most dynamically focused Range Rover yet. We'll come to that too.