The Kia Xceed has proved to be an, ahem, exceedingly successful addition to the line-up for its maker.
Since making its debut in 2019, the SUV-flavoured hatchback has notched up 120,000 sales across Europe as a whole, and in the UK, it makes up 10% of the Korean brand's overall volume. Perhaps more pertinently, it represents half of all Ceed sales, which, following the recent demise of the Renault Mégane and imminent death of the Ford Focus, feels like another nail in the coffin of the traditional compact family hatch.
Either way, given the model has been a big hit and it's less than three years since it made its debut, Kia has played fairly safe with the Xceed's mid-life nip and tuck. Essentially, this is a cosmetic makeover overall, aimed mainly at enhancing the Kia's already clearly considerable showroom appeal. There is the option of a feisty 201bhp turbocharged 1.6-litre four-cylinder petrol, but it's unlikely we'll see this unit in the UK. For now, we have a 158bhp 1.5-litre petrol (the most popular with retail buyers over here) and a 139bhp 1.6-litre PHEV (the fleet favourite).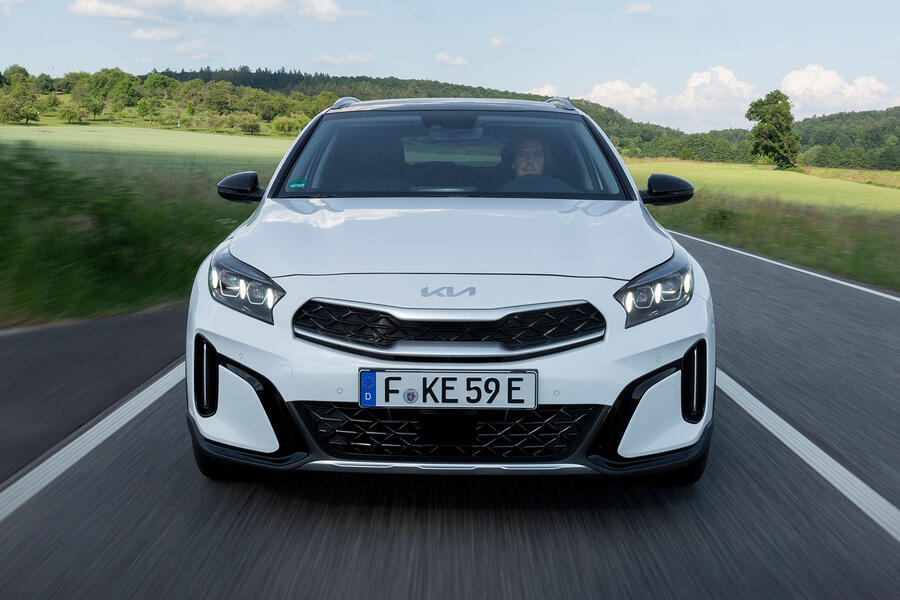 So what is new? Well, there's a fancy new GT-Line trim to match other Kia Ceed variants, plus there are new LED headlights, plus a tweaked front grille and reprofiled bumper that now includes fashionable air curtains to smooth the aerodynamic flow across the front wheels. At the rear, there's a fresh diffuser that includes a gloss black finish and 'exhaust look' mouldings. Hmmmm.
Inside, it's much as before, with the same slick touchscreen infotainment and TFT, plus a look and feel that's closer to premium than you'd expect. Sharing its 2650mm wheelbase with the standard car means it's no roomier for those in the back, but longer overhangs have allowed the boot capacity to be increased by 31 litres to 426 litres, making it a marginally more practical choice than many straight hatchbacks.
Under the skin, there's the same longer-travel suspension, while the Xceed's greater commitment to comfort is highlighted by spring rates that softer by 7% at the front and 4% at rear (although the PHEV is a little stiffer to compensate for its weighty battery), while hydraulic bump stops are used at the front. Again, these changes were all part of the outgoing model's make-up.