Why we're running it: To discover how much we can enhance this used BMW M135i with a little help from our friends at Birds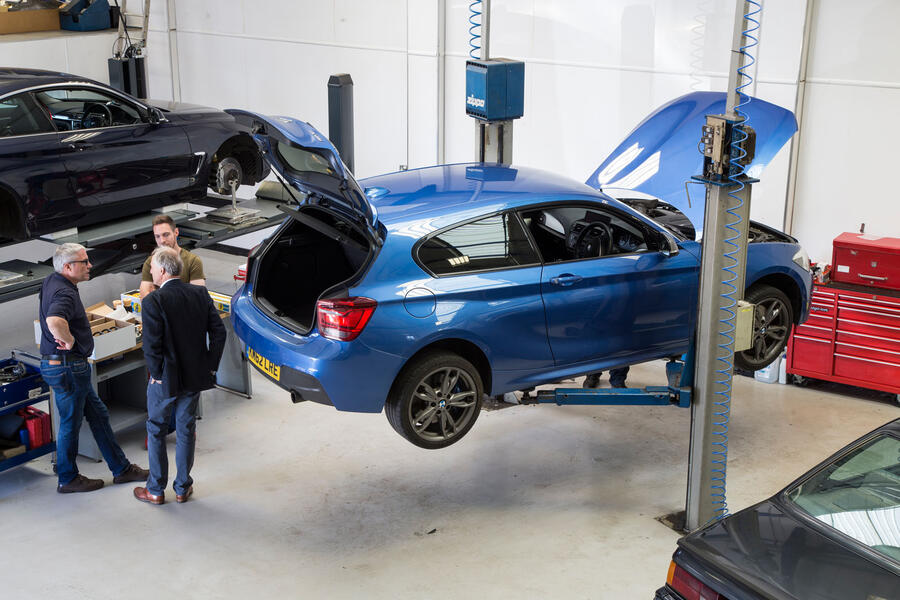 Life with a used BMW M135i: Month 5
A duel with an M2 is on the horizon - 28th February 2018
Right now, you should be reading all about the M135i's lovely new brakes. Unfortunately, the supplier was unable to deliver them before the end of our loan of the car, so the standard brakes will be staying put. No matter, actually, because we didn't set out to build a track car and I've never had an issue with the factory stoppers on the road.
Still, there is some progress: the world's most determined key scratch has finally been repaired. Whichever cheery soul it was who vandalised the car started at the very front and keyed the paintwork all along the right- hand side, damaging all three panels in the process. They then turned around and scraped their way back to the front again, just to be certain.
I took the car to Mustoes, a bodyshop near Chepstow, where they did a proper job of the repair. The whole side of the car was masked off, sanded down and resprayed. The car looks as good as new now and the repair cost a very reasonable £360.
As I type, the M135i will be going back to BMW tuning specialists Birds for good within a couple of weeks, but not before we've put it up against an M2. It'll be an intriguing comparison. Since its engine remap, the M135i has more power than the M2, so it will probably be quicker in a straight line. Everywhere else, though? We'll have to wait and see.
Finally, I've been reading about BMW's plans for the 1 Series. Reports suggest the third generation will switch from rear- to front-wheel drive next year, with high-performance models set to use four-wheel drive. I get why BMW would want to move away from a rear-drive layout for the 1 Series. The overwhelming majority of hatchback buyers would never appreciate the benefit of a rear-driven chassis, or even notice the difference. What they certainly would notice and appreciate, however, is the extra cabin space such a change in layout would bring. Rear leg room has been a problem for the 1 Series since day one.
But BMW has spent many decades telling us rear-wheel drive is best. And all of a sudden, it isn't. A pity, too, that the really quick models will almost certainly drop the current six- cylinder turbo engine in favour of a four-pot. (Try making six cylinders fit in an east-west installation...)
If these reports are accurate, the next high-performance 1 Series will share the same mechanical layout as the Audi S3, Mercedes-AMG A45 and VW Golf R: four-wheel drive with a four-cylinder turbo motor. Who knows, it may well become a better car for it. But that loss of variety in the hot hatch sector will be lamentable.
Mileage: 38,467
Life with a used BMW M135i: Month 4
Turning the wick up on our used BMW M135i – 24 January 2018