It must be tricky for car makers like Bentley to know how much and how quickly to commit to the electrification of its cars. A battle is being fought between the volume-selling premium brands at present, with new plug-in hybrid SUVs emerging month by month - from BMW, Land Rover, Mercedes-Benz and others - with upwards of 60, 70 or even 80 miles of official 'equivalent all-electric range'.
To a certain extent, it's a battle that Bentley can afford to stand and watch, as nobody buying the new Bentley Bentayga S Hybrid will be worrying about benefit-in-kind tax bills. But it can only stay on the sidelines for so long, because soon enough, the customer is going to start to wonder why that colleague's Range Rover can do 70 miles between charges while their Bentayga struggles to manage 30.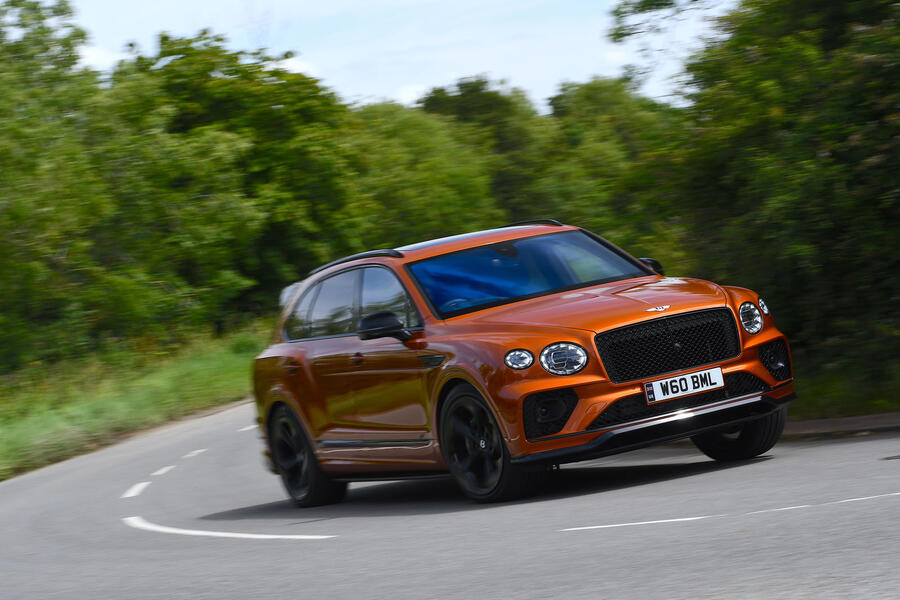 That, for now, is where the Bentayga rests in this fast-changing market for electrified luxury transport. Crewe introduced the Bentayga Hybrid in 2019, as its first electrified car. But, having now been through the process with the Flying Spur, it has revisited its big SUV and found some ways to improve the offering. It has also lately added new comfort-orientated 'Azure' and sporty 'S' derivatives to the Bentayga Hybrid model line, and it's the latter we're testing here.
What it hasn't done, regrettably, is swapped the 3.0-litre version of the Volkswagen Group's EA839 V6 petrol engine for the shorter-stroke, higher-output, twin-turbocharged 2.9-litre one that has powered the Flying Spur Hybrid from the start, and that also serves in the likes of the Audi RS4 and Porsche Cayenne S. So, even though the badging of the new Bentayga S Hybrid might suggest otherwise, it doesn't run the same powertrain as the equivalent limo.
It does have marginally more power and torque than it used to, by dint of improvements to its motor, and a slightly longer EV range. It has a special sports exhaust, and a sound generating resonator under the bonnet to make up for the combustion engine's slight lack of audible presence. It has sporty seats and bumpers, and lots of racey-looking carbonfibre body trim if you want it. But, to drive at least, it isn't a car transformed in quite the way that you might have hoped for.