Our Verdict
Is the revived Aston Martin Vanquish a worthy successor to the range-topping Aston DBS?
First Drive

We bid Aston Martin's era of VH-based cars a fond farewell, and what better way than by living with its Vanquish S super-GT for six months

First Drive

Late-life changes make the Aston Martin Vanquish S even nicer to drive and put a bit of necessary air between it and the DB11
Why we're running it: For one last glorious hurrah to Aston Martin's era of VH-based cars with big normally aspirated V12s
Life with a Vanquish S: Month 6
Saying goodbye to the Vanquish S – 15 November 2017​
What's it like to live with a super-GT on a daily basis? That was the purpose of this test. And the simple answer is: super.
And GTish, of course. Few cars do GT as well as the Aston Martin Vanquish S. Although those cars do include the Aston DB11, which is why the Vanquish received the upgrades that make it an 'S' about a year ago: they made it more powerful, helped it deliver the power a bit more keenly and made it noisier.
The big, naturally aspirated V12 engine might be endangered, but the Vanquish S shows why it will be a such shame if it disappears completely. A 5.9-litre V12 sits at the front of the Vanquish S and it's a thing of no small wonder.
At 592bhp, it's still some way short of the Ferrari F12's 730bhp, which was the chief rival at the time of the Vanquish's upgrades. And since then, the 812 Superfast has been launched with a fairly absurd 789bhp.
The next Vanquish, then, will have two turbochargers and more than 700bhp but, meanwhile, it will plod along to 2019 with this 5.9-litre unit that has its origins from the days when Aston was owned by Ford.
It's a cracking engine, wonderfully smooth – as anything with multiples of six inline cylinders is – yet soulful when you want it to be and just about muted enough when you don't.
It's not like 592bhp isn't 'enough', anyway, is it? Granted, because it's a naturally aspirated unit, you have to work the Aston engine to access all of its power, but that seems like no bad thing to me. It's brisk enough at low to middling revs and, should you want more, you have to hang on to a lower gear. No bother. Although the ZF eight-speed auto, a transaxle 'box to maintain good weight distribution, wasn't changed last year, its coupling to the propshaft was made more rigid.
So it retains the smoothness of a torque converter auto, yet locks up and drives confidently very quickly. Not once in 7000 miles did I want for this to be a dual-clutch auto.
In fact, in 7000 miles in one of these, you don't want for much else at all, and I genuinely don't think that's just because you feel spoilt. I've spoken with owners who say they spend more time in their Vanquishes than they ever expected to because it hits the mark in the right way.
I know of potential owners who are thinking about hopping out of cars that may be more powerful but are more tiresome to drive. From what I'm told, the Ferrari FF/GTC4 Lusso and Aston Vanquish are the super-GTs of choice for those who want to use them often – when they're not driving a Range Rover or Volkswagen Golf R.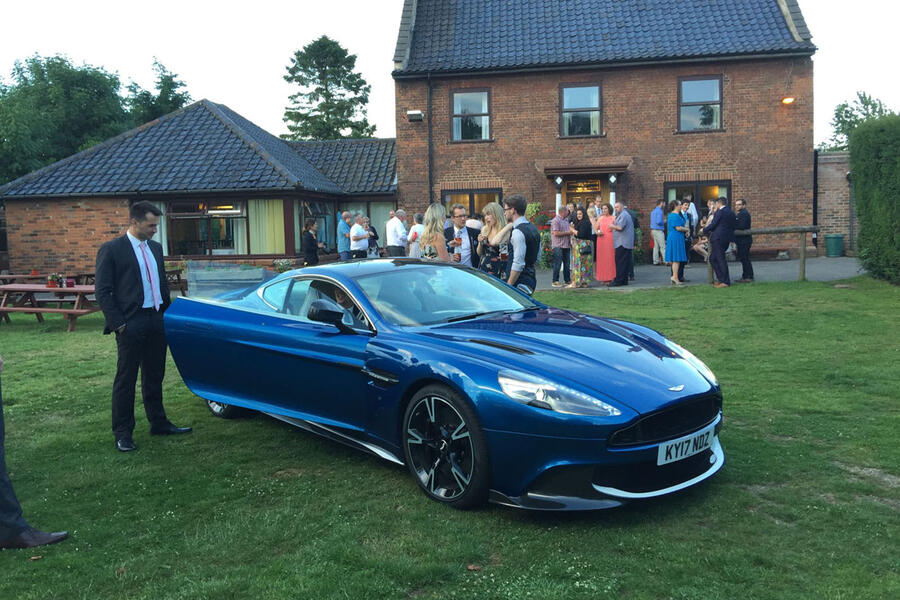 Because we were limited to 7000 miles in this car, the plan wasn't to use it all day, every day. But now and again, when it was my only set of wheels, I did precisely that: the school run, a nip to the Co-op. And, sure, it will do it.
The service intervals are 10,000 miles, it used no oil, wore out no ancillaries. It cost nothing but fuel and depreciation: this £200k car is, on the forecourt, £185k or so now, given it was generously optioned.
And as a daily driver? Well, the +2 seats are small but, with the front passenger seat folded, you can even squeeze an adult in the back if you have to.
The 368-litre boot is well-shaped too, with a wide opening that will accept golf bags relatively easily.
But it's the long journeys, the special journeys, that are memorable in a car like this. I took it to Scotland once. It was so great I took it again.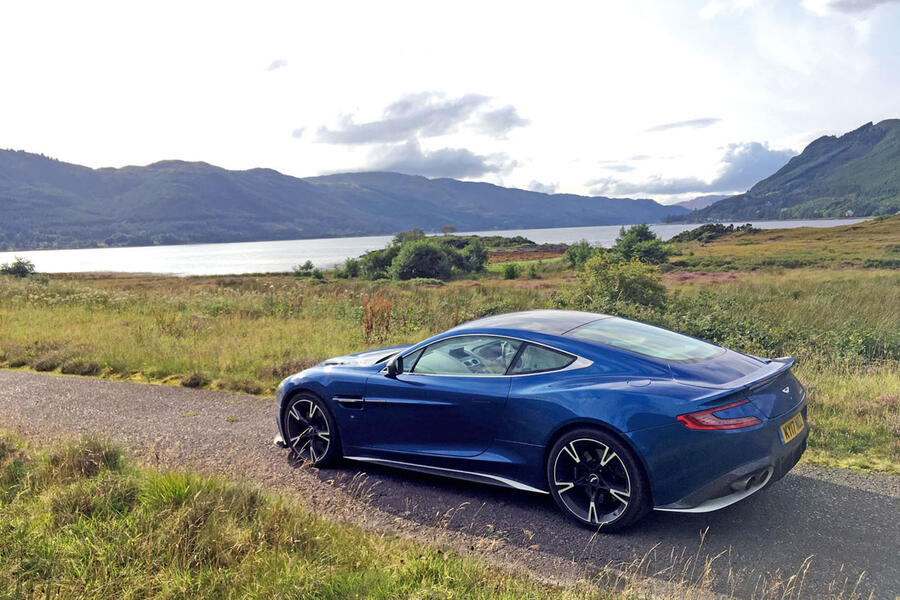 Sure, the standard infotainment is as fiddly as anything, but it will pair to a smartphone easily, which solves most of that problem. The ride quality was firm enough to be terrifically controlled but soft enough to never be tiresome, and while one of my colleagues thought the engine noise – exhaust, specifically – was a bit tedious, I didn't meet anyone else who thought so.
Maybe it's a bit vocal on start-up – the latest DB11 has a 'quiet start' mode to alleviate that issue – but generally I think it has just the right amount of bark and soul for a super-GT car.
It's even – and here's something I didn't expect to be writing, 7000 miles ago – relatively economical. "Perhaps you should use the right pedal more, then," you might think, and perhaps you're right, but I did my share of accelerating, hanging onto gears and driving through tunnels and past high walls a gear or two lower than I needed to, with the windows down. But there's something about an over-capacity, unstressed – if you can call 100bhp per litre that – naturally aspirated engine that only has a relatively small car to push around. With vastly overdriven upper ratios that see it not much beyond idle at the motorway limit, this is a 24mpg car.
If you drove like your sick cat was on the passenger seat, I reckon it could be a 27mpg, perhaps 28mpg, car.
But why would you want to do that? Unless you were actually going to the vet's, obviously.
No, the lovely thing about the Aston is that it feels like a super sports car when you want it to, a refined, luxurious cruiser when you don't. Precisely how a super-GT is meant to feel.
Second opinion
From its ludicrously rorty start-up to its hollow howl beyond 3000rpm, this V12 brings sound and drama to a driving experience that's deliciously engrossing at all speeds.
True, it doesn't have the torque of the turbocharged DB11, but it more than makes up for that in aural appeal.
In short, it's the perfect last roar for a naturally aspirated breed.
Neil Winn
Mileage: 8120
Love it
Decent audio system - I'm still convinced home audio beats car audio but the B&O system suppresses ambient noise well.
Easy phone pairing - I can keep using the car's nav while listening to my music, with a button on the steering wheel to skip tracks.
Carbonfibre bonnet - Elegance and tech combined. Long and sleek on the outside, swing it open and it's impossibly light.
Loathe it
Level of road noise - Aluminium chassis tend to echo and amplify road noise. Too much louder here and it would become an issue.
Fancy steering wheel - The One-77-inspired steering wheel is an option. And one, I think, you should refrain from specifying.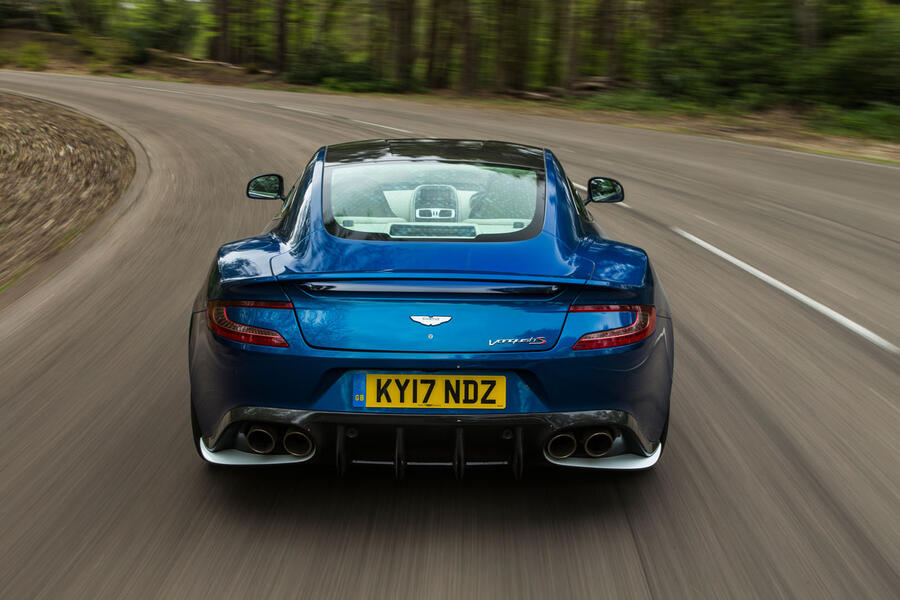 Life with a Vanquish S: Month 5
Getting loud and rorty with the Aston - 25 October 2017
Aston's DB11 has a quiet mode when you start it. Give the start button a prolonged push and it doesn't wake the neighbours.
This Vanquish just makes a massive noise. Apparently, many modern engines want a start-up 'blip' to help the catalysts into life, but they don't need the exhaust flaps open.
It wouldn't hurt if these ones stayed closed occasionally.
Mileage: 7830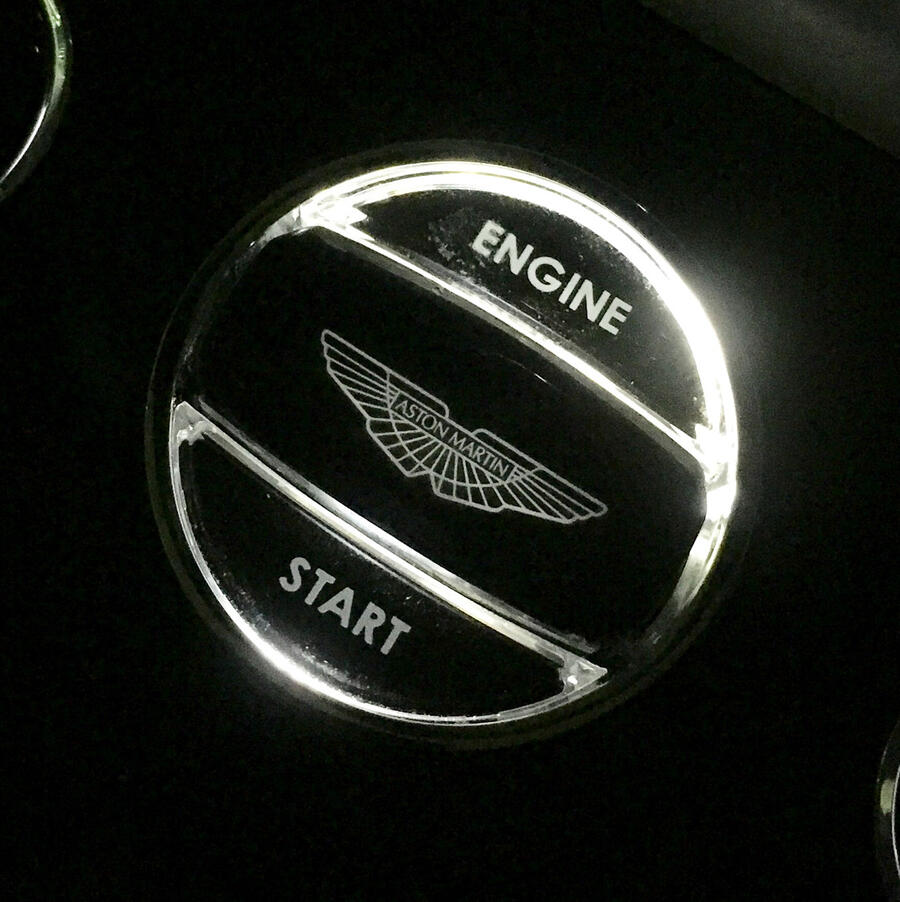 Vanishing into the Highland sunset - 27 September 2017
When somebody far too good for you walks into your life and then, upon realising they're far too good for you, walks straight out of it again, leaving you heartbroken, there is grieving.
On a not unrelated note, soon this Aston Martin Vanquish S will be leaving Autocar Towers to return to its maker.
The Vanquish exudes a kind of passing-era feeling, doesn't it? I know, it'll stay on sale until 2019, but what with it being the last of the naturally aspirated V12s, and what with it being the last Aston that will die with the VH architecture beneath it, it will be, when it goes, the close of a relatively happy, and particularly significant, chapter in Aston Martin's history.
Now out of time with this car. Which is, officially, a shame. Staggeringly good old-school kit. pic.twitter.com/LnyS1XWJ4e

— Matt Prior (@matty_prior) August 29, 2017
How, then, do you prepare to bid farewell to one of the world's finest GT cars, I wondered.
Should I weep? Deny? Bargain? Send it a mixtape of meaningful songs? Write a poem, like Lewis Hamilton on Princess Di?
'Oh Vanquish. You were the world's best 2+2,
It was funny the way CEO Ulrich Bez used to pronounce you.
Your blue and white paint, like Italian pottery, is à la mode,
You'd win first in a concours at the Goodwood Festival of Spode,
If there was one.'
Hmm. No. I think you go for a long drive and enjoy it while it lasts. So I did, to Scotland, because it's big and beautiful and the roads are fabulous and quiet and people don't mind when you overtake them; and because I had a few days to spare, and the weather looked iffy enough to leave the motorbike at home.
A super-GT car like the Vanquish ought to be in its element on a drive like this, north, via Edinburgh, with no particular destination other than 'west coast, perhaps' in mind.
And so it was. With a 78-litre fuel tank, it has a realistic range of more than 400 miles because this is, remarkably, one of those cars in which it's possible to not just match but also easily beat the official (21.6mpg) combined fuel economy.
I suspect Aston doesn't spend quite as much time as other car makers trying to optimise its cars for a lab test.
Hashtag week off Scotland Aston solo road trip bloody hell wish you were here etc etc pic.twitter.com/jt7DWy4lxy

— Matt Prior (@matty_prior) August 22, 2017
Quite right too. Instead, the Vanquish has a broad, easy spread of power, all the way through the range, and it is made superb use of by the eight ratios of its ZF automatic gearbox, which is mounted at the rear axle to give the Vanquish a better weight distribution, what with its 5.9-litre V12 sitting at the front, weighing that end down.
The ratios are spot on: close enough for each upshift to put the Vanquish back in the heart of noise-making and torque-making territory; far enough apart that eighth sees you barely past tickover at the legal limit.
At the start of this year, when the Vanquish S was revised, one of the changes was to fit a stiffer coupling between propshaft and engine, to make gearshifts feel quicker and more positive.
There's no sense, then (and the same's true of most modern autos, to be fair), that there's any 'slushing' going on. Gearshifts are crisp and, although the V12 is a generously revvy engine, it's quite quick enough at around 3000-4000rpm, seemingly at the point the exhaust valves open, which brings sound and drama to a driving experience that's engaging at all speeds. The sound is probably reverberating around the grand black walls of several glens even now.
Normally, that would be a problem. Flash, noisy cars are usually antisocial cars. But an Aston Martin, somehow, is not. Often a fast car will make somebody tell you they hate you. An Aston Martin gets people telling you they love the car (if not you).
Perhaps it's because it's British. Perhaps it's because it's beautiful. Perhaps it's because it's relatively understated compared with some supercars and super-GTs. Either way, there are few better places to contemplate a sunset.
Mileage: 7150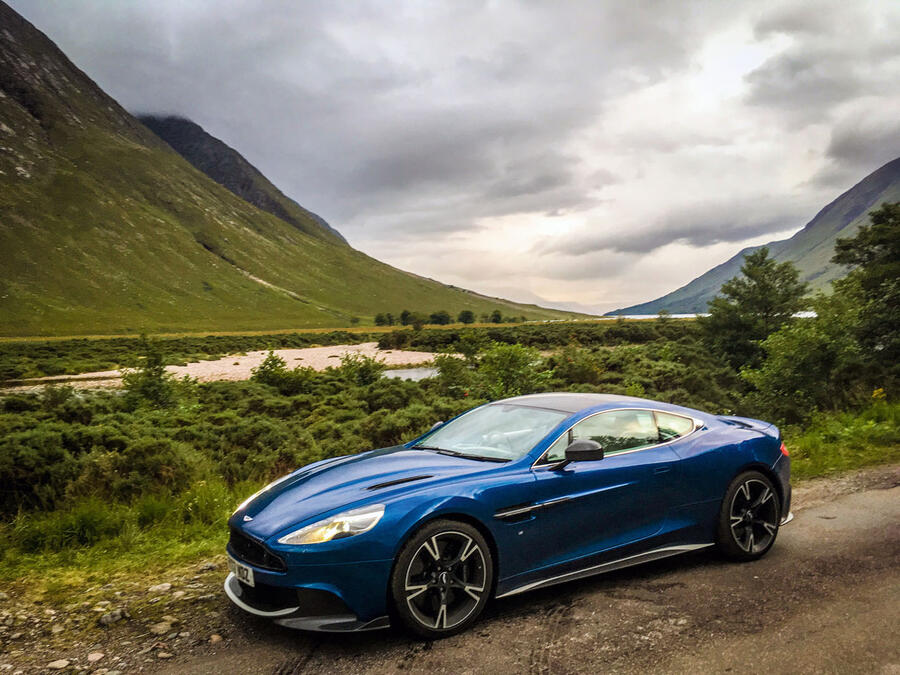 Imperfections in the Vanquish S's armour - 13 September 2017
It would be easy to sit here and spew out another 600 words covering all the great things there are about an Aston Martin Vanquish S.
Lord knows, I've already done that. So let's try something harder. What, exactly, is wrong with this car?
Not 'broken' wrong, you understand, because there's none of that. We're about to accrue the kind of mileage, in less than three months, that an owner will likely take a year or two to amass, but there's nothing 'wrong' with the Vanquish S in that sense.
I sometimes notice a squeak from, I assume, a rear wheel bearing; but then it goes away. Ditto a little squeak from one of the door mirrors as it folds in after I've locked the car. Other than those trifles, nothing has gone wrong, broken, or fallen off.
Nor should it have, you might argue: this is a £200,000 motor. But it's also one largely hand-built in small volumes. Niggles would be less surprising in an Aston than, say, a Toyota. But there is nothing. Its 5.9-litre, naturally aspirated V12 engine hasn't even used so much as a drop of oil.
No, when I say 'wrong', I mean: what are its faults? Because no matter how exciting a car is, every vehicle must have them, right? Right. So.
Door handles? These are a bit of a nuisance. You have to push the front of them to get the back of them to emerge, which is hardly a paragon of ergonomic refinement. But, then, it means they sit flush with the body. And they have little lights in them for seeing them at night. So, forgiven.
Inside? There's that steering wheel. Gulp, there's that square steering wheel. My 14-year-old actually laughed when he first saw it. But you can have a round one and save £995, so I would.
In fact, you could probably persuade Aston into covering a round one with Alcantara. I'd do that. That said, the airbag section does look a bit big by today's standards, and those buttons and switches are right out of somebody's parts bin from a decade and a half ago. But nestling behind them is a rocker switch that skips tracks forward or backwards on the entertainment, which, if you've got music playing but the satnav screen showing, is very handy.
Ah, yes, the nav screen, and accompanying infotainment. It's one of motordom's more archaic systems. Its routing can be questionable and so can its estimated arrival times. But, as with all systems, you get used to its foibles. And, to be fair, Aston knows it has them, which is why the DB11 has a Mercedes-sourced system. A thoroughly modern Aston gets a Mercedes column stalk, too, but this one has Ford 'Premier Automotive Group' hangovers.
I'm not sure they've been impressive at any time, really. You touch them all the time. Back in the day, even TVR did its own stalks.
The analogue speedo is useless, and the digital speedo has a resolution of a Casio watch. Otherwise, switchgear is very good – the glassy buttons on the dashboard, I mean.
The key is still as daft as it ever was – if you don't start the car with it the moment you insert it, you have to take it out and reinsert it – but at least it has a slot to live in, I suppose. There's something to be said for that.
And I reckon that's about it. Dynamically, it's terrific. The powertrain is wonderful. It's comfortable, rewarding, engaging, electrifying, beautiful, noisy, likeable, and usable. And the foibles, in that context, matter to what extent? Absolutely none whatsoever.
Mileage: 6351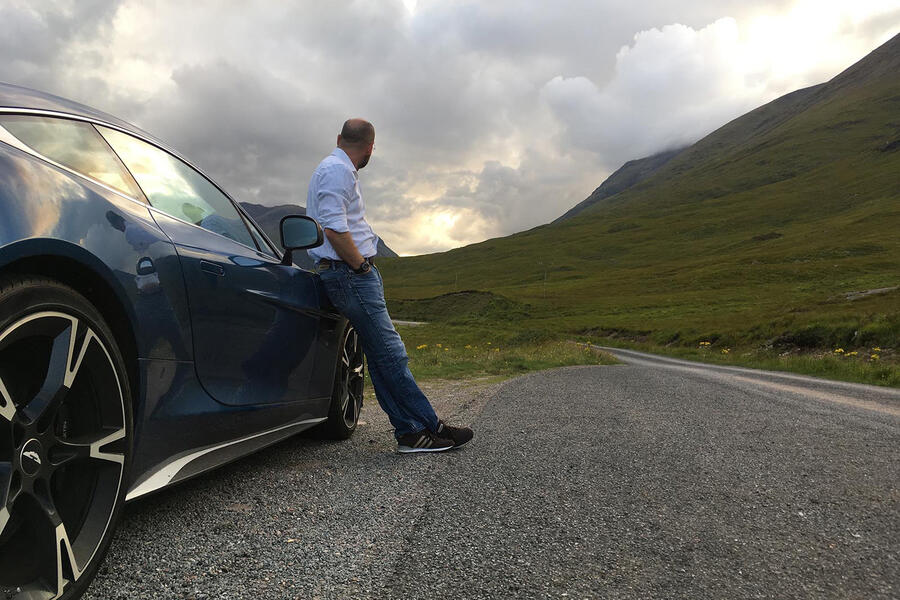 Life with a Vanquish S: Month 4
Vanquish S – the perfect festival car? 2 August 2017
Who'd have thought that an Aston Martin Vanquish S was the perfect music festival car? I certainly didn't, but I did have to bring some stuff back from one. In that boot, pictured, is a six-man tent and two folding chairs, with space left over. On the Vanquish's back seats is a big rucksack, a sleeping bag and a couple of pillows.
I guess a set of golf clubs is a more typical Vanquish accoutrement. Aston reckons the 358-litre boot will take two sets. I haven't tried that but I do believe it. And it's basically a fine example of why your grand tourer ought to have the engine in the front.
Sure, there are loads of sound dynamic reasons that you might put it in the middle (or the back), but then you've got that whole catalyst and exhaust and heat thing going on at the rear; and suspension, forward visibility and cooling to work around if you have a front luggage space.
Give me a GT with the engine in the front any day. I'm still not sure anybody does it better than this one.
Mileage: 5920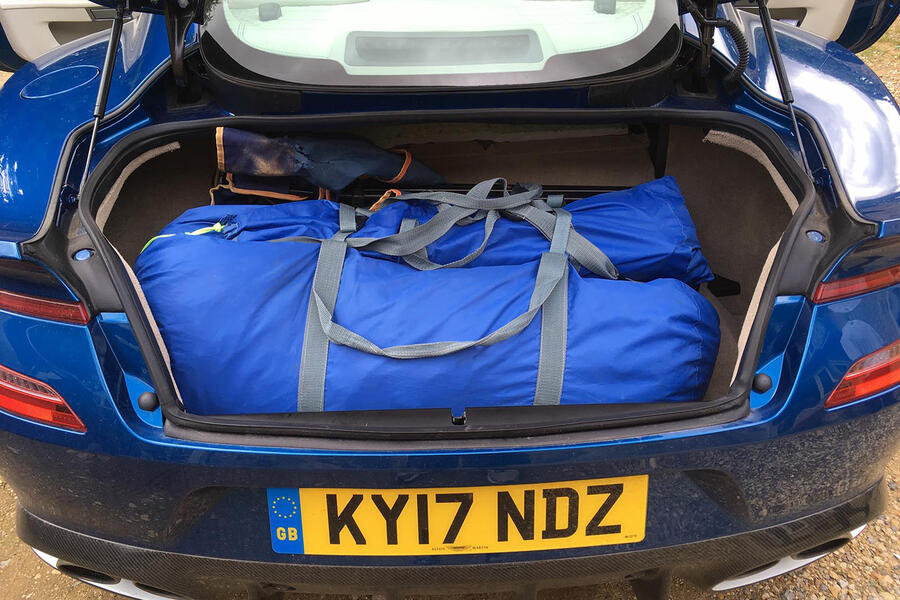 Life with a Vanquish S: Month 3
Glamourous school run – 12 July 2017
Break out the tiny violin: an absence of other cars to drive has forced me to use the Aston Martin Vanquish S as daily transport.
This is, to be fair, only slightly unusual. I know of owners of Super GT cars who use their Ferrari FFs or GTC4 Lussos more than anything else on their fleet. Such is the appeal of beautiful four-seaters. And although, at 600bhp, the Vanquish is short on power compared with some other Super GTs and short on rear seat space compared with a GTC4 Lusso or Rolls-Royce Wraith, its ability to be both special and fast is undimmed.
The engine is terrific, the ride good. The Vanquish S has used no oil, nothing has fallen off and, apart from one 'turn it off and back on again' moment, the infotainment has mated with my phone every time. There's a slight squeak from the interior somewhere, and an occasional one from a wheel. But they're both quiet. And the Bang & Olufsen stereo sounds as good as any modern car's.
When you get out, it feels special too. The 'swan' doors open with a slight uplift and stay wherever you leave them, the bootlid and bonnet both lift with surprising lightness, and I'm convinced there is no better looking car on sale. 
If you're being picky, there's less room in the back than a GTC4 Lusso and it's not as powerful as the 680bhp Ferrari. Anyway, the next Vanquish, due 2019-ish, will have at least another 100bhp. So that's nice. In the meantime, I'm happy here.
Mileage: 5720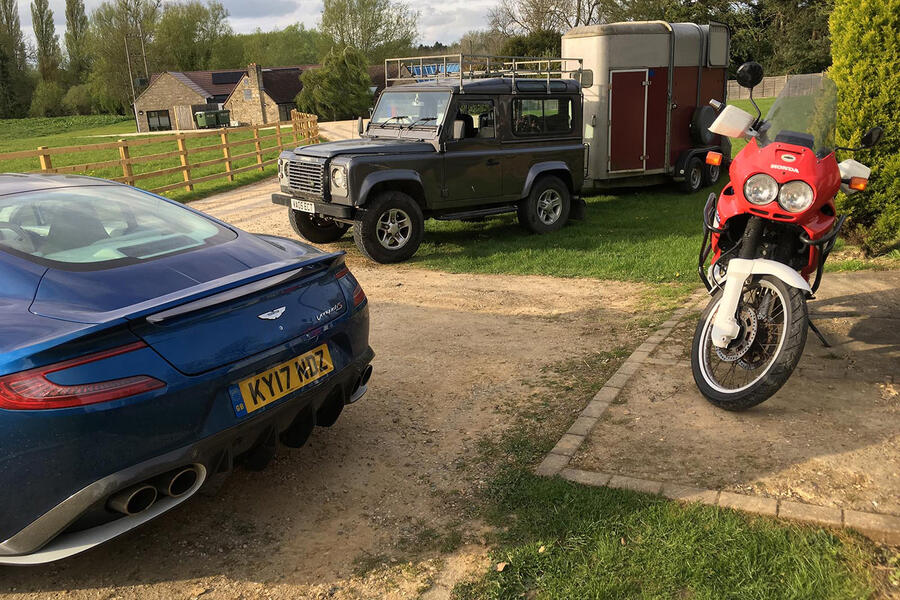 Life with a Vanquish S: Month 2
Pure Aston Martin practicality – 21 June 2017
With a handbrake by your right thigh and the gear selector buttons high on the dash centre, the Vanquish has an unexpected amount of space for 'things' on the transmission tunnel. There's only the one conventional sized cup holder and, due to the propshaft, no cubby is deep, but there's room for cups, music players, phones, wallets – or groceries.
Mileage: 5342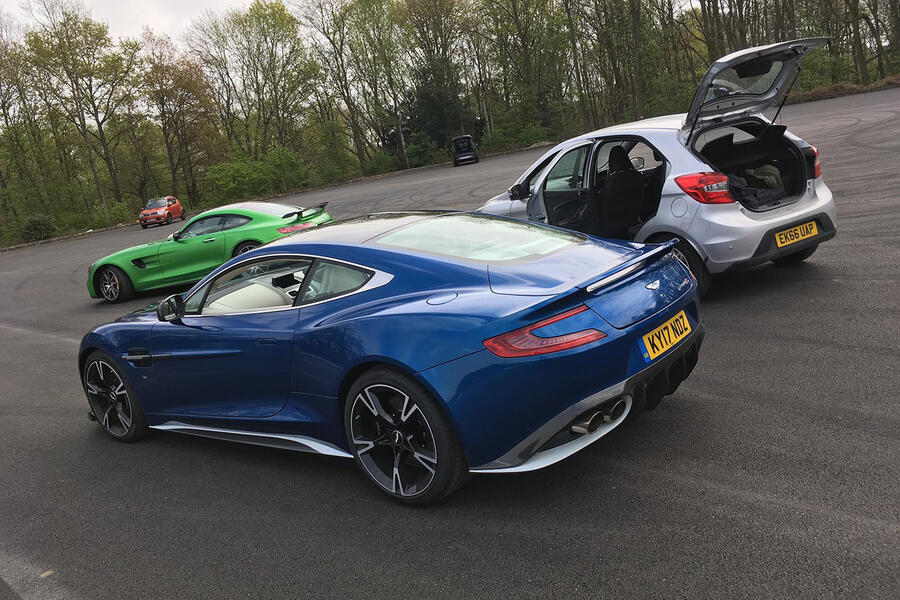 Life with a Vanquish S: Month 1
Can you use a Vanquish S as a daily driver? - 31 May 2017
What's it like, then, living daily life with an Aston Martin Vanquish S?
Well, it's chuffing brilliant, obviously. But it's also, perhaps surprisingly, remarkably easy.
I mean, easy given that this is a 592bhp car with a 5935cc V12 engine, that it's long and low, and that Aston put quite a bit more 'super' into this super-GT when it revised the model late 2016.
But it also rides well. Steers easily. Has a strong driving position and easy-natured controls.
For doing 230 miles to Anglesey at dawn – as the Vanquish S did on its first big outing after arriving with us – there are, honestly, few better cars for the job.
I might be gone a while. pic.twitter.com/giBY0N8B7B

— Matt Prior (@matty_prior) July 28, 2017
Granted, it growls loudly on start-up, but I suspect most Vanquish S owners don't live too close to their neighbours. From then on it pleases in just the right amounts: massively long-geared and refined if you want it to be; evocative if you don't.
I've taken to leaving the dampers alone but pushing the 'S' button for the powertrain, which makes the exhaust louder, more often. It sounds at its best through 3000-4000rpm, even on part throttle, so it's enjoyable even at moderate speeds. From there, when lifting off you get gloriously old-fashioned gurgles on the overrun.
Talking of old-fashioned, it has a normal oil dipstick and, being a wet-sumped engine, an old-fashioned way of checking the oil. No fancy electronic procedures; just look at the stick when the engine is cold – and admire the lightweight composite bonnet while you're there.
If you want to use a £200,000 super-GT as a daily driver, then, this one would fit into your life as simply as some executive saloons.
Although, after a long day at Anglesey, there aren't many saloons that would persuade you to take the scenic route home, as the Aston did.
It's a special car. Trouble is, because the miles are racking up too quickly, I should reserve it for special drives.
Mileage: 4263
Welcoming the Vanquish S to our fleet – 10 May 2017
Cheerio, then, because this is it: the last of the old-school Aston Martins.
It has been quite the journey since the lineage of 'Vertical-Horizontal'-architectured cars began with the DB9 in 2004, when the Aston world was Ford Premier Automotive Group's and contained the prospect of a new dawn.
Since then has come the new Aston Martin Vantage, independence, charismatic gaffer Ulrich Bez (who, I'm told, used to ride a Segway around the office and wouldn't race a car during darkness), and racing. Lots and lots of racing.
Meantime, the VH architecture has been creeping onwards. Shorn of a deep-pocketed global conglomerate backing it (although, if managed properly, I can't help thinking Ford's Premier Automotive Group portfolio could be doing it wonders today), Aston has been progressing onwards since like the owners of a stately home.
VH has been modified and updated, and called an architecture or a philosophy, rather than a platform, although modifications and new models have been like the upkeep of a historic castle.
Which is what new boss Andy Palmer is intent on changing.
The DB9 has gone, then, replaced by the DB11. A new Vantage is due within a year. This here Vanquish, though, must go on until 2019, and it's quite conceivable that the DB had overshadowed it somewhat, which is why it has recently been given a raft of improvements and dubbed the Vanquish S.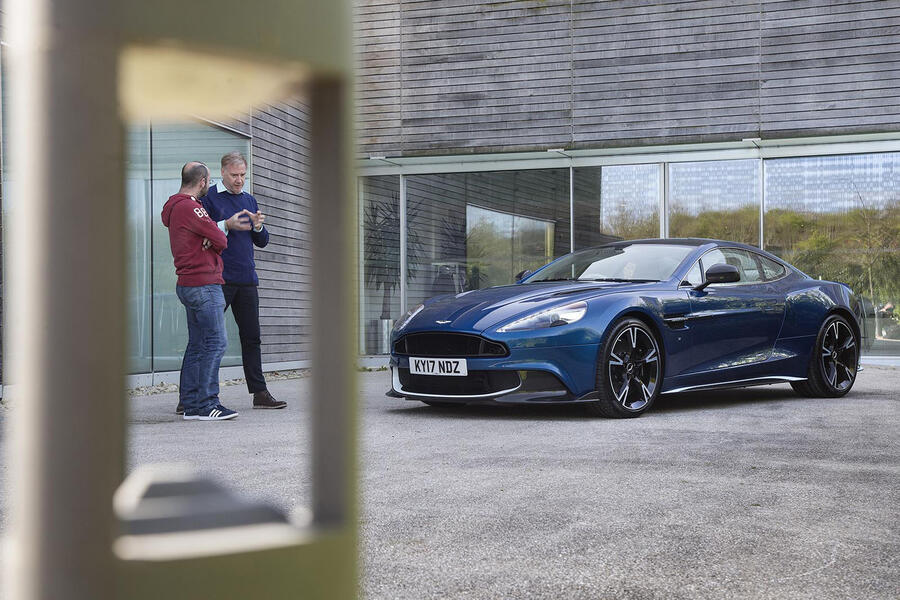 The last of the line. Old school. Power from the naturally aspirated 5.9-litre V12 has gone up to 592bhp, small but significant changes to the powertrain now grace the underneath, and some subtle trim and finish enhancements have been made inside – and outside, which I'll come to in a minute.
And, well, look, I don't want to appear like some kind of luddite, because I'm a massive fan of the DB and I've been writing and saying for years that Astons have been a bit alike and it's no secret that they could do with a refresh, but by heck the Vanquish is good.
The big, long Aston has been a long line of great-looking cars and this one's no exception. I try not to dwell on aesthetics because beauty is in the eye and that, but if this isn't the best-looking car on sale, I don't know what is. Better still, I've got it for 6000 miles or so.
That I covered 1900 miles in the first week and a half, then, threatened to make this the shortest long-term test in history. But just look at it. Imagine seeing it sitting there and not driving it. I've had to, which is not a bad way to discover that motorcycle parking right next to the terminal is free at Heathrow.
Anyway, Aston design chief – or executive vice president and chief creative officer, officially – Marek Reichman has ensured the Vanquish looks terrific even standing still, thanks to subtle additions to enhance both the look and, as Reichman explains, the aerodynamics.
The diffuser is large on the back and there are winglets at the front. It's finished in 'Ming Blue Q' paint, named after the vase, not the merciless supervillain, and Reichman and team have, over the years, developed a theme of colours that come with contrast highlights – the green with lime combination of Aston's race cars, for example.
With Ming Blue, Club Sport White is your contrast option. It can look chromed in some lighting conditions, but is pretty good either way.
Inside, you can have what you like, but there are recommendations, and one of them is the white leather with blue contrast. It's a bit light for somebody as grubby as me, and the optional One-77 steering wheel a bit square, but, still, its a lovely place to spend time, and even though the infotainment system is a bit old hat by most standards, it does get Apple CarPlay, which is enough for my daily needs.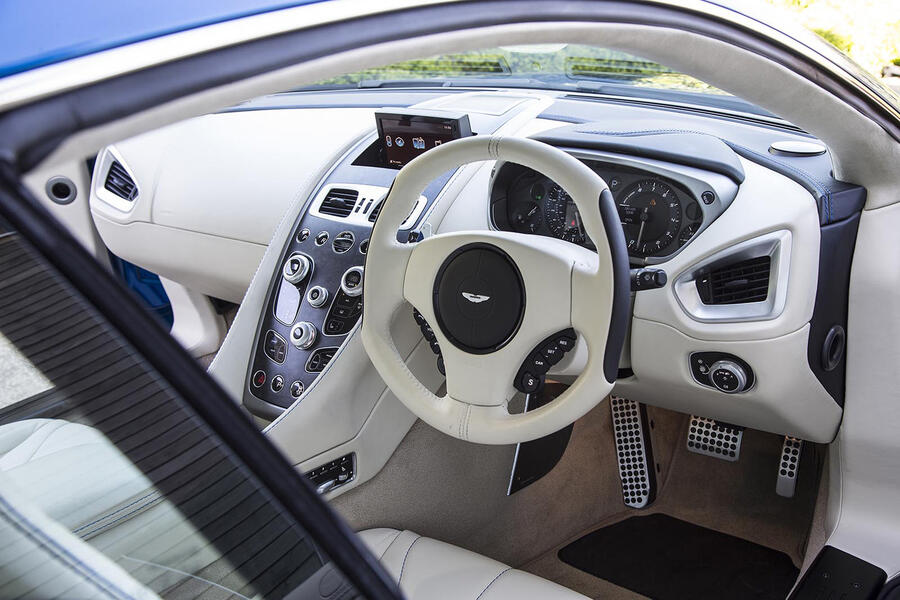 What's it like to drive, then? Shamazeballs. Lovely. Brilliant. Peachy. Unlike the DB11 there's no 'soft-start' option, so you get full exhaust blare on start-up, which, as part of the changes to make the Vanquish S feel a bit more Super GT than just GT, means the engine has genuine growl all the time – more so if you push the 'S' button on the steering wheel.
There are sensible things. The gearbox is an eight-speed auto but a pull on either flappy paddle puts it in manual, and an extended pull on the right paddle places it back in auto mode. Ideal.
The engine has the creamy smoothness of all engines that have multiples of in-line sixes. (I used to be able to work out the moments of inertia that makes them perfectly balanced, but with the exhaust turned up a bit, there's also a totally dreamy woofle on the overrun.)
Long week, late, weather crap, and cat's waiting for dinner at home. But still, sometimes you've got to go the long way. This thing's ace. pic.twitter.com/C9tgmZV8AZ

— Matt Prior (@matty_prior) July 21, 2017
The ride is composed, firm enough, compliant enough; ideal for a Super GT, really, still usable every day. You can firm up the dampers but there's no real need to on the road – not in the UK, any rate.
The steering, hydraulically assisted, is weighted and geared perfectly and gives just the right amount of road feel. The Vanquish is at once entirely relaxing and yet thoroughly engaging to drive, at sensible, non-licence-threatening speeds.
By turning up the Bang and Olufsen sound, sticking the exhaust on loud and taking control of the gearshifts via the paddles, I've already had some of the best drives of recent years in this car.
I just need to be careful not to have too many more, too quickly. But this car is sensational.
Aston Martin Vanquish S specification
Pricing: List price new £199,950; List price now £199,950; Price as tested £222,260; Dealer value now £185,000; Private value now £181,000; Trade value now £179,000; Options Diamond-turned wheels (£4995), Ming Blue Q paint (£3995), exterior graphics (£2995), exposed carbon fibre roof (£2245), chopped carbon fibre satin fascia finish (£1915), contemporary leather (£1195), carbon fibre side strakes (£995), carbon fibre mirror caps (£995), black exterior mesh (£995), One-77 steering wheel (£995), black front grille (£495)
Specs: Engine 5935cc, V12, petrol; Power 592bhp at 7000rpm; Torque 465lb ft at 5500rpm; Kerb weight 1739kg; Gearbox 8-spd automatic; Boot space 368 litres; Wheels 9.0Jx20in (front) 11.5Jx20in (rear), alloy; Tyres 255/35 ZR 20 (front) 305/30 ZR 20 (rear), Pirelli P Zero; Top speed 201mph; 0-62mph 3.5sec; Claimed fuel economy 21.6mpg; CO2 298g/km
Costs: Mileage at start 1030; Mileage at end 8120; Fuel tank 78 litres; Test average 23.9mpg; Test best/worst 26.4mpg/18.1mpg; Real-world range 410 miles; Contract hire rate NA; Expenses None; Fuel costs £1781; Running costs including fuel £1781; Cost per mile 25 pence; Depreciation £41,600; Cost per mile including depreciation £6.11; Faults None