Most modern classics need a wealth warning but it's fair to say the value of a sound Peugeot 205 GTi 1.6 or 1.9 is only going one way, and it isn't down. For now at least, starting prices for clean runners have settled at around £4000. (We found a tidy 1989 1.6 with 113,000 miles, new parts and a long MOT for £4k.)
From here, they go all the way to £43,000 for a one-owner 1991 1.6 with 17,000 miles. In 2017, everyone was in a tizz about a 1989 1.9 with 5726 miles that fetched £38,480 at auction. The year before, the record was £31,000. You see our point?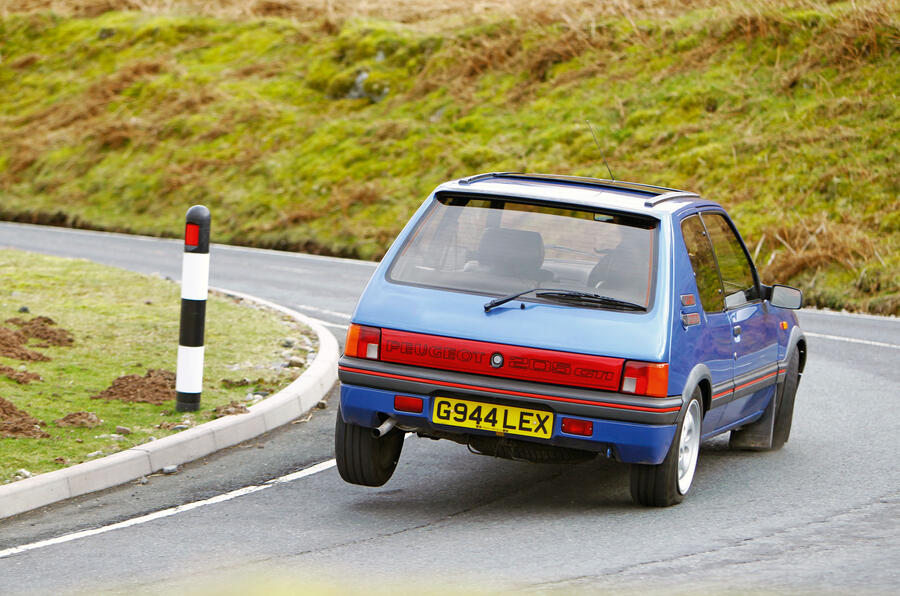 Fortunately, around £5000 to £8000 should be enough for a solid GTi and £12,000 to £15,000 buys a good, low-mileage car with history.
Having bought your GTi, however, don't think you've got a classic you can run on a shoestring. As Martin Thompson of Peugeot Racing Developments explains, a 205 GTi requires continual attention.
"A 205 won't look after itself," he says. "You'll find yourself tinkering, renewing, upgrading…"
He should know. He has a 6.0 V12 GTi and another powered by a Renault Mégane RS Mk2 2.0 turbo engine. Some owners replace the 205's 1.9 eight-valve engine with the closely related 1.9 16v Peugeot 405 Mi16 unit, with 158bhp. In 2012, GTi specialists Pug1Off released a 195bhp version powered by an uprated 2.0-litre 16v engine from the Peugeot 306 GTi-6. They still have plenty of donor engines and 'boxes available.
The 205 GTi was launched in 1984, powered by a 1.6-litre engine, which made 103bhp. Not much by today's standards, but the little car weighed just 850kg. Two years later, in 1986, power was increased to 113bhp, but at the same time, the kerb weight swelled to 900kg, blunting the car's performance slightly. For this reason, the first version is the purist's choice.