I still claim my Renault Scenic was the best long-term test car I was ever given custody of.
It was 1997, when its features – including sliding and removable seats, a deep, aircraft-style windscreen, a two-position parcel shelf and sundry storage bins – were all novel.
Soon, Scenics were popping up all over my neighbourhood, many bought by young families keen to inject some Gallic flair into their humdrum motoring lives.
Forward to 2016, when the model's fourth-generation successor was launched and those early adopters had drifted away, tempted by crossovers and SUVs. Recognising this, Renault served up a Scenic intended to appeal to the eye as much as the brain – a handsome thing with a high waistline, deeply scalloped sides with sill finishers, a curving roof, distinctive light signatures and huge, arch-filling 20in wheels.
Inside, sliding rear seats that could be folded remotely, a sliding centre console with USB ports and 13 litres of storage capacity and numerous other storage solutions kept the faith. The large touchscreen crowning the dashboard delighted and challenged driver and passenger in equal measure.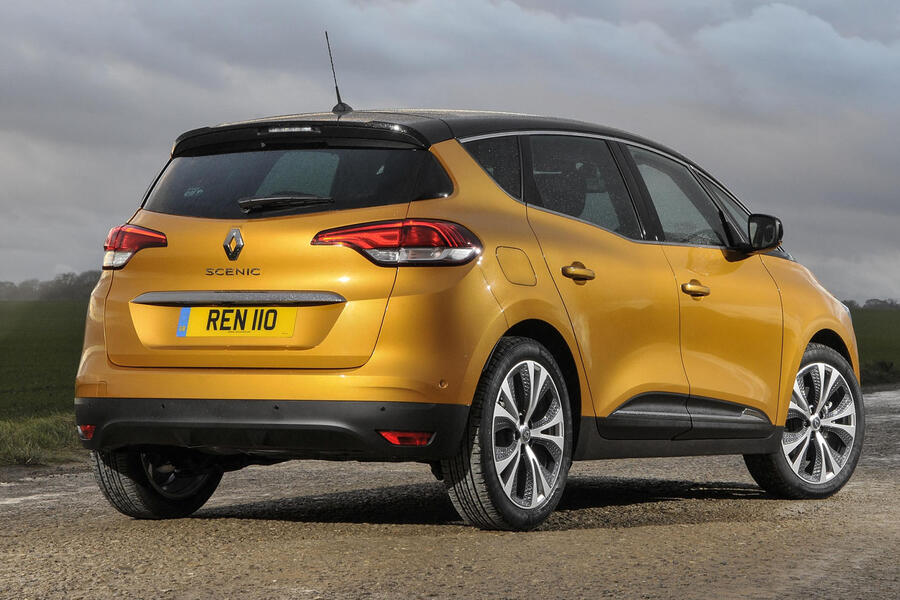 Hot on the heels of the Scenic came the Grand Scenic, a stretched seven-seat version that looked even better. However, like its shorter sibling, the floor is quite high, meaning rear-seat passengers sit with knees raised.
Trim levels across both span Expression+ (dual-zone climate control, a digital radio) to Signature Nav (panoramic roof, leather and LED headlights). Scenic or Grand Scenic, we would pick middle-of-the-road Dynamique Nav.
A choice of 1.2-litre petrol and 1.5 or 1.6-litre diesel engines plus a 1.5-litre diesel hybrid badged 'Hybrid Assist' sent both Scenics down the road. In 2017, the 1.2 petrol was replaced by a more potent and responsive 1.3.