It may be almost a decade old now, but the current Volkswagen Passat Estate is still a top choice if you're after a classy wagon that's good to drive, comfortable to ride in, decently refined and huge inside. Launched in 2014, the Mk8 looks and feels totally modern but has been around for long enough to have become tempting value on the used market.
The petrol engines all have four cylinders and are badged TSI. They start with a 1.4-litre making 124bhp or 148bhp, rise to a 178bhp 1.8-litre and then culminate with a 2.0-litre packing 187bhp, 218bhp or 268bhp.
There's also a plug-in hybrid powertrain, badged GTE, which pairs a 1.4-litre turbo petrol engine with and an electric motor to produce a combined 215bhp. Expect an electric-only range of about 30 miles, or 40 miles in post-facelift cars.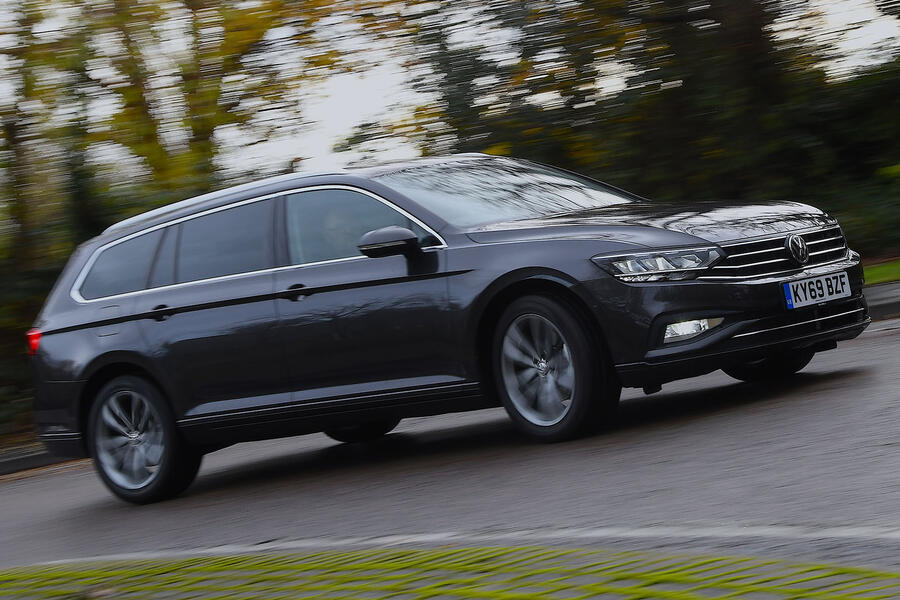 Also as part of that 2019 update, the 1.4-litre petrol units were replaced by a new 148bhp 1.5-litre engine.
However, most Passat buyers choose a diesel engine (badged TDI), and again there are plenty of options here, each having four cylinders. They begin with a 118bhp 1.6-litre and move up to a 2.0-litre with 148bhp, 187bhp or, in twin-turbocharged form, 241bhp.
In 2020, the 1.6-litre and BiTDI 2.0-litre were dropped, with a 120bhp 2.0-litre unit replacing the former.
Originally, the Passat Estate was offered in five trim levels: S, SE, SE Business, GT and R-Line. S provided fairly decent kit (such as heated mirrors, a height-adjustable driver's seat and rear electric windows), but SE and SE Business added some very useful features, including automatic wipers, automatic lighting, front and rear parking sensors and sat-nav. GT got climate control, heated seats and adaptive suspension as standard, while R-Line brought a sharper and sportier design to the car and even more equipment.