WAE's architecture for "ultra-high performance" hydrogen-fuelled vehicles is set to accelerate the development of FCEVs with "cutting edge" technology.
Named the EVRh, the platform follows the EVR architecture of last year, which was designed by the British firm to help low-volume sports car makers go battery-electric. Revealed at the Cenex Low Carbon Vehicle show recently, it is designed to show off FCEVs' capabilities.
The EVRh combines a "cutting-edge" H2 fuel-cell system and a liquid-cooled battery pack. It's capable of producing up to 576bhp, sprints from 0-62mph in less than 2.5sec, and promises to allow FCEVs to deliver sudden bursts of power needed for acceleration - something they don't currently do as well as BEVs.
As such, WAE estimates that a car underpinned by it could lap the Nürburgring in less than 7min and 20sec.
Like the EVR, the EVRh is light. It's designed to host a vast range of body types, including grand-touring coupés and even targa-tops.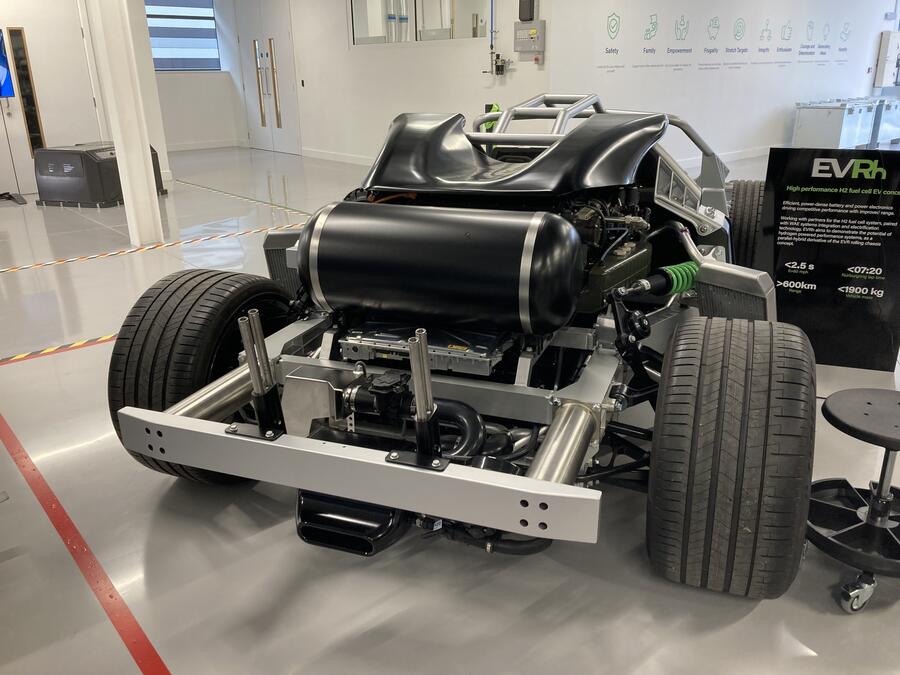 Meanwhile, the battery can be rapid-charged at rates of up to 120kW.
The EVRh has a mid-engined layout for an optimised centre of gravity and can support both rear-wheel and front-wheel drive configurations. WAE calls the power unit an 'FCEV battery pack' as a nod to its integrated design.
It essentially works as a hydrogen-electric engine, but without any moving parts. The centrally-mounted power unit and hydrogen tanks give it a low centre of gravity and even front-to-rear weight distribution.
WAE claimed that the EVRh will allow brands to accelerate their entry into the hydrogen car market, reducing time and costs from development to market launch.
It uses a lightweight composite structure with a rigid central tub, capable of supporting track-only or road-going roadster, Targa and fixed-roof coupé bodies; and a rear-wheel-drive or four-wheel-drive layout, with a choice of motor configurations.