Shell is trialling large batteries for energy storage at its EV charging forecourts, with the aim of providing ultra-fast EV charging in areas with restricted access to national grids.
Implemented in pilot form at Shell's forecourt in Zaltbommel, the Netherlands, the system comprises a 360kWh on-site battery that stores electricity to increase capacity.
This allows drivers to use two 175kW EV chargers simultaneously. Normally, such performance would require a costly grid upgrade, but the presence of an on-site battery avoids this.
As the site's chargers use 30-70kW on average together, the battery can be easily charged for times when more energy is demanded.
Developed in partnership with Alfen, an electricity distribution specialist, the battery system will also optimise grid stability, according to Shell. This is because spare capacity from the battery can be sold back to the grid at times of high demand.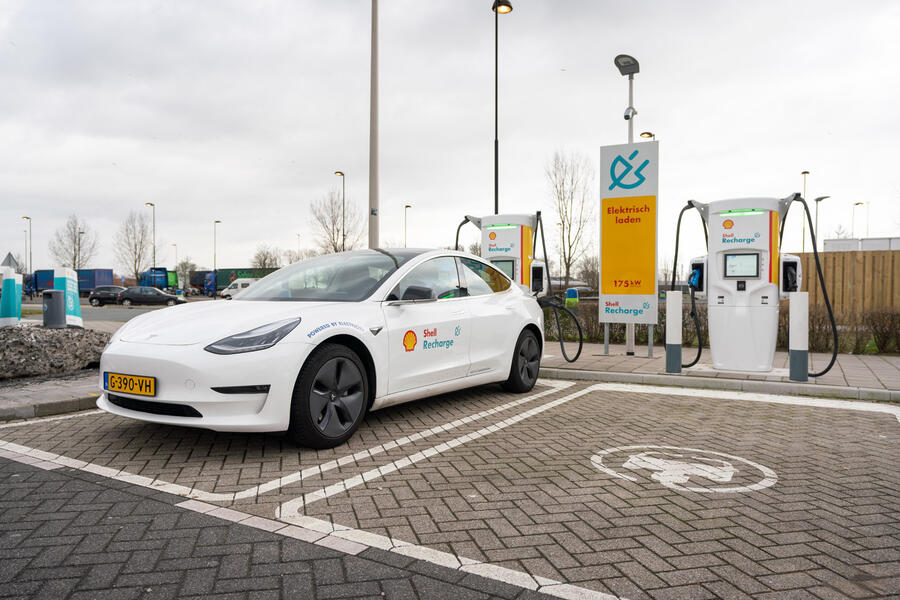 "Using stored energy helps maximise the use of renewable energy," said Shell, with the added benefit of providing an extra source of revenue.
The vice-president of Shell's Electric Mobility arm, Roger Hunter, said: "By supporting the introduction of additional ultra-fast charging points, this solution can help meet customers' charging needs at grid constrained locations, both at Shell-owned retail stations and also at our customers' premises."
The forecourt battery pilot scheme is the latest of several ventures into sustainability for Shell. Its launch comes just weeks after the company emphasised its commitment to becoming a provider of net-zero-emissions energy products. By 2025, it aims to have a global network of around 500,000 EV chargers.