The world's first flatpack truck, which was designed by Gordon Murray to be made in the UK and built up quickly and easily in emerging markets, has been commissioned for build by Shell and will be taken to India for demonstrations.
The Ox, which was revealed in driving prototype form by its charitable backer, the Global Vehicle Trust (GVT), in 2016, was being funded by through crowdfunding (here's the page). Money was used to make modifications to the first version, including a new, more hard-wearing gearbox, powertrain tweaks, a more powerful cooling system, more durable steering components and a 200mm extension to the truck's wheelbase to make it perform better off-road.
The target for funding was £450,000, with one backer pledging £25,000 and another £10,000.
Now, oil and gas giant Shell has helped to move the project forward by ordering a bespoke example to India, where it will demonstrate the vehicle's abilities – which include carrying payloads of up to 1900kg or seating up to 13 people – with the intention of drawing in potential customers.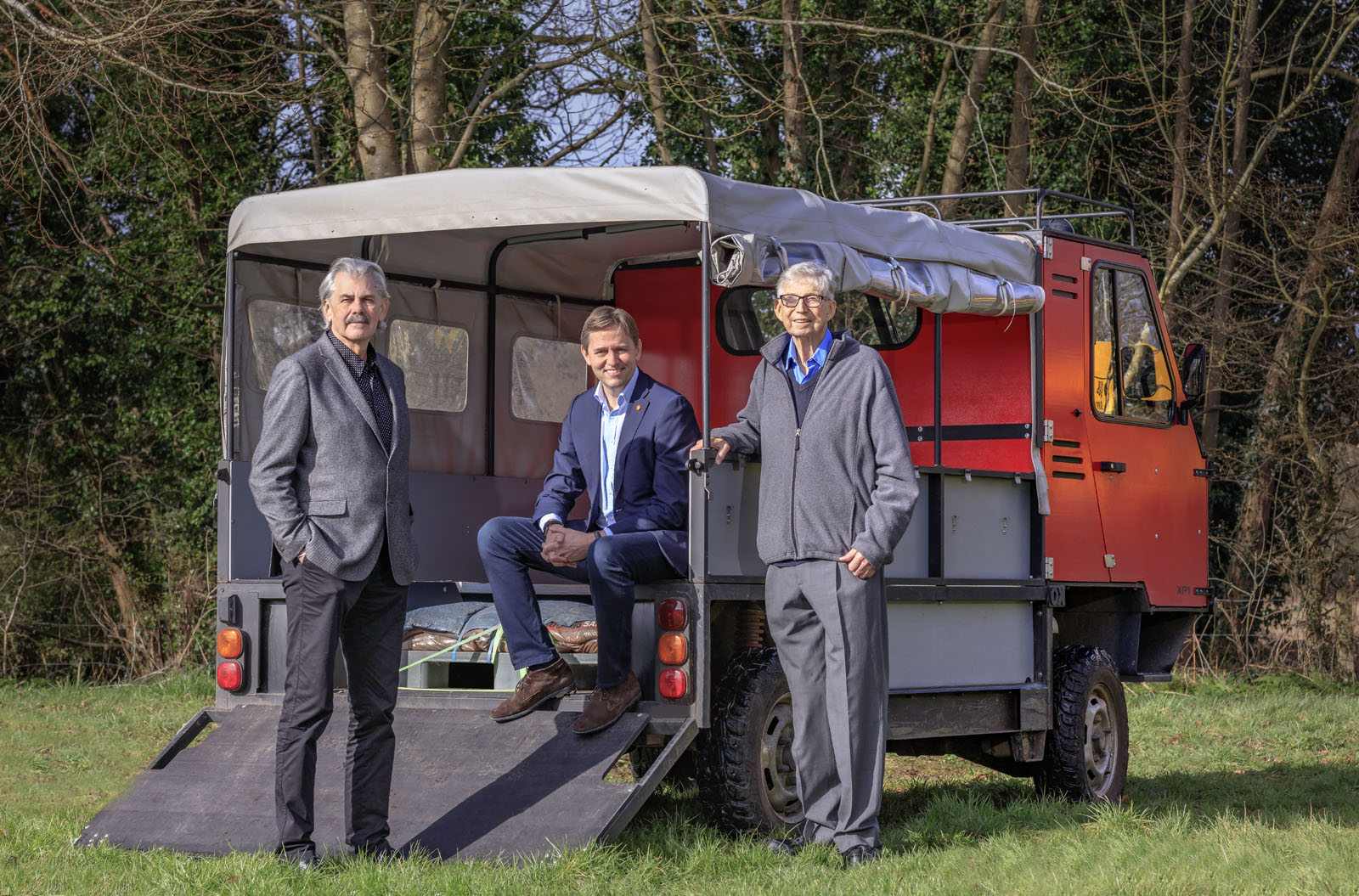 "Shell is eager to play a role alongside others in developing and promoting mobility solutions in developing regions," said Huibert Vigeveno (above, middle), executive vice president of Shell Global Commercial.
"The Ox to India demonstration will have the concept validated and discussed on the ground in a real-world setting. We know limited mobility in hard-to-reach communities in developing economies can restrict access to basic services and limit the effectiveness of efforts to improve quality of life."
Gordon Murray has won RAC's Dewar Trophy for his work on the Ox truck - read about it here
The Ox was the brainchild of entrepreneur Sir Torquil Norman (above, right), GVT's main backer. Five years ago, Norman formed a partnership with Murray (above, left) to use the British designer's iStream design principles to create an extremely durable, all-terrain light truck specifically for remote parts of Africa and other developing areas, such as those in India.