The four distinct versions of the new Ford Fiesta serve as an indication of how far Ford can diversify its big-selling small car, says European boss Jim Farley, and if the strategy proves successful, other models in Ford's range could benefit from it.
At Tuesday's launch of the new Fiesta in Cologne, four production variants were revealed: Vignale, Titanium, ST-Line and Active. The expanded line-up is intended to add emotional appeal to the model, push the Fiesta gently upmarket and reinforce the brand's B-segment offerings under a growing threat from premium car makers entering the category.
Titanium is aimed at traditional Fiesta buyers, albeit with a high-spec to take into account for the fact that the recently revealed Ka+ has slotted in to the range as an option for customers who might have previously considered a lower-spec Fiesta. ST-Line, inspired by Ford Performance, is the sporting offering that is also part of Ford's "heart and soul", as Farley puts it.
But it is the other two offerings, Active and Vignale, that represent the more radical diversions from the traditional Fiesta blueprint.
Farley said that he is particularly intrigued at how the market would receive Fiesta Active "because it is something very new. I can think of a lot of places in the UK and in southern Europe where it will make sense for people – they want the SUV look and the higher ride height for driving and ground clearance".
Such customers, he said, didn't want a full SUV because "it is expensive, doesn't have great fuel efficiency, they're heavier vehicles".
Farley wouldn't rule out other models in Ford's range being given an Active makeover, describing Fiesta Active as 'step one' in the strategy: "We're putting our shoulder into the Fiesta Active and we're really trying to understand the customer, knowing what they visually want visually and in terms of functionality, and I do think that we will continue to look at this."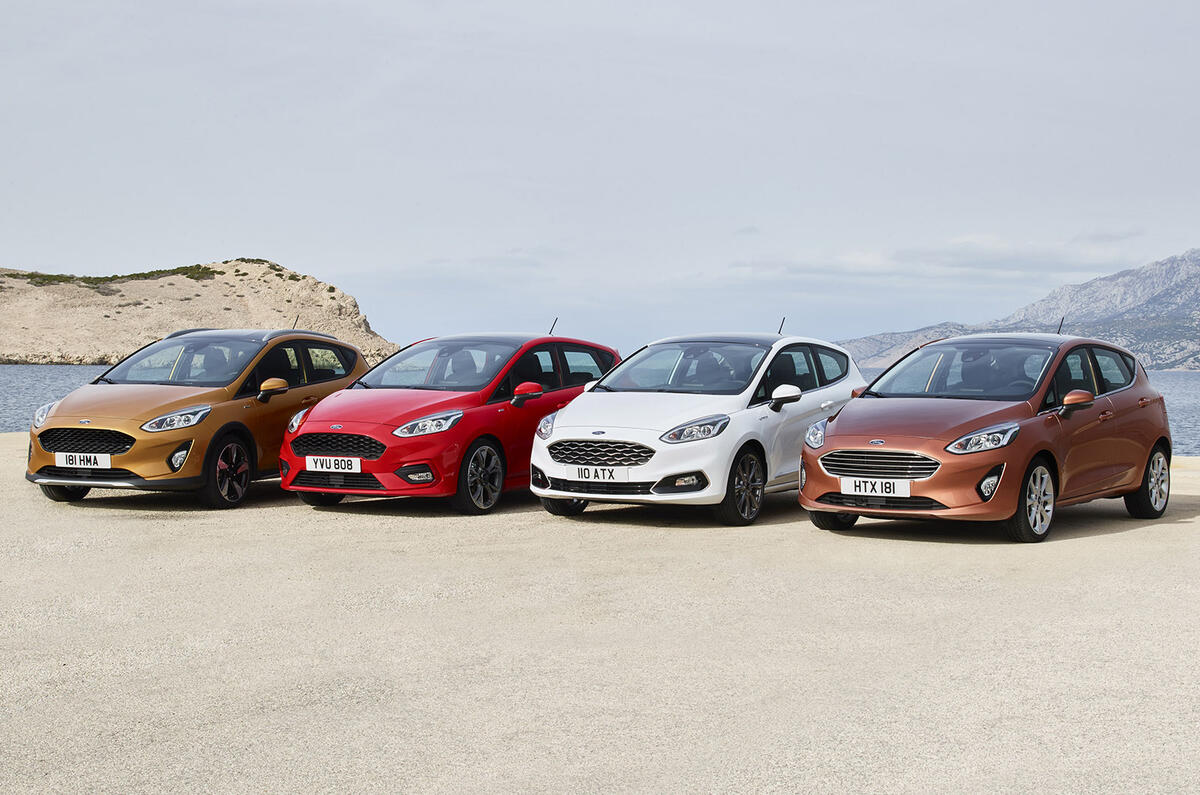 Further Fiesta variants could also be possible if the new line-up succeeds. "I can see some people saying 'I'd like a combination of ST-Line and Active'," said Farley.
He dismissed any suggestion that the Fiesta Active could impinge upon sales of the Ford Ecosport, which endured a troubled birth in Europe but is said to be selling more positively now. "There's no competition between those products - they are quite different".
Fiesta Vignale variant benefits from a high-spec makeover from Ford's luxury sub-brand and follows in the footsteps of the posh Vignale-badged versions of the Mondeo, S-Max and Edge.
Farley was confident there is scope for a B-segment car such as the Fiesta to benefit from the high-end and more expensive treatment, which will also come with a raft of after-sales benefits offered by Ford's larger Vignale models.