The MG Cyberster has made its official debut at the Goodwood Festival of Speed, following its launch as a near-production concept at April's Shanghai motor show.
The Cyberster is the first all-new sports roadster to carry the iconic octagonal MG badge since the MG F in 1995. MG claims it will be the world's first "affordable" EV roadster, dramatically undercutting existing electric performance cars with a two-model structure likely to begin around £55,000 for a rear-wheel-drive 309bhp version and stretching to around £65,000 for a four-wheel-drive, twin-motor version with 536bhp.
Although the car was originally planned as a replacement for the MG TF (a developed version of the MG F), the need to carry a large traction battery and the consequent requirement for a long wheelbase has made the Cyberster closer in its major dimensions to the 4.4m-long BMW Z4 than its 3.96m mid-engined predecessor.
Little has been confirmed about the Cyberster's mechanical layout ahead of its official Goodwood Festival of Speed launch, but the lighter single-motor model is understood to tip the scales at around 1850kg – 750kg more than the MG TF. The twin-motor model is expected to add 135kg.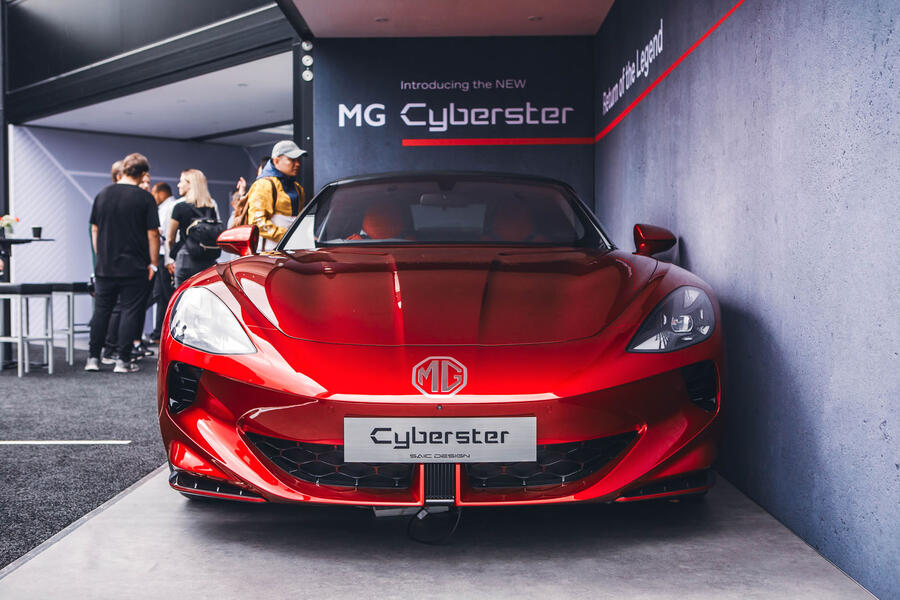 The new EV roadster, which for the time being will be built only as an open-two-seater with an electric-powered folding roof, has a wide and spacious cabin, helped by the lack of engine in the nose. The batteries are located in the chassis on a 'skateboard' principle.
Like the Cyberster's exterior, the interior designs have their roots in MG's London-based advanced studio. The plush fascia and instrumentation take influence from contemporary gaming trends and scissor doors provide what designers call "a sense of theatre".
MG design director Carl Gotham, leader of the brand's 20-strong advanced design group based in London's Marylebone, acknowledges the size growth but believes the car wears it well, "creating a completely new kind of roadster ready for a new generation of sports car drivers".