The Lamborghini Huracán Sterrato will be the firm's final model to be powered purely by a combustion engine when it is unveiled in December.
The Italian firm confirmed the news, as it revealed that the off-road-oriented version of the Huracán will be uncovered at the Art Basel contemporary art show in Miami (which takes places between 1 and 3 December).
Lamborghini has now revealed the 601bhp off-road Huracán Sterrato.
It will join the Lamborghini Huracán Tecnica and Lamborghini Urus Performante as the last pure-combustion powered Lamborghini sports cars to be released by the marque.
Before a full debut in the coming weeks, the off-road supercar - based on the 2019 Sterrato concept - has been shown off in official pictures for the first time.
It will arrive as a rival to the recently revealed Porsche 911 Dakar in a rather-exclusive high-riding, off-road-ready supercar segment.
Speaking previously about the car, boss Stephan Winkelmann told Autocar: "We have to play out of the normal field, and I think we have a great opportunity to do something special in the super-sports car business which hasn't been seen so far."
Asked if 'unexpected' cars such as this interest him more than retro-inspired creations like the Countach LPI 800-4, Winkelmann said: "For sure. Retro cars are good from time to time. I think the Countach was a great thing. But our brand has to look forward. We have to have a big windscreen and small rear-view mirrors.
"It's important to understand the history, to look into what happened in the past, but the projection has to be that we have to be innovative; we have to be disruptive and always unexpected."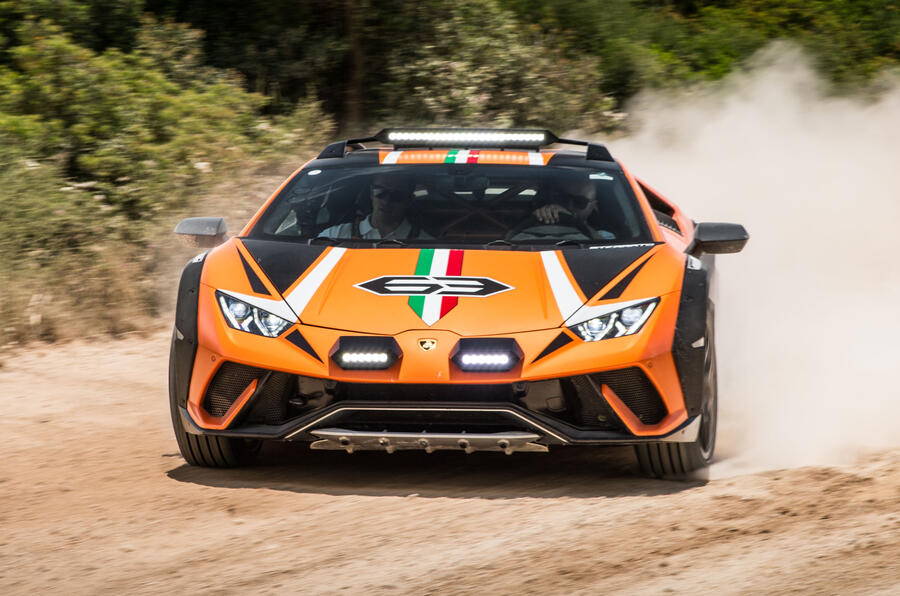 Winkelmann's indifference to heritage-inspired one-offs and limited editions is well documented. At the unveiling of the Countach last year, shortly after beginning his second term at the helm of Lamborghini, he told Autocar: "I left the company with the idea that we were never going to make a retro car, never ever. So I came back and said: 'Why are we doing this now?' But when we looked at the car and talked about it, I was happy to do it."