A hot version of the Land Rover Discovery Sport SUV could be in development, based on these recent spy shots.
The new Land Rover Discovery SVX has been revealed
Caught in Scandinavia in last few weeks of the winter testing season, the Discovery Sport prototype has a newly designed nose cone. Autocar's spy photographers also say that this test vehicle is powered by a 2.0-litre turbo petrol engine, making it almost certainly a prototype fitted with the JLR's upcoming, all-new Ingenium unit.
The new Land Rover Discovery has been revealed - read more and get your first look here
But a combination of the subtly more aggressive styling of this nose cone and the extra air intake capacity hints at that this Discovery Sport could be powered by a performance version of the Ingenium petrol engine.
Although not radically different from that used by the current model, the new nose has a wider main air intake and narrower mounting area for the aluminium 'bash plate'.
The air intakes on the front corners of the car are also bigger and shaped more like the auxiliary intakes used by the Range Rover Sport SVR and also featured on the new Evoque Convertible.
Close examination of the spy shots also seem to show small air intakes on the lower edges of the nose cone, which could well be cooling ducts for the front brakes. The slot-like air intake directly under the radiator grille is also noticeably slimmer than on today's production car.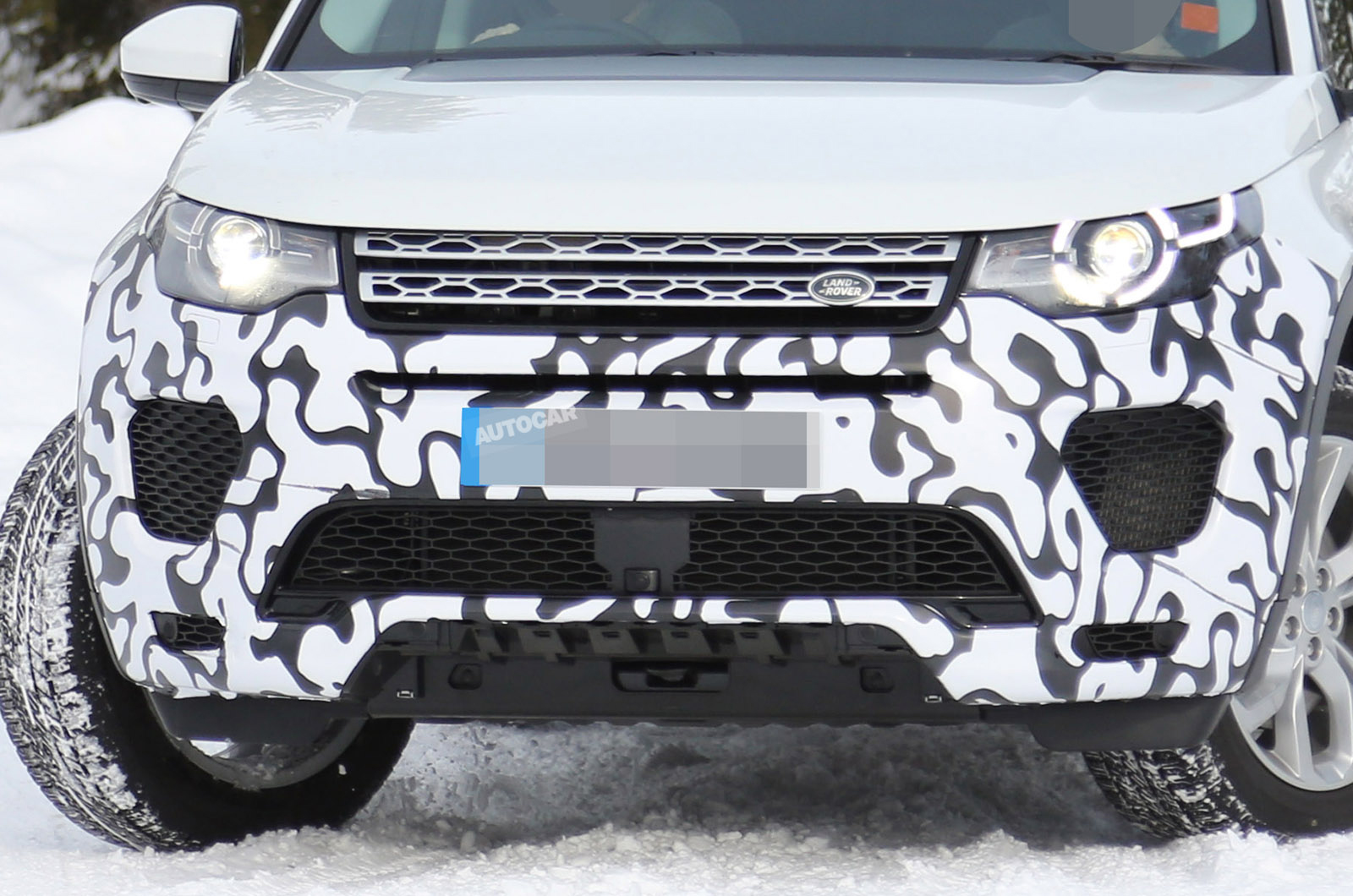 New Ingenium petrol with 298bhp
Currently, a petrol engine is not offered to UK buyers of the Discovery Sport, although one is sold in the US and Australia. It uses a Ford-derived 238bhp unit hooked up to a nine-speed automatic gearbox and could hit 60mph in a relatively sprightly 7.8sec.
Judging by this prototype, any hot Ingenium petrol Discovery Sport is at least 18 months from being launchded, and sources say this version of this engine will be good for around 298bhp.
However, officially, Land Rover says there are currently no plans to sell a petrol-powered Discovery Sport in the UK.
The turbo 2.0-litre petrol engine is also expected to be offered in the Jaguar XE saloon.